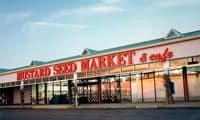 Mustard Seed Market is my local health food store. While I'm not into "health" food, I am into good food, and they have plenty of that. If you want good vegetables, you go to the store that caters to vegetarians.*
*It took me a while to figure that connection out. Yes, I can be a bit dense sometimes...
The more I've learned about eating ethically and locally, the more impressed I've been with Mustard Seed. Sure, I feel out of place there sometimes*, but they care about their food. I've found that this matters - I can taste the difference in the ingredients I buy there.
*Frankly, the "supplements" aisle scares me. The level of pseudo-science and unsupported claims it has makes me avoid walking down it. It's like I'm afraid I'll get converted, or something. But I'm willing to put up with it if I can get good fruit, vegetables, and ethically raised meat.
Mustard Seed Market
West Market Plaza
3885 West Market Street
Akron, OH 44333
330-666-7333
mustardseedmarket.com
My top five list of favorite things they sell are, in no particular order:

1. Vegetables: As I said in the opener, they have an excellent vegetable section. Some of it can be expensive, particularly out of season. I think it's because the nature of the store makes it more honest about "food miles" and their costs; you can't get organic peppers out of season unless you're willing to pay for them. That said, the vegetables are a great value. They really, really care about their vegetables, and they are higher quality and, I believe, fresher than what I can get at my other local grocery stores.
*It just seems like they last longer when I get them home. From other stores, if I forget something in the crisper drawer, it seems to go bad within a week. I usually get a few extra days out of the vegetables I buy here; they last 7-10 days, and those couple of extra days can mean the difference between dinner and compost.
2. Bulk section: Bulk sea salt. Bulk rolled and steel cut oats. Bulk couscous. And, most importantly, bulk dried beans! I try to buy my beans here whenever I can. Every bean recipe I ever read says that you want to buy your beans from a store that "has high turnover". Vegetarians eat beans as their main protein source. Where are you going to get higher turnover?

3. Meat department: Not what you expected me to say, is it? They specialize in ethically raised meat, and I've had some of the best steaks I've ever eaten from this meat counter. The also carry a lot of different cuts of buffalo in the freezer in their meat department, which can be hard to find in our area.
4. Wine selection: They don't have the biggest wine section in town, but it is a good one, specializing in lower to mid-priced wines. They have a section of "suggested selections", usually around ten dollars a bottle, with helpful tasting notes written out for you. More important is their wine lady, who is always ready to help out, and has never steered me wrong. Oh, and their beer selection is quite good as well, with strong selections of microbrews and imported beers.
I'm ashamed to say I don't remember her name; I think it's Jaime. We "know" each other by sight, since I'm always tracking her down for advice when I'm buying some wine.

5. Canned goods: Again, this shows where caring about your food makes a difference. I know, you're thinking: "Canned tomatoes? What's the difference?" Believe me, it matters. They specialize in a lot of brands that just taste better. Muir Glen tomatoes, Spectrum vinegars and oils. Eden asian products. While you're there sample the hummus in the ready made foods section. Or, even better, go to their cafe, upstairs, and order lunch with one of their fresh-made smoothies!
*Mmmmm. Blue Moon smoothie....
Here's the map:

View Larger Map


Related posts:
My list of Ethnic and Gourmet stores in the Akron, OH area.
*Enjoyed this post? Want to help out DadCooksDinner? Subscribe to DadCooksDinner using the RSS or Email options on the right, link to this post from your blog, recommend DadCooksDinner to your friends, or buy something from Amazon.com
through the links on this site. Thank you!