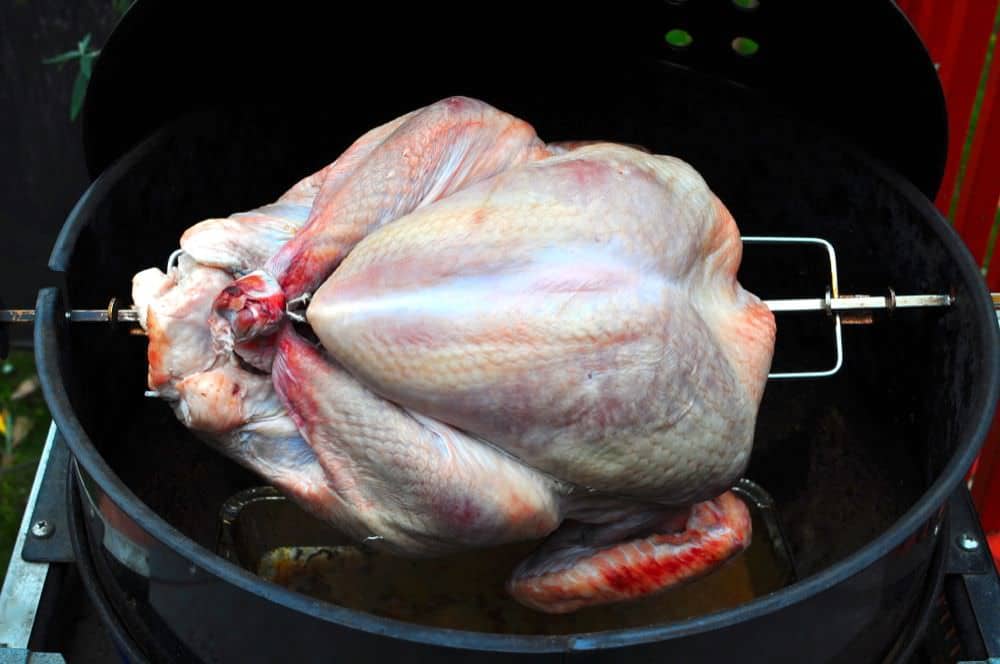 I get a asked every year, right before thanksgiving:
How big of a turkey can I cook on my grill's rotisserie?
Now, I usually cook two 12 to 14 pound turkeys, one in my charcoal grill, one in my gas grill. I think the meat in the smaller bird is a little more tender, and it cooks quicker and more evenly. It doesn't hurt that I'm an obsessed cook. I want to do two different styles of bird, instead of just one. Cooking two birds lets me do a "regular" bird for the purists, and an exotic bird for my own satisfaction.
Most people aren't grilling fanatics. They don't own two rotisseries. But they want to serve a crowd with a rotisserie turkey. The rule of thumb is one pound of turkey per person, so they want to cook a monster bird.
*I love turkey leftovers, so I always wind up cooking lots more than a pound a person. Two pounds, maybe. But, like I said, I'm crazy.
So, to help out my readers, it was time for a test. I bought the biggest bird I could find at my local grocery store. It was the turkey off-season, so the biggest bird was just shy of 23 pounds. It was huge, about twice the size of the birds I usually cook.
*Thanksgiving turkey sales started this weekend, so I went back and checked. The largest bird I found was 25 ½ pounds. I've heard of 30 pound turkeys. My goodness, those must be enormous.
Did it fit in the kettle grill?
| | |
| --- | --- |
| Big turkey in kettle grill | Little turkey in kettle grill |
Easily. There was plenty of room to spare in a Weber kettle with a rotisserie ring. I'll bet I could fit a giant 30 pound turkey in the kettle. Score one for charcoal!
Did it fit in the Weber Summit gas grill?
| | |
| --- | --- |
| Big turkey in gas grill | Little turkey in gas grill |
It was a tight fit in my Weber summit. I had to change my usual trussing approach to get the bird to fit. Normally I tuck the wings underneath the bird, but this forces the knobs of the wings stick out. There wasn't enough clearance in the grill - the turkey caught on the top of the grill instead of rotating. So, after trussing the bird, I untucked the wings, and slid the wingtip under the trussing string that runs along the edge of the breast. This trusses the wing against the breast and leaves enough room for the turkey to spin.
| | |
| --- | --- |
| Wing tucked under the bird | Wing trussed to the breast |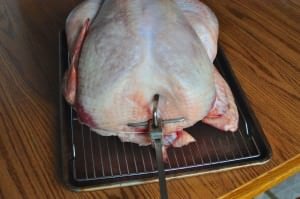 Trussed on the left, tucked on the right.
Also, I had to remove the burner covers to have enough clearance at the bottom of the grill. I set my drip pan directly on the burners, so it's a good thing I am cooking with indirect heat and leave those burners off.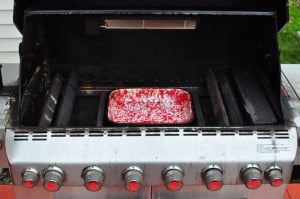 So, how big a bird could I have fit? The top of the grill was my problem - I had two inches, maybe, between the drumsticks and the top of the lid in my Weber Summit. I could have squeezed in a slightly larger turkey, maybe as much as 25 pounds. I don't think anything bigger would fit.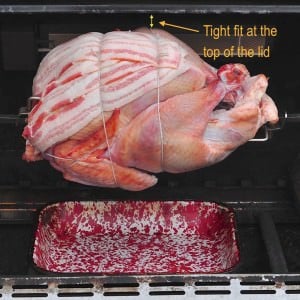 What about a Weber Genesis?
I cooked a couple of turkeys in the 12 to 14 pound rage in my old Weber Genesis Silver. It was a tight fit, and I had to remove the burner covers and wedge the drip pan in on top of the middle burner, but it worked. I don't think a larger bird would fit...but I never tried, and the Weber Genesis now lives at my sister-in-law's house.
TL;DR Version
The 23 pound turkey fit in both the Weber kettle and the Weber Summit grills. The Weber Kettle had lots of clearance, and I'd guess I could go as large as 30 pounds. The Weber Summit was a close fit. I would guess I could go to 24, maybe 25 pounds, but no larger. For a Weber Genesis, anything larger than 14 pounds would worry me.
How about you?
How big of a bird have you cooked on your grill's rotisserie? I would especially like to hear from you if you use the rotisserie in a Weber Genesis. I may visiting my old Genesis Silver at my sister-in-law's house this year, and I would like to do a larger bird.  If you've tried a bird larger than 12 pounds in the Weber Genesis, or on any other grill, let me know in the comments below.
Related Posts
Rotisserie Turkey Wrapped with Bacon
Rotisserie Turkey, Dry Brined with Orange and Spices
Rotisserie Turkey with Cajun Dry Brine
---
Everything you could ask about the rotisserie,
plus 50 (mostly) new recipes to get you cooking.
It's a Kindle e-book, so you can download it and start reading immediately!
---
*Enjoyed this post? Want to help out DadCooksDinner? Subscribe to DadCooksDinner using the RSS or Email options on the right, link to this post from your blog, recommend DadCooksDinner to your friends, or buy something from Amazon.com
through the links on this site. Thank you.