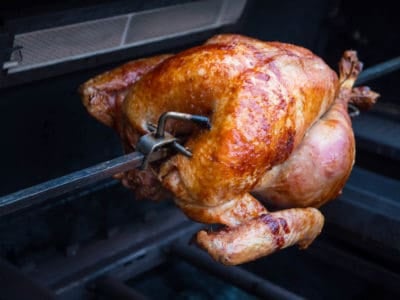 ---
Book launch week concludes with the paperback release of Rotisserie Turkey. For more details about the book, see last week's New Cookbook: Rotisserie Turkey post.
---
Rotisserie Turkey is now available as a $8.99 paperback from Amazon.com. 1I thought formatting would take me a couple of weeks to fight through; instead, it only took a couple of days. Maybe I'm getting better at this?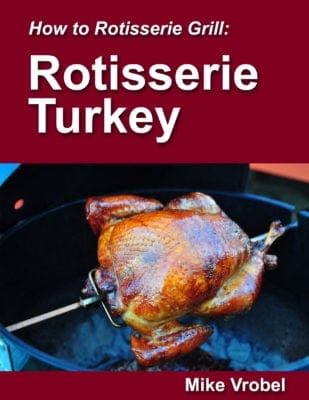 The book has 29 recipes for whole turkey and turkey breast on the rotisserie, with drip pan stuffings, side dishes, and suggestions for making soup with the turkey carcass. Rotisserie Turkey is 140 pages with black-and-white pictures. Yes, I know, no one likes black and white pictures. I don't like black and white pictures, either, but as an indie cookbook author, publishing in full color would have pushed the price up to the $20 range - and I don't see the value in that.
But, if you buy the paperback from Amazon, I do have a full color pictures for you. Rotisserie Turkey is enrolled in the Kindle MatchBook service. If you buy the paperback edition, you get the Kindle edition for free! (As I've said before, if you're reading this post, there is a free Kindle Reader app for whatever technology you're using.) Now you can get the paperback for the comforting feel of a real book, and get the Kindle edition for the inspiration of full color pictures.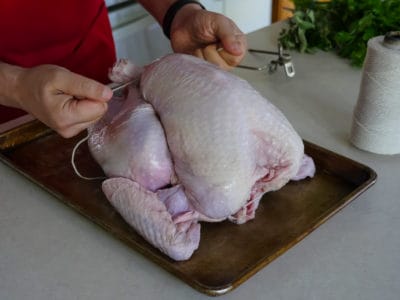 Help me out
Of course, to help out DadCooksDinner.com, please buy my book. But…that's not all. If you do buy a copy of Rotisserie Turkey, can you do me two more favors?
1. Reviews
Please, leave a review on Amazon. Self-published books live and die by their reviews, and it helps a lot with Amazon's ranking algorithm if I get over 100 reviews. Of course, I would prefer a five-star review2this XKCD comic explains online review reality: 5 stars is "loved it", 4 stars is "meh", and everything else is "hated it", but any review is helpful, even if it is a 4 star "meh."
2. Typos
I've already had a few corrections since last week. I think I've caught all the mistakes, but I always think that. If you find anything, send me an email and let me know?