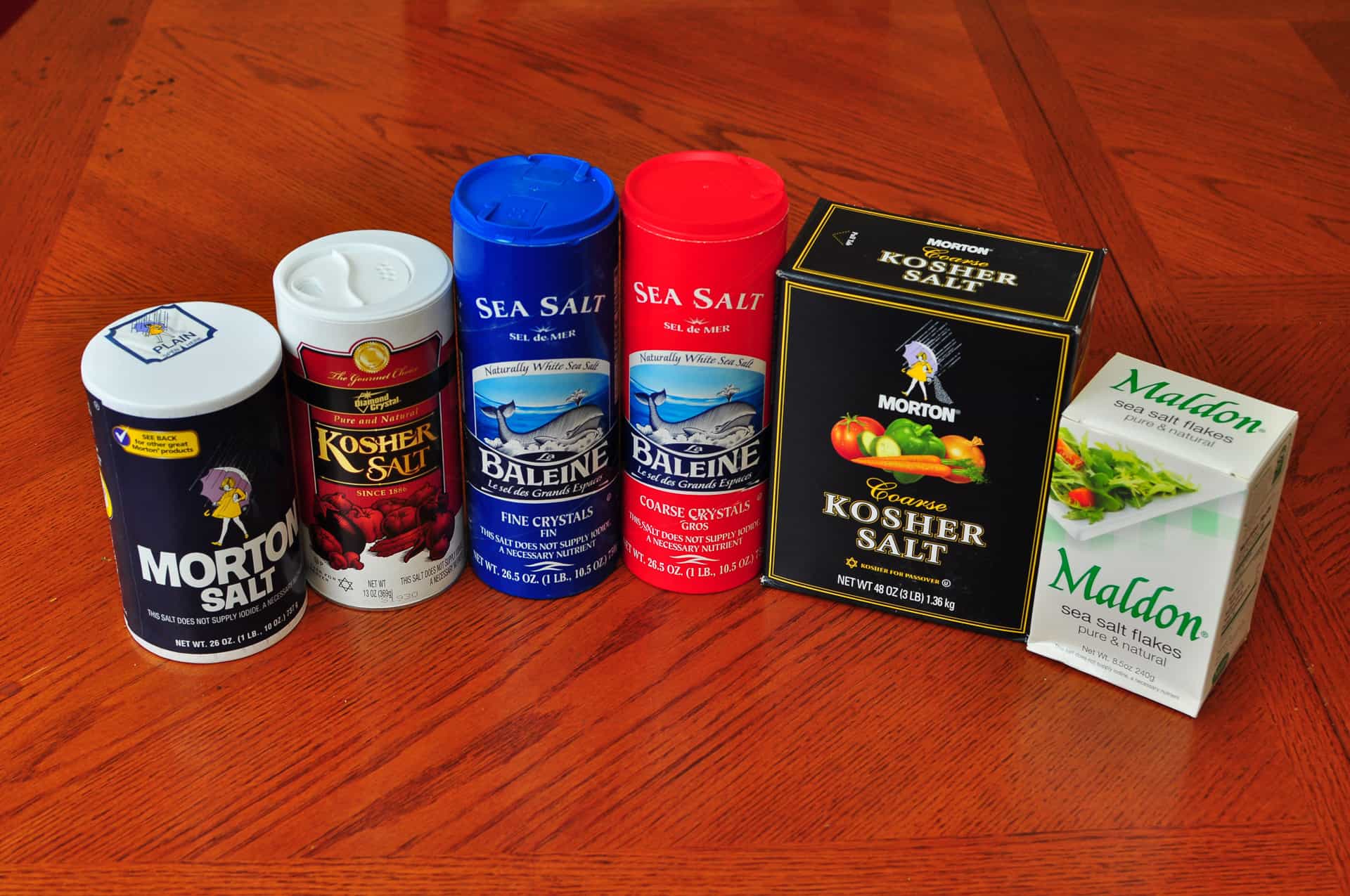 I keep running into a roadblock with my recipes. Salting is the key element to seasoning food, and I don't know how much salt to tell people to use.

I use Diamond Crystal Kosher salt because I salt by hand. The big crystals of Kosher salt are easy to grab and sprinkle, unlike table salt, which has such tiny crystals that I can't get hold of it. I know that a two finger pinch of Diamond Crystal Kosher gives me a half teaspoon of salt. (Yes, I measured.) I've been using it for a while, and I have a good feel for how it works.
But when someone takes that into their own kitchen, with their own fingers and a different brand of salt, what does it mean?
With salt, density matters*. I've read that Diamond Crystal Kosher salt, with its large flakes, weighs half as much by volume as table salt, with its tiny grains. In other words, a half cup of table salt packs in as much salt as a whole cup of Diamond Crystal. (Morton's Kosher supposedly weighs in between the two, at ¾ cup).
*Salt...it is your density.
I should take this information at face value. It's from Cooks Illustrated, so I'm sure they did their research. But I am borderline obsessive-compulsive thorough. I decided to measure all the different types of salt I use, from ultra-fine grained pickling salt to Maldon sea salt with its huge flakes.
Conversion Chart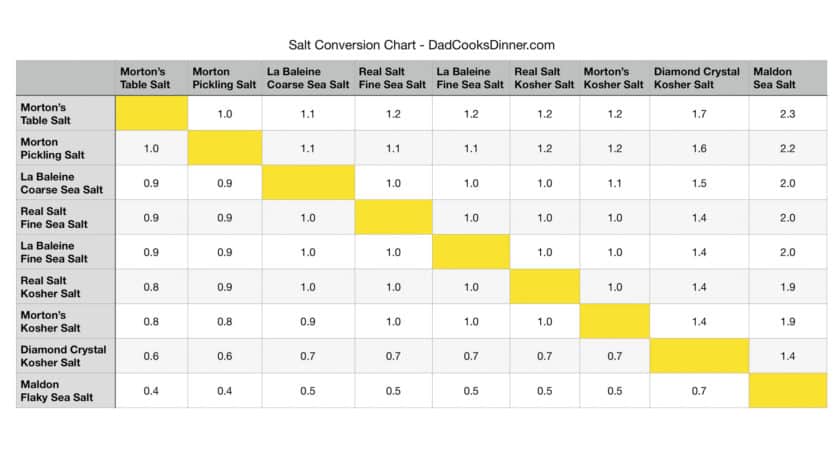 To convert from one salt to another: The row is the salt the recipe calls for, and the column is the salt you want. Find the row for the recipe's salt, then move to the right until you get to the column of the salt you have, and multiply the amount in the recipe by that number. (Then I cheat a little, and round to the nearest number that matches my measuring spoons.)

Example 1: A recipe calls for 1 tablespoon of Diamond Crystal Kosher Salt, and you have Mortons Kosher salt. Find the Diamond Crystal row, go across until you get to the Mortons Kosher column, 0.7. The multiplication is easy: you want 1 x 0.7 = 0.7 tablespoons. (Since I know a tablespoon is 3 teaspoons, and 3*0.7 = 2.1 teaspoons, I round down a little and use 2 teaspoons of Mortons.)
Example 2: A recipe calls for 1 teaspoon table salt, and you have RealSalt fine sea salt. Find the Mortons table salt row (1st row), then go across until you get the RealSalt fine sea salt column, 1.2. You need 1.2 teaspoons of fine sea salt. (And I would round up to 1.25 teaspoons to make for easy measuring).
Data
Here are the raw numbers:
Salt Type
Weight of
¼ cup (grams)
Weight of
¼ cup (ounces)
Replacement Percent
Diamond Crystal Kosher
Morton's Table Salt
76.0
2.68
59%
Morton Pickling Salt
74.0
2.61
61%
La Baleine Coarse Sea Salt
66.8
2.36
68%
Real Salt Fine Sea Salt
65.0
2.29
70%
La Baleine Fine Sea Salt
64.8
2.29
70%
Real Salt Kosher Salt
64.0
2.26
71%
Morton's Kosher Salt
62.0
2.19
73%
Diamond Crystal Kosher Salt
45.2
1.59
100%
Maldon Sea Salt
33.2
1.17
136%
What did I learn from this?
Cooks Illustrated was right. A half cup of table salt equals ¾ cup of Mortons Kosher equals 1 cup of Diamond Crystal. Roughly - it slightly over weights table salt and under weights Morton's Kosher, but it's close enough.
Fine sea salt is not a 1:1 replacement for table salt. I buy fine sea salt from the bulk bin at my local health food store at $0.69/lb, and use it as table salt in my baking recipes. I assumed fine sea salt has the same crystal size as table salt. Oops. Turns out, fine sea salt is closer by weight to Morton's Kosher than it is to table salt. Sea salt must have a crystal with more air in it than table salt. If you'll excuse me, I have to go fix a few of the recipes in my archives…
| | |
| --- | --- |
| | |
Fine sea salt and coarse sea salt have the same density: I assumed coarse sea salt would be lighter than fine sea salt. Nope, wrong again. They are basically identical; in my tests they were within a couple grams of each other, with the coarse sea salt weighing a tiny bit more than the fine sea salt.
Morton's Kosher salt is not quite weight specific. I read that Morton's Kosher was designed so that its weight would match water, for use in sausage making. Since a pint (of water) is a pound the world around, a pint of Morton's Kosher should also be a pound. Close, but not quite. By my measurements, two cups of Morton's Kosher weigh one pound, one and a half ounces.
Pickling salt has the same weight as table salt: I expected pickling salt to be heavier than table salt; I heard it had even smaller grains, to help it dissolve faster. It turns out the two are almost exactly the same weight. Table salt is ever so slightly heavier. So, why use pickling salt when pickling? Table salt has added ingredients to keep the salt pourable in humid environments. (Like the ad says, "When it rains, it pours.") Those extra ingredients make pickle brines cloudy. Other than that, pickling salt and table salt are the same thing.
Oh, and the Maldon salt? It is amazing. The flakes are huge and airy. It is a great finishing salt, sprinkled on just before serving. It adds a hit of salty crunch without over-salting the food. Don't use it any sooner in cooking, though, or it will dissolve. There is no difference between dissolved Maldon, Kosher, or table salt - they're just salt at that point. Maldon is very expensive to be "just salt".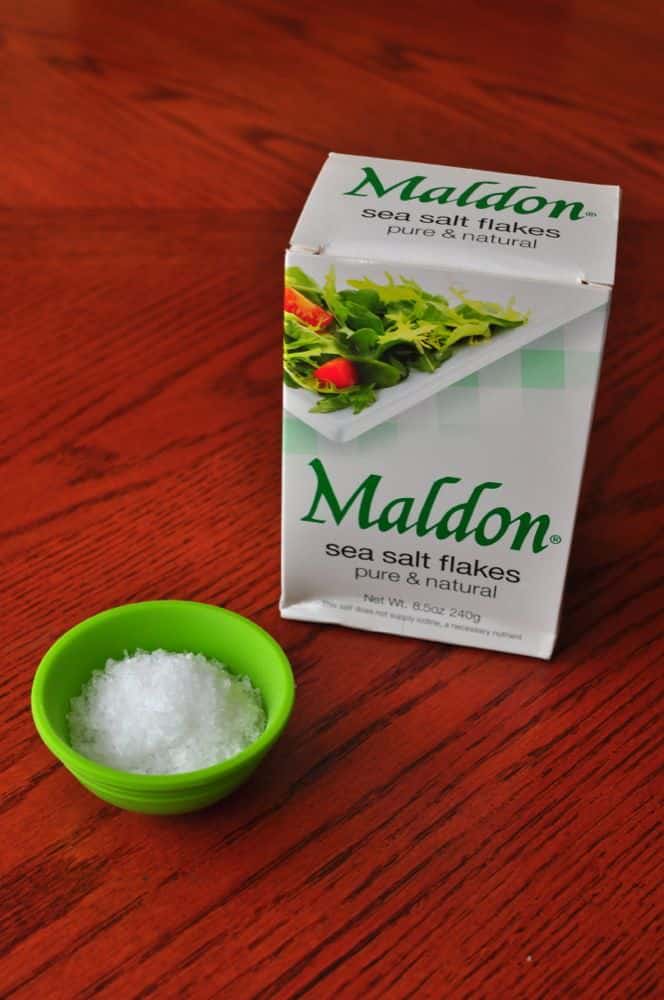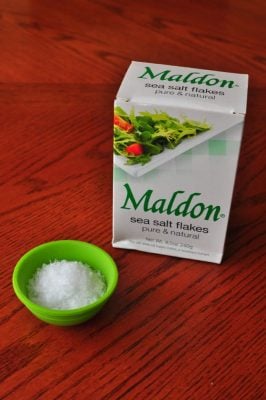 What do you think? Questions? Other ideas? Leave them in the comments section below.
Related Posts:
Things I Love: Diamond Crystal Kosher Salt
What does Season To Taste mean, exactly?
*Enjoyed this post? Want to help out DadCooksDinner? Subscribe using your RSS reader or by Email, recommend DadCooksDinner to your friends, or buy something from Amazon.com through the links on this site. Thank you!