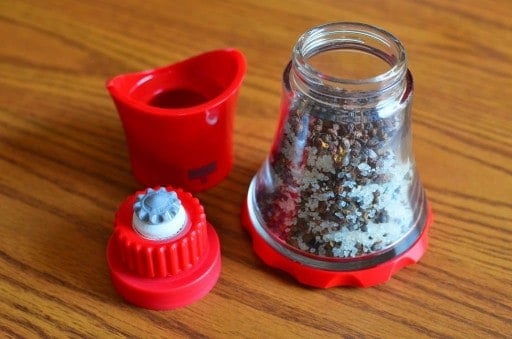 I'm trying to lose weight. I start every day with a high protein breakfast - which means lots of hard boiled eggs. They're quick, easy, portable…and boring.
Or, at least, they were boring. Then, one morning, I had enough of boring. I went looking through my pantry, and noticed my jar of Sichuan pepper salt. I use it often when I stir fry, but on eggs? It was a revelation. The flavors in the Sichuan pepper make all the difference - now I look forward to hard boiled eggs every day.
When I used up the jar I bought at Penzeys, I decided to make my own, following the extremely simple recipe in Barbara Tropp's China Moon cookbook.
But first - Sichuan pepper? Or Szechuan? Maybe Szechwan? The confusion comes from converting the Chinese pronunciation into English letters. (Kind of like Peking duck coming from Beijing.) Sichuan is the pinyin spelling of the Chinese province. Pinyin was chosen in 1982 as the international standard for converting Chinese characters to English. Before then, the Szechuan spelling was used, and it's stuck, especially when referring to the region's cuisine. I trust Fuschia Dunlop, who knows more about Sichuan cooking than I ever will. If she spells it Sichuan, then so do I.
Another digression - when I first got Barbara Tropp's cookbook, Sichuan pepper was hard to find. Why? Citrus canker. Sichuan peppercorns harbor this disease, which is harmless to humans, but nasty for citrus trees. The United States banned the import of Sichuan peppercorns between 1968 and 2005. Nowadays, the peppercorns are baked before shipment, which kills the citrus canker bacteria.
Sorry, kind of wandered off subject there...
Barbara suggests grinding the salt, then storing it in an airtight container. I bought a salt grinder so I can grind the pepper when I need it. This keeps the aromatic oils in the peppercorns until the last minute, and preserves the flavor of the pepper.
Sichuan peppercorns can be found at your local Asian market, or on Amazon. But, if you can't find them, or you don't want to spend the time to roast your own, get a jar of Penzeys Szechuan pepper-salt. You'll love it.
Recipe: Sichuan Roasted Pepper Salt
Print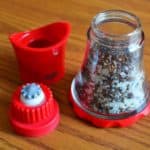 Sichuan Roasted Pepper Salt
---
Author:

Mike Vrobel

Total Time:

10 minutes

Yield:

¾ cup

1

x
---
¼ cup

Sichuan peppercorns, picked over to remove twigs and thorns

½ cup

coarse sea salt
---
Instructions
Roast the pepper and salt: 

Put the peppercorns and salt in a heavy fry pan, and turn the heat to medium. 

(Don't use nonstick for this - the temperature gets high enough for nonstick to give off toxic fumes.) 

Cook, stirring and flipping often, until the peppercorns are smoking and the salt changes color from white to a gray/tan color, about five minutes. Remove from the heat, let cool for a few minutes, then pour into the grinder.
Notes
Why ¾ cup of salt and pepper? Because my salt grinder holds ¾ cup. If yours is a different size, use 1 part peppercorns to 2 parts salt.
A funnel is very useful for filling the salt grinder. Not that I spilled hot peppercorns and salt all over my countertop (and sink, and floor)…
Why coarse sea salt? Big chunks of salt work better in a salt grinder.
No salt grinder? No worries. If you don't have a grinder, substitute kosher salt for the coarse sea salt. Once the salt has been roasted and cools down, whiz it in the food processor until finely ground, then pour it into a sealed container (or a salt shaker).
What can you use Sichuan roasted pepper salt on? It's not just for eggs. Anything that works with salt and pepper. It's great if you want to add a subtle Asian flavor to meat, seafood, or vegetables.
Prep Time:

5 min

Cook Time:

5 min

Category:

Seasoning

Method:

Sear

Cuisine:

Sichuan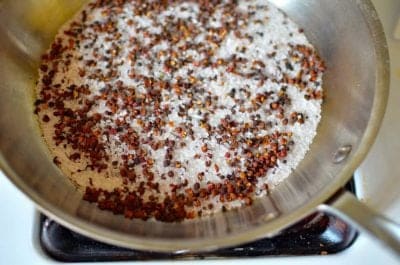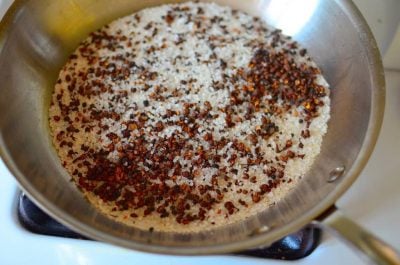 What do you think? Questions? Other ideas? Leave them in the comments section below.
Related Posts:
Sichuan pepper salt goes really well with stir fried Bok Choy
*Enjoyed this post? Want to help out DadCooksDinner? Subscribe to DadCooksDinner using the RSS or Email options on the right, recommend DadCooksDinner to your friends, buy something from Amazon.com
through the links on this site, or donate through my tip jar. Thank you.