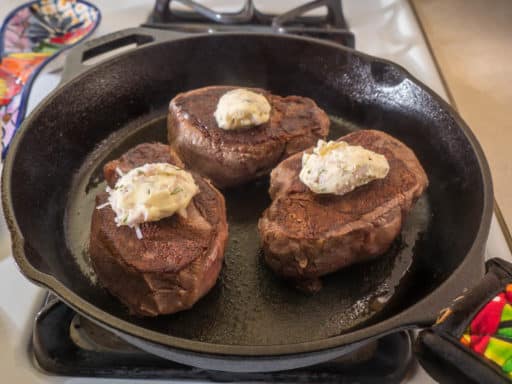 This has been a week. Seattle, home to tailgate, my beloved Cleveland Indians keeping me up late in the night (I'm writing this a few hours before Game 7 starts...oh, please, let it turn out well...[UPDATE: Ugh.]), a sinus infection. Life got in the way, and I don't have a recipe to post today...or even a dinner planned.
As a dinner planning kind of guy, that really bothers me. Especially since I am writing this in the car, while the kids are at music lessons, and I need to have dinner on the table as soon as I get home.
Luckily, I was ready. Before we left, I got out my secret weapon - my sous vide immersion circulator. I grabbed vacuum sealed steaks from the freezer, dropped them in a container of water, and set the sous vide for 133°F - medium rare plus. I found a frozen roll of compound butter in there, too, so all I have to do is sear off the steaks when I get home, add a pat of butter, and set the table with mini sweet peppers, baby carrots, and potato chips with french onion dip. (Yes, I know, potato chips? Hey, the starch is the hard part when you need dinner on the table in 15 minutes...and you're a nervous wreck about the baseball game tonight.[UPDATE: Darn. Congratulations, Cubs.])
That's why sous vide is a go-to technique for a busy day. Sous vide lets me stock the freezer ahead of time, ready for a quick, mostly hands-off weeknight meal. And, if we're late getting home? That's OK - sous vide keeps the food exactly the temperature you want it. Give it a try - you'll be amazed.
Sous Vide recipes on DadCooksDinner.com
Enjoyed this post? Want to help out DadCooksDinner? Subscribe to DadCooksDinner via eMail or RSS reader, recommend DadCooksDinner to your friends, and buy something from Amazon.com through the links on this site. Thank you.