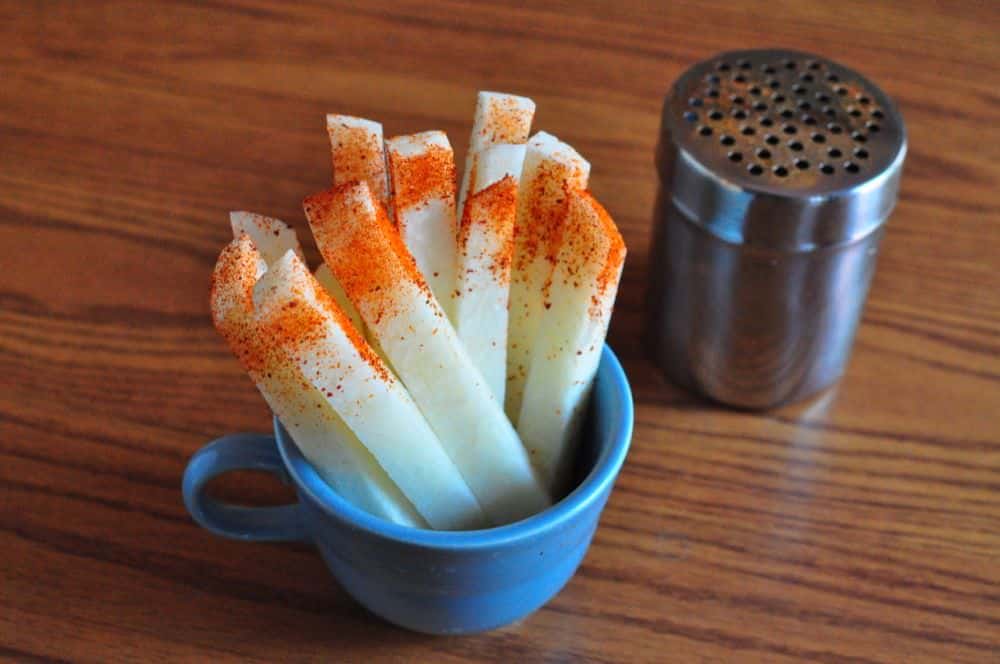 Jicama reminds me of apples - it has the same crisp crunch, with a hint of a sweet taste. Think of a granny smith apple, but crunchier, milder, and less tart. I have eaten it a number of times, but I never had an opinion about it one way or the other. That is, until I had it as part of an appetizer at Frontera Grill in Chicago. Rick Bayless took a page from Mexican street vendors and sprinkled the jicama with a blend of chile powder and salt. The crunch and hint of sweet were enhanced by the spicy salt.
Spicy jicama sticks are now my go-to party appetizer when I want to bring something interesting but healthy. The chile salt is best with guajillo chile powder (look at your local Mexican market), but ancho chile powder makes a decent substitute.
Recipe: Spicy Jicama Sticks

Adapted From: Rick Bayless Fiesta At Rick's
Cooking time: 10 minutes
Ingredients
1 medium Jicama, about 1 pound
2 tablespoons guajillo powder (or ancho chile powder)
1 tablespoon fine sea salt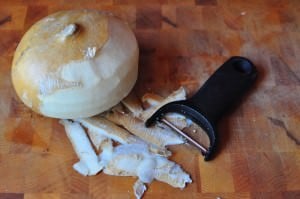 Directions
1. Prep the jicama
Peel the jicama, then trim off the top and bottom. Slice the jicama into half inch thick planks, then slice crosswise into half inch thick sticks. (Think thick-cut French fries. About that size.). Mix the chile powder and salt until completely combined.
2. Serve the jicama
Right before serving, sprinkle the jicama with the chile salt. Pass the shaker of chili salt at the table for anyone who wants to add more heat and spice.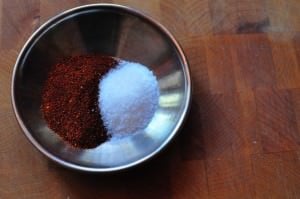 2 parts chile powder, 1 part salt
Notes
Some stores sell jicama with a waxy coating - it makes peeling more difficult. Use a heavy duty peeler, or live with a little waste and trim the peel off with your knife.
I love the guajillo chile salt from this recipe. I don't just use it on jicama. I make a shaker full, then use it on anything I want to give a sprinkling of Mexican heat.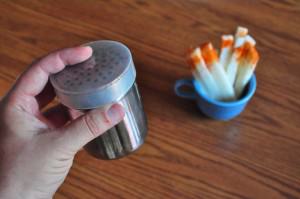 What do you think? Questions? Other ideas? Leave them in the comments section below.
Related Posts:
Toasted Ancho Salsa
Mexican Hot Chocolate
Adapted from:
Rick Bayless Fiesta At Rick's

*Enjoyed this post? Want to help out DadCooksDinner? Subscribe to DadCooksDinner using the RSS or Email options on the right, link to this post from your blog, recommend DadCooksDinner to your friends, or buy something from Amazon.com
through the links on this site. Thank you.