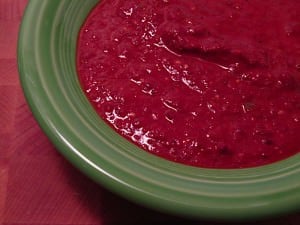 Inspired by my trip to La Loma Supermarket
I've mentioned that you should buy your dried peppers in bulk from mexican grocery stores. They're much cheaper per pound that way. Of course, this leads to the question: Why would I buy dried peppers in bulk? What do I use them for?
I use them to make salsa. If you want to make your weekly Taco night a little more authentic, dried pepper salsa is an easy place to start. Dried pepper salsas are very different from the tomato-based salsas we're all used to. They have a smooth, saucy consistency, going back to "salsa" in the original Spanish meaning of "sauce". They also have a sweet, earthy taste that goes great with grilled meat. They have some heat, but they're more about the flavor than the heat.
*Also, I toss a dried pepper or two in my crock pot when I'm making black beans for a Mexican dinner. I like to add a little of their earthy, sweet taste to the beans. I discard the peppers before serving.
**Another dried pepper trick (from Alton Brown) is to mince one and add it to your regular salsa recipe . This adds a subtle layer of heat and flavor to your salsa, without much extra effort.


Recipe: Toasted Ancho Salsa

Equipment:
Ingredients:
2 ancho chile peppers
4 large tomatillos (ping pong ball sized, at least)
3 cloves garlic
1 tablespoon vegetable oil
½ cup water
½ teaspoon kosher salt, plus more to taste
Directions:
1. Prepare the ingredients: Pull the stems from the ancho chiles, split them in half, and remove all the seeds and membranes. * Remove the papery husks from the tomatillos, rinse under cold water to remove their sticky coating, and slice the tomatillos in half. Peel the garlic cloves.
*Don't inhale deeply while doing this step, unless you want a low-level simulation of pepper spray.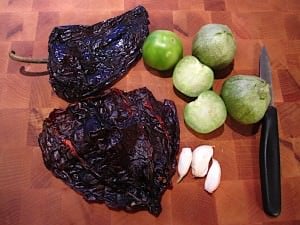 2. Toast the ingredients: Heat the oil in a large saucepan over medium, until the oil is shimmering. Add the chiles and toast until slightly puffed and a little lightened in color, flipping once, about 30 seconds to 1 minute. Remove the chiles to the blender with a slotted spoon. Pour the oil out of the pan, then wipe it clean with a paper towel Put the pan back over medium heat, let it heat up for a minute, then add the tomatillos and garlic cloves. Let them sear for about 3 minutes, or until browned, then flip them and sear the other side, another 3 minutes. Add to the blender.
3. Blend the salsa: Add the water and salt to the blender. Give the blender a few one second pulses to chop up the ingredients, then run on low for 30 seconds to 1 minute, or until the ingredients are blended and smooth. Taste and add a little more salt if necessary.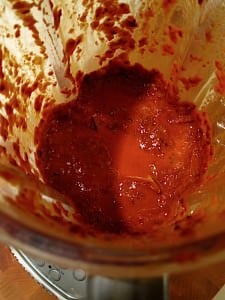 Variations:
*Easy Chipotle Salsa: Substitute 3 canned chipotles en adobo, with their sauce, for the ancho chiles. Skip the cleaning and toasting of the peppers - just put the chipotles and their sauce in the blender, and move on to cooking the tomatillos and garlic. This gives you a much hotter and smokier salsa than the ancho version; it's different, but also very good.
*Guajillo salsa: In the original recipe, Rick Bayless uses guajillo peppers. They have the same heat level, but are less sweet than ancho peppers. Replace the ancho peppers with guajillos, or use one of each.
Notes:
*I know the oil toasting seems fussy. It adds a lot of depth of flavor to the salsa, and it only takes two minutes. Give it a try before you dismiss the recipe.
*If you're really going to skip this because of the oil toasting, read on. Instead of toasting them, just soak them in hot water for 30 minutes. (Of course, if you're in this much of a hurry, I would recommend the Easy Chipotle Salsa variation. It's easier than dealing with the dried peppers in the first place.)
*Anchos are dried poblano chiles. They have a medium heat level, a little below what a jalapeno has.
*Store this salsa in the refrigerator for up to a week, or freeze for up to three months. When I make this salsa, I double the recipe and freeze the leftovers in 1 cup containers for later use.
What do you think? Questions? Other ideas? Leave them in the comments section below.
Related Posts:
Quick Red Salsa
Tomatillo Salsa
Slow Cooker Beef Barbacoa
Adapted from:
Rick Bayless Mexican Everyday
(Recipe: Toasty Guajillo Salsa)



*Enjoyed this post? Want to help out DadCooksDinner? Subscribe using your RSS reader or by Email, recommend DadCooksDinner to your friends, or buy something from Amazon.com through the links on this site. Thank you!