My thanks to Quality Grill Parts for sponsoring DadCooksDinner this week. They would like to talk to us about Weber grill maintenance:
---
Taking Some Pain Out Of Weber Grill Maintenance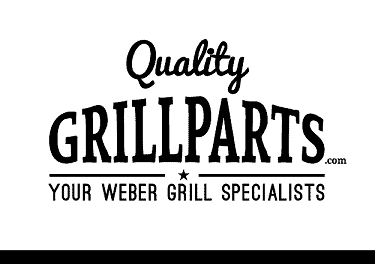 by David Somerville, QualityGrillParts.com
Grilling on a Weber grill is a ton of fun.
Replacing parts on your Weber grill is not 🙂
One down side of Weber grills lasting forever is that every now and then you need to do some maintenance. I wanted to share three tips to extend the life of your grill components and lower the eventual replacement cost.
Tip #1: Pay Attention
The Flavorizer bars are always the first part to rust through on a Weber gas grill. The ones made from porcelain enameled steel last about three years while ones made from stainless steel last a few years longer.
Most folks complete ignore the Flavorizer bars on their Weber. That's unfortunate because if they paid attention they would notice that each Flavorizer bar corrodes at a different rate. This occurs for two reasons.
Some Flavorizer bars are located directly over a gas burner while others are not.
Everyone has a "sweet spot" on their grill that they routinely use. Some Flavorizer bars get constantly exposed to dripping grease and marinades while others hardly ever get used.
You can make the Flavorizer bars last one to two years longer if you take the time to rotate them weekly during your peak grilling season!
This doesn't have to be a complicated process. Before you fire up the grill just take a minute to lift up the grate and shuffle the Flavorizer bars around.
Your Flavorizer bars will rust through eventually no matter what you do. You can save some money on replacement Flavorizer bars by purchasing replacement bars from Amazon.
There are currently two companies selling aftermarket stainless steel Flavorizer bars on Amazon much cheaper than the official Weber replacement products. The aftermarket parts fit great and work just as well as original Weber parts.
Tip #2: Only Get What You Need
Older Weber gas grills have multiple burner tubes that are connected via a small crossover ignition burner. The burner tubes have a ten year warranty but can last significantly longer if you keep your grill covered.
As the burner tubes get older it is common for the small crossover burner to fall apart while the main burners are still perfectly fine.
If you head down to Home Depot for replacement parts they are happy to sell you the complete burner kit for about $50.
However, if you call Weber customer service (1-800-446-1071) then they can send you just the crossover burner and it will only set you back by five bucks!
You will probably still need to replace all of the burner tubes a year or two later but it's always nice to defer some costs.
Tip #3: Turn it off correctly.
I believe that how you turn off your Weber gas grill can make a difference in how long it lasts.
The propane we use for grilling has been fortified with sulfur based compounds that make it easy for us to smell a leak.
In addition to being stinky, sulfur compounds can also be reactive.
It is my belief that when the sulfur compounds are in contact with the brass inside the gas control valves some unwanted chemistry is happening. You know that pretty patina you see on old bronze statues? Yeah..that kind of stuff.
Over the course of a grilling session the interaction between the sulfur and the brass should be pretty insignificant.
However, if you turn off you grill by first turning off the burners and then turning off the propane tank then you have trapped some propane (and the sulfur that comes with it) inside/beside the brass gas valve assembly.
Those sulfur compounds will be sitting there with nothing to do except start playing around with your brass components.
I believe this is the main reason why the gas valves on some Weber grills completely seize up. It won't happen overnight..this is one of those things that slowly creep up on you.
To minimize the possibility of brass/sulfur interaction I always turn off my grill by turning off my propane tank first. I wait for the gas to burn out of the tubes and then I close the gas valves on the grill.
I can't swear this makes a difference but it makes sense to me.
I hope you found these three tips for maintaining the life of your Weber grill useful!
These tips were brought to you by www.QualityGrillParts.com. This site was designed to be the easiest and most comprehensive way to find Weber grill parts.
The site does not have every single Weber part listed. There are some specialty parts like the crossover ignition tube, firebox slider rails and cabinetry hardware that should only be ordered through Weber Customer Service.
For the more routine parts like Flavorizer bars, grill grates and covers then the site makes it easy to find the exactly right part with just a few clicks.
---
Thanks again to Quality Grill Parts for sponsoring Dad Cooks Dinner. If you visit their site, let them know Dad Cooks Dinner sent you!