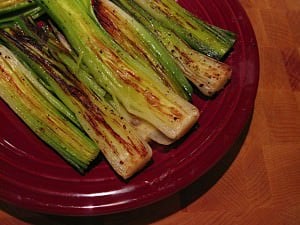 *Here is another recipe in my A Week In Provence series
When I think of leeks, I think of French food. Leeks, a relative of onions and garlic, are one of the key aromatics in French cuisine. Leeks aren't as strong tasting as onions; they add a more subtle base of flavor to any number of wonderful French dishes.
*Leek and potato soup is the recipe Julia Child chose to go first in "The Art of French Cooking"
I've always used leeks like I use onions. They were a supporting player, something to add depth to a dish, not something you eat on their own. That is, until Patrick showed me how to make them into a simple side dish. Leeks, boiled until tender, sauteed in butter. The result is very sweet, with a mild hint of garlic and onion to it.
*Patrick, being French, boiled them in a large pot of water, drained them, then sauteed them in butter. That's too much work for me on a weeknight, so I use the steam-saute technique I learned from Pam Anderson to get the same effect.
Recipe: Steam Sauteed Leeks

Equipment:
Ingredients:
3 to 4 leeks, depending on thickness (I used four because mine were thin, about 2 inches around)
⅓ cup water
½ teaspoon kosher salt
½ teaspoon ground pepper
1 tablespoon butter (optional, but pretty plain without it)
1. Trim and clean the leeks:Trim the root end off of the leeks, as close to the end of the leek as possible. For the leeks to hold together while cooking, keep the end of the leek where it all joins together. Trim the stems off of the leek where they turn dark green; the dark green is very tough, and not good to eat. Cut the leek in half lengthwise. Under cold running water, separate layers of the leek and rinse out all the dirt that is trapped inside.
Yes, there will be a lot of dirt. Make sure you get it all, or your leeks will be gritty.
2. Steam the leeks: Put the halved leeks in the pan in a single layer, cut side down. Add ⅓ cup water and the butter to the pan, then sprinkle the leeks evenly with the salt and pepper. Cover the pan, and put over medium-high heat. Wait for the water to come to a boil, then cook, covered, for 5 minutes.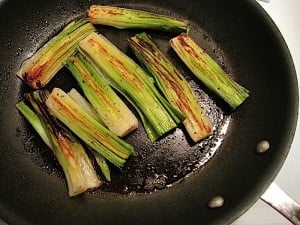 3. Saute the leeks: Remove the lid, and check the bottom of the leeks. They should be well browned, and most of the water should be evaporated. (If not, continue to cook cut side down until the leeks are well browned.) Flip the leeks, and cook another 3-5 minutes, until they are tender all the way through. Check for doneness with a paring knife - it should glide through the thickest part of the leek without resistance.
Variations:
*Olive Oil: Substitute olive oil (or any other vegetable oil) for the butter, or do half butter, half oil.
*I want to be really healthy version: Cut the butter back to 1 teaspoon. I wouldn't eliminate it entirely. Even a little butter adds a big hit of flavor to the leeks.
*Lemon leeks: Zest a lemon. Cut it in half, and squeeze its juice over the leeks after they are done cooking. Sprinkle 1 teaspoon of the zest onto the leeks, and serve.
Notes:
*Why do leeks need such careful cleaning? Why is there so much dirt trapped in there? While leeks are growing, dirt is piled up around their stems to protect them from sunlight. This is what keeps the bottom of the leek white, which is the good part - the green leaves are tough and inedible. As the leek grows, it is pushing itself up through this pile of dirt, trapping it between the layers of the leek. So, to have an edible leek, you need the dirt trapped between the layers.
*Which leads to my leek buying advice. Because the white part is the only edible part, buy leeks with as much white on them as you can. The dark green part is just going to be trimmed off, so make sure you are getting enough white leek to be worth it.
*Instead of throwing away the dark green leaves, I rinse and save them. They make an excellent replacement for onions when making chicken stock. I save them in a ziploc bag in my freezer, right next to my ziploc bag with leftover chicken bones, waiting for my next batch of stock.
You do make your own stock with leftover chicken bones, right?
What do you think? Questions? Other ideas? Leave them in the comments section below.
Related Posts:
Sauteed Swiss Chard
Steam-sauteed green beans
Barbecued Frozen Corn
Inspired by:
Cooking with Patrick Payet in Provence
Pam Anderson: How to Cook Without a Book




*Enjoyed this post? Want to help out DadCooksDinner? Subscribe using your RSS reader or by Email, recommend DadCooksDinner to your friends, or buy something from Amazon.com through the links on this site. Thank you!