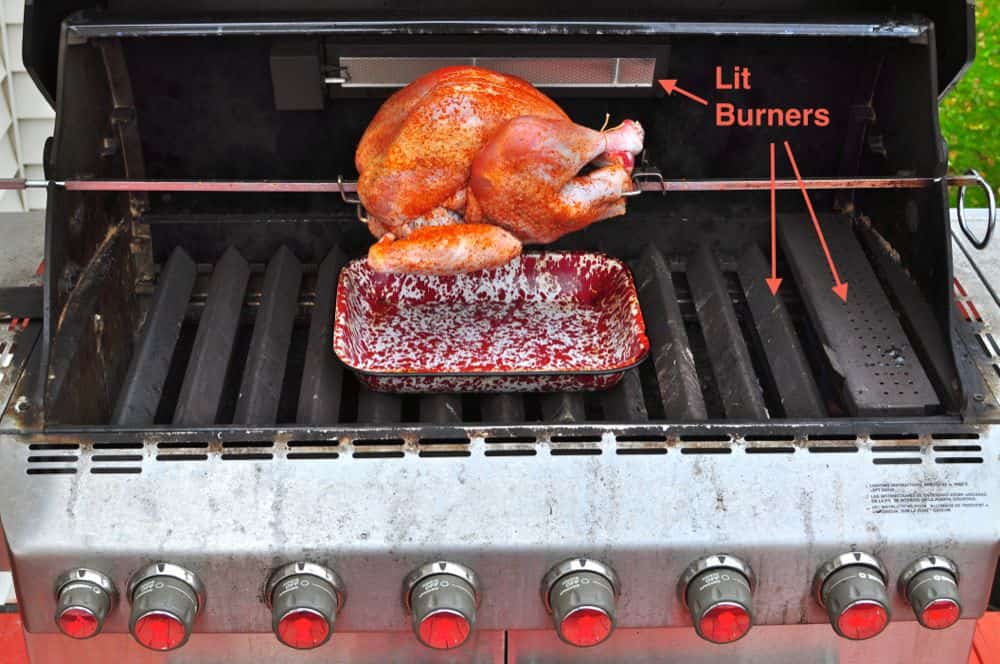 Indirect high heat...sort of.
Burners 6 and smoker on to cook the turkey legs more,
and also using the rotisserie burner...
Here is how I suggest setting up a gas grill for indirect high heat:
For my Weber Summit, I preheat the grill for 15 minutes with all the burners on high, then I turn off the middle burners (leaving burners 1 and 6 lit and on high heat). I want an internal temperature of 450*F, or higher if I can get it.
Reader Roy G has the same Weber Summit that I do, and he had some questions after making my Grilled Butterflied Chicken with Dry Brine. His grill was only 375F with burners #1 and 6 set to high - closer to what I would call medium heat. I was surprised by this; I use indirect high heat on my gas grill all the time. I was sure my temperatures were higher.
Except…my indirect cooking usually includes the rotisserie burner. Or, if I'm not using the rotisserie, I have some of the other burners on to cook a side dish.
I went out and tested my grill. Sure enough, Roy was right. Two burners on high left me with an internal temperature of 350F. If I turned the rotisserie burner on, I was right where I expected to be, at 450F.
After this test, I turn on my smoker burner to get a little extra power when I want indirect high heat on the Summit.
My next test was at my parent's house, with my dad's Weber Genesis. It only has three burners, but each burner is longer than the burners on my Summit. It turns out the longer burner matters - when I set the Genesis up for indirect high heat, with the two outer burners on and the middle burner off, the temperature was just shy of 500F. This range of temps made me wonder - what about other grills? Are there a standard set of instructions I can use in my recipes, or is it every grill for itself?
The survey:
When a recipe says "set your grill up for indirect high heat", what do you do? And, what temperature do you get? Please answer the following questions:
*If you can't see the survey, click on this link to go to the web page: Grilling with Indirect High Heat at SurveyMonkey.com
I'll keep the survey open for a week, and summarize the results for everyone later this month. Feel free to pass the survey on to anyone you think would know the answers - the more responses I get, the better the results will be.
Thank you for satisfying my curiosity!
*Enjoyed this post? Want to help out DadCooksDinner? Subscribe using your RSS reader or by Email, recommend DadCooksDinner to your friends, or buy something from Amazon.com through the links on this site. Thank you!