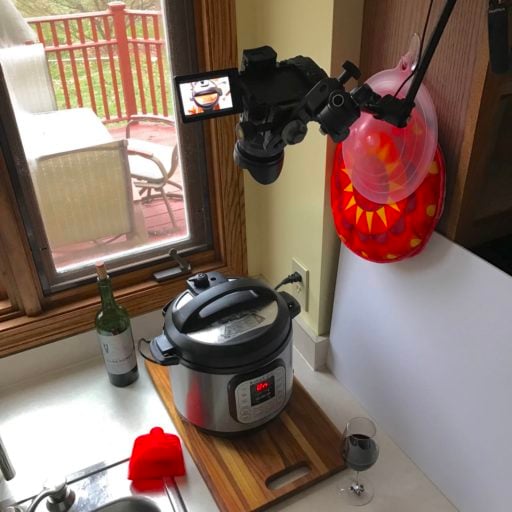 Mike, I really like your videos and love the time lapse "but" find myself watching them and ½ speed… (Loren D., YouTube commenter)
Reader survey time!
I enjoy shooting time lapse videos. (Regular readers are saying "No kidding" right now.) As a photography geek, they're easy for me to make, because each video starts as a series of pictures. I set the camera up, start the time lapse feature on my camera - one frame per second - and cook the recipe. When I'm done, I stack all the pictures together at 30 frames per second - each second of video is 30 seconds of real time. Then with some minor editing, I'm ready to publish. I can knock one out in an afternoon.
I like the results - the whole recipe is there to see, and the video is done in 90 seconds, quick enough to not get bored, especially during the "sauté the onions" step that always takes longer than I think it should. 1When I make a "real" video, like my Macaroni and Cheese Video, it takes a hours of video shooting, followed by days of editing and voiceover recording. A real video takes weeks for me to put together. That's why I'm making so many time lapses - they are much faster for me to produce.
How fast is too fast?
In the last week, a couple of people left the same comments: they like my time lapse videos…but they're too fast, and they either slow them down, or go back over them multiple times to see what's happening.
Can I ask everyone a favor? Watch the two following videos, and let me know: Which speed do you prefer: 24 frames per second, or 12 frames per second? I re-cut my last time lapse video, Pressure Cooker Ham and Yellow Split Pea Soup. I did it at two speeds. A little slower, 24 frames per second, and a lot slower, 12 frames per second.
Let me know in the comments - 12 or 24 fps? (Or email me, or tweet, or post on my Facebook wall - whatever it takes to get me the feedback.)
If you watch both all the way through, it will only take you 4 minutes and 26 seconds total…they are time lapses, after all. Thank you!
24 Frames Per Second

24fps Ham and Yellow Split Pea Time Lapse [YouTube.com]
12 Frames Per Second

12fps Ham and Yellow Split Pea Time Lapse [YouTube.com]
What do you think?
Like it slower, at 12 FPS? Or speed things up to 24 FPS? Tell me your preference in the comments section below.
Related Posts
My other Pressure Cooker Time Lapse Videos
Enjoyed this post? Want to help out DadCooksDinner? Subscribe to DadCooksDinner via eMail or RSS reader, recommend DadCooksDinner to your friends, and buy something from Amazon.com through the links on this site. Thank you.