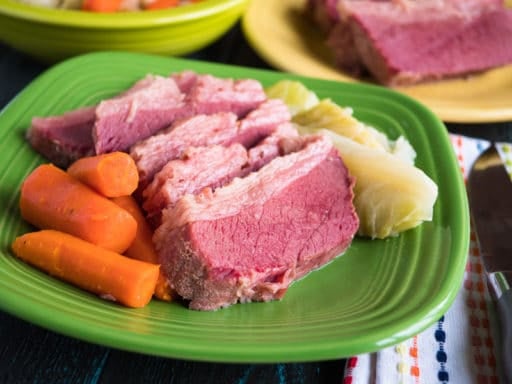 St. Pattie's day is coming, and I wanted to improve my Pressure Cooker corned beef recipe. That recipe was a pain to get right. The big piece of corned beef would not cook through in the pressure cooker. I kept increasing the time - 45 minutes, 60 minutes, 75 minutes…eventually I had to go to 90 minutes to get it to cook through.
(That big piece of corned beef is dense, and it takes a long time for the heat to penetrate into the middle, even under pressure.)
But…what if I tried the trick I learned when making my pressure cooker pot roast recipe, and cut the corned beef into smaller pieces? If I'm going to slice it when it comes out of the cooker, why not cut it before I put it in the cooker?
It took a few tries to get the timing right - corned beef is stubborn that way - but a corned beef cut into 4 pieces cooked in 60 minutes. That's 30 minutes cut off of the cooking time! Also, I could fit a larger, 4 pound corned beef brisket into the pot - I could jigsaw the pieces into the cooker.
Check it out - my new, improved corned beef method:
Video

Pressure Cooker Corned Beef and Cabbage - Time Lapse [YouTube.com]
Updated Recipe
And, here is the updated recipe: Pressure Cooker Corned Beef and Cabbage
What do you think?
Questions? Other ideas? Leave them in the comments section below.
Related Posts
Pressure Cooker Irish Lamb Stew
Pressure Cooker Lamb Stew with Guinness and Barley
Pressure Cooker Champ (Irish Mashed Potatoes with Green Onions)
My other Pressure Cooker Recipes
My other Pressure Cooker Time Lapse Videos
Enjoyed this post? Want to help out DadCooksDinner? Subscribe to DadCooksDinner via eMail or RSS reader, recommend DadCooksDinner to your friends, and buy something from Amazon.com through the links on this site. Thank you.