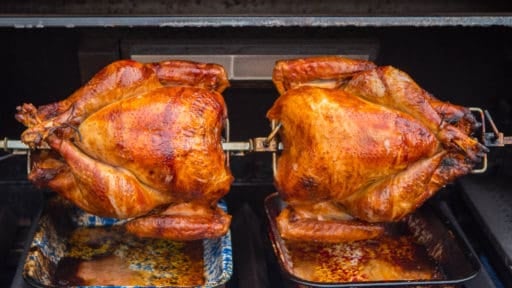 [EXTERIOR SHOT, NIGHT. A DARKENED CASTLE, WITH OMINOUS CLOUDS CIRCLING ABOVE]
They laughed at me back at the university. Laughed!
[CAMERA SWOOPS TO THE BACK OF THE CASTLE, AND ZOOMS IN ON A DECK, WHERE A GRILL SITS]
They said it couldn't be done. Fools! Who's laughing now? Ha. Ha! Hahaha! Bwahahahaha!
Ahem. Sorry. My inner mad food scientist broke loose.
It is the Saturday before Thanksgiving, and I'm working on my annual Thanksgiving Q&A post. I've got a good list going - coming tomorrow! - but then I saw this one from a few years ago on my The Big Turkey post:
Mike, what about two 13 – 14 lb turkeys on a single spit. This gives you the quantity of meat, extra legs and wings and should help the sizing. (This would be like when you do two chickens.) - Commenter Mark
It hit me like a lightning bolt - I have to try this! I rushed to my local grocery store1Thank you, Acme! and bought two 12.75 pound fresh turkeys. (They were the smallest birds in stock). At home, I set up a camera and started filming:
Rotisserie Grilling Two Turkeys? [YouTube.com]
So, what did I learn?
I can fit two turkeys on a Weber Summit…barely. If I'm willing to ignore the weight rating on my rotisserie motor (20 pounds), and my rotisserie spit flexing in the middle, and the turkey tail and drumstick knobs on the right side turkey blackening because they are sitting too close to the burner, then yes. 2. The 12 pound birds were juuust narrow enough to fit. Any bigger and the turkey tuckus would have been too far out over the burners.
I'm a 98-pound weakling. 25 pounds of turkey shouldn't make me grunt as much as it does when I lift it. It's part of my new workout plan, the Dad Cooks Dinner Turkey Deadlift.3
Running the fork into the turkey's tail and thighs, like I do in the video, isn't as reliable as spitting the turkey deep into the bend of the leg where the drumstick meets the thigh. (Like I do in my Trussing a Turkey video). Right turkey broke loose during the last 30 minutes of cooking - the thigh meat got so tender that it stopped supporting the weight of the turkey. That's good for doneness - the dark meat is right where I want it - but not so good for the rotisserie, because it was struggling to turn with the turkey clanking and thumping around on the spit. (If I had to cook the turkey longer, I would have put on my welding gloves and driven the spit into the legs.)
Cooking two turkeys one week before Thanksgiving? What was I thinking? I have enough leftover turkey to last me a month…and we're not even to T-Day yet.
More questions and answers tomorrow…
Step one, throw what we call "THE SWITCH!" [Rotisserie starts turning slowly]. Step two, close the lid.
What do you think?
Questions? Other ideas? Leave them in the comments section below.
Enjoyed this post? Want to help out DadCooksDinner? Subscribe to DadCooksDinner via eMail or RSS reader, recommend DadCooksDinner to your friends, and buy something from Amazon.com through the links on this site. Thank you.