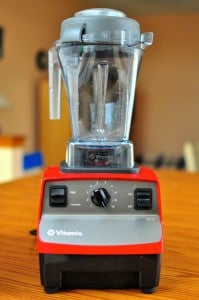 My reconditioned Vitamix 5200
Vitamix has announced a sale on reconditioned blenders! Now through December 2nd, you can get up to 30% $30 off any reconditioned blender you buy on their website:
Vitamix Certified Reconditioned Blenders
The blender I own, the "standard" model (a Vitamix 5200) is on sale for $299, (down from the $329 price I paid for a refurbished model, and $449 for a brand new one):
Vitamix Certified Reconditioned - Standard
If you want to buy their newer, quieter, and more powerful model (the Pro 300 series), it's on sale for $439:
Vitamix Certified Reconditioned - Next Generation
They have some other models on sale as well, but I'd recommend one of the two models above. Their cheapest least expensive blender only has two speeds; I prefer the variable speed knob, so I can slowly turn the speed up to 10. The other models come with programmable settings; I just crank the blender up instead of needing a dedicated "smoothie" button.
Why buy a Vitamix?
Read all about it (and my visit to their outlet store) in Road Trip: Vitamix Factory Outlet Store
(And, if you live in Northeastern Ohio, you can visit the outlet store and get these same sale prices.)
FCC note:
I'm a Vitamix affiliate. If you use affiliate code 06-007986, I'll get a commission for sending you their way, and you'll get free shipping. (If you use any of the links on this page, you should automatically get the affiliate code, and the free shipping. Look for them on the checkout page.) Thank you for your support!