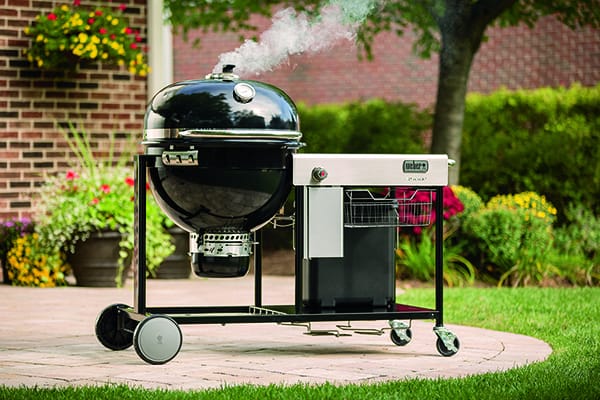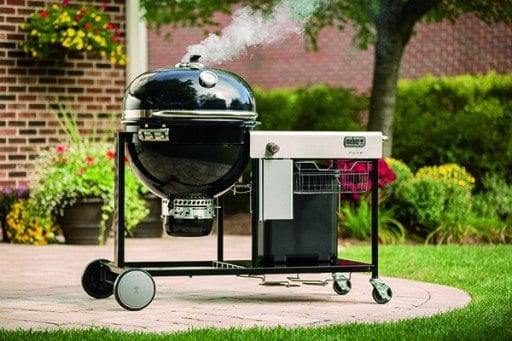 "It is so choice. If you have the means, I highly recommend picking one up." - Ferris Bueller
#GrillOfALifetime
Weber just announced their new Weber Summit Charcoal grill, which they've been teasing with #GrillOfALifetime hashtags for months now. If you were following me yesterday on Twitter, then you know I'm excited about this grill.1And…my apologies for all the ranting.
It's Weber's response to the kamado grill craze - a double walled steel grill, with gas ignition, a 24 inch cooking surface, hinged lid, redesigned vents, and adjustable height charcoal grate. I can't wait to get my hands on one and try some reverse searing with the adjustable charcoal grate…or low and slow barbecue…or maybe just some butterflied chickens.
Why am I so excited?
Double walled - giving me the heat retention of a ceramic kamado grill without the weight. All my complaints about Winter Grilling? This fixes a lot of the problems.
Adjustable charcoal grate - need to sear? Lift the grate close to the coals for a hit of high heat
24 inch grilling grate - I can always use extra space.
They even built in a port for electronic temperature controllers like the BBQ Guru - I've never played with one, but now I'm going to have to try electronic temp control out.
In summary: I wants it. I needs it! Well, other than…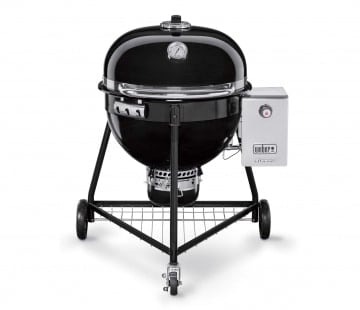 The price…
Are you sitting down? $1699 for the Weber Summit Charcoal, or $2299 for the Weber Summit Charcoal Grilling Center with attached table and charcoal bin.
Wow. That's…wheeze…a lot of money. A LOT of money. 2Especially since I want the Charcoal Grilling Center. After years of using my Performer, I want a side table. This is definitely not a grill for a bargain hunter. But, after looking around, it's priced in the neighborhood of its kamado grill competitors. It's a within a few hundred dollars of a 24 inch Big Green Egg XL with Egg Nest, or a Kamado Joe BigJoe. (And those don't come with a gas starter.)
…but, still, that price. Yikes. I'm going to have to save my pennies for this one…
No Rotisserie
I love my rotisserie, and desperately want one for the Weber Summit Charcoal. I'm hoping Weber makes something like the Kamado Joe Joetisserie - a wedge shaped rotisserie that fits under a hinged lid. But, for now, there isn't one for the Summit Charcoal. And that makes me sad.
Can I actually get one?
[Update 2016-04-18]: Thanks to commenter Nick for the heads up - Weber updated their available dealer list. This includes The Place, my local high end Weber dealer, just down the road from me in Medina. I'm going to drool all over one check them out in person as soon as I'm done updating this post.
Weber is only selling the Summit Charcoal through a limited set of dealers - and the nearest one is about a two hour drive away from me in Columbus, OH. (They are the only dealer selling the Summit Charcoal in the state of Ohio, from what I can see.)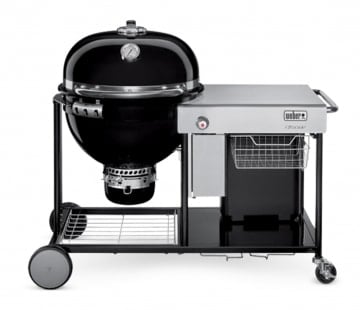 All that said, my grill lust is strong for this one
Now, I know a lot of people are…upset?…offended?…by the price of the grill. The anger on Twitter was intense. If you're a price conscious shopper, just move on. If you think $1700 for a charcoal grill is expensive…you're right.
Do I really need a Weber Summit Charcoal? No, my Weber Performer is a great grill, and I still love it. Can I afford one? Umm…ask me when my credit card bills arrive.
But, do I want one? Oh, my, yes. A weather-insulated, XL sized charcoal grill with a gas starter and adjustable charcoal grate? From Weber? I'm so there. Even though the price makes me wheeze (and my wallet cry), I want one.
Other Info
For more info, check out Weber's official #GrillOfALifetime site, and the reviews from a couple Friends-Of-DadCooksDinner who got prerelease copies to review. 3It looks like Weber doesn't like me enough to give me a pre-release model. Sniff. That's OK, I'm not hurt. I'm fine. I'll be fine.
What do you think?
Questions? Other ideas? Leave them in the comments section below.
Enjoyed this post? Want to help out DadCooksDinner? Subscribe to DadCooksDinner via eMail or RSS reader, recommend DadCooksDinner to your friends, and buy something from Amazon.com through the links on this site. Thank you.