What do I want for Christmas? I don't really need anything. My kitchen is well-stocked. I avoid unitaskers, I know how to improvise, and I have good knife skills.  It's not the tools, it's the cook that matters.
I have everything I need in my kitchen.
Almost.
You see, the thing is...
I have a gadget problem.
I know I don't need anything. But I lust after newer, shinier, fancier. Most of the time I hold back, keep it hidden, keep it locked away. In my heart of hearts, I'd have a whole room dedicated to kitchen equipment. And more on the way, via UPS, from the far corners of the globe.
*My wife saw this and said "only ONE room for cookware? That would be an improvement."

So, what do I really want Santa to leave under the Christmas tree this year?

1. Induction Burner
I enjoy the set it and forget it convenience of my electric pressure cookers. I wish they had the size and higher pressure of my stove top pressure cookers. A reader put two and two together, and suggested I try a induction burner with a countdown timer. I was dumbfounded - how did I miss this? You mean I can use my jumbo 12 quart pressure cooker and still have the convenience of my electric PC? Or, most of the convenience - I still have to level off the temperature once the cooker is up to pressure. Still, I need to try this out.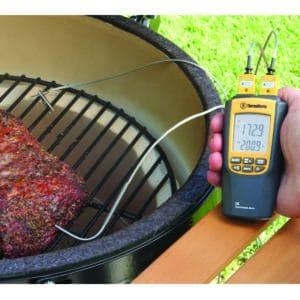 2. ThermoWorks Dual Channel Alarm Thermometer
I love my Thermapen. It is the most accurate kitchen thermometer available, thanks to its thermocouple probe. Before I bought the Thermapen, I relied on a Polder in-oven probe thermometer. It makes roasting easy - leave the probe in the roast, and pull the roast out when it reaches the right temperature. But the probes burn out if I use them in the grill, or in too hot of an oven. Also, once I got used to the accuracy of the Thermapen, I started to doubt the temperature on the Polder.
Then I found out Thermoworks has a professional grade 2 channel thermocouple thermometer. They sell a bunch of different probes for it, including a sensor to clip onto the grill grate, and a probe with a high heat cable to stand up to the heat of a grill.  It will be mine. Oh yes, it will be mine.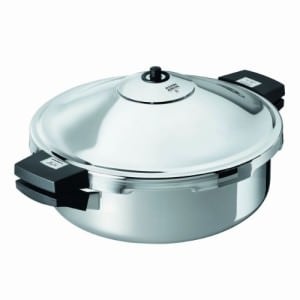 3. Pressure Braiser
This goes with the induction burner. My massive, 12 quart Kuhn Rikon pressure cooker is great...except when I want to pressure cook a side dish. I want a smaller, second cooker to help out, but I'm torn. Kuhn Rikon has two pressure braisers, and they both look good. The 2.6 quart pressure braiser is smaller, cheaper, and more suited to small side dishes. The 5 quart braising pan is larger and more expensive. But it uses the same lid as my 12 quart PC, so I already have the the non-pressure lid and spare gasket that will fit. Decisions, decisions...

4. Boos Carving Board
I have always wanted a larger carving board. But I needed it on Thanksgiving - my turkey was too big for my carving board. I've been eyeing this extra-large board with a deep groove for drippings. With a crowd coming over on Christmas, I think it's time to take the plunge. This one might come off the list before Santa gets a chance...

5. Ceramic Slicer
My mandoline is great for thin-slicing large amounts of produce. I can't imagine canning without it. But it is a large piece of kitchen equipment. I don't feel like setting it up when I want to thin-slice a single carrot or potato. This smaller version sounds like a convenient tool to keep in my utensil drawer, so I can pull it out whenever I need it.
Disclaimer: I am not receiving any compensation from the manufacturer(s) for this post. I haven't tried any of these items, but I have had good experiences with most of the manufacturers in the past. If you buy something through the Amazon.com links on my site I get a small commission from the purchase. Thank you!
(OK, I'm good with the FCC now.)

What do you think? Have you been naughty or nice this year? What do you really want Santa to bring you? Let us know in the comments section below.
*Enjoyed this post? Want to help out DadCooksDinner? Subscribe to DadCooksDinner using the RSS or Email options on the right, link to this post from your blog, recommend DadCooksDinner to your friends, or buy something from Amazon.com
through the links on this site. Thank you.