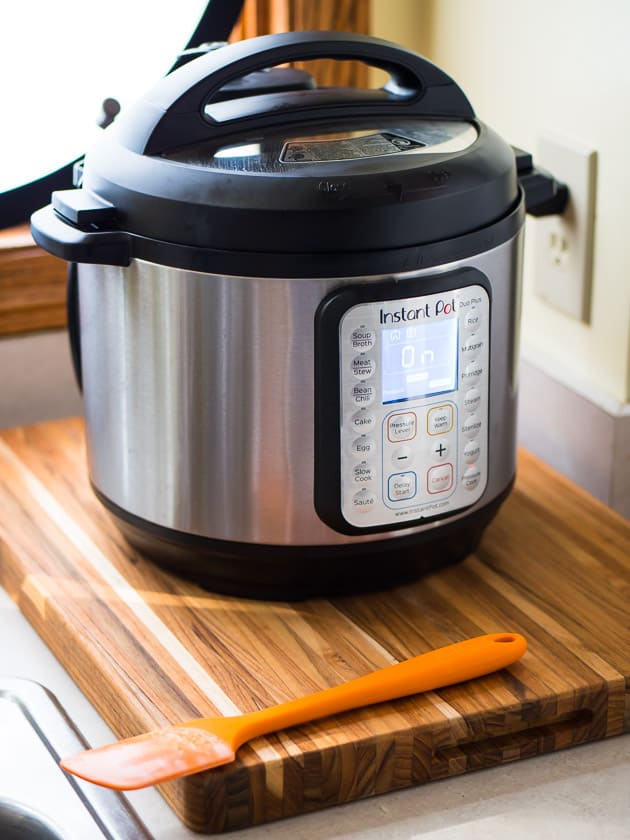 I had it all planned out.
While I worked on dinner, I started a batch of make-ahead Rotisserie Chicken broth for the next day. I figured it would finish about the same time dinner did. Look at me, being efficient - I can finish the broth while I clean the kitchen - cook twice, clean once. And the broth would be done for tomorrow's dinner, rotisserie chicken noodle soup, so I can have an easy night in the kitchen.
It was a great plan...except I underestimated how long it would take for a full pressure cooker to come up to pressure. (I always underestimate how long it takes). Dinner was done, the kitchen was spotless...and the Instant Pot still had a few minutes to go, let alone the natural pressure release time. No problem. I'll set a timer to remind myself. (I'm forgetful enough that I need that beeping timer as a reminder.)
But what if I'm so forgetful that I forget to start the timer?
I came downstairs the next morning, bleary-eyed and needing coffee. My wife, on her way out the door, casually asked: "What's in the pressure cooker?"
Suddenly, I was wide awake. And kicking myself. The "keep warm" timer on my pot said 12 hours and 43 minutes. I made overnight broth. That can't be good, can it?
So, I did the obvious thing: I tweeted at my favorite food safety podcast, Risky or Not?. Dr. Don and Professor Ben, microbiologists who specialize in food safety, answer questions about everyday risks from germs, and keep me entertained a couple of times a week. From listening to them for years, I knew to give them as much data as I could - what the ingredients were, how long, and (most important), that the broth was 167°F after 12 hours plus at keep warm mode. I figured I was OK, since I was above the danger zone for chicken...but I wanted to call in the experts.
And Professor Ben got back to me right away, with a #NotRisky, followed by Dr. Don agreeing:
So, what did I learn?
Don't forget to set the reminder timer! Right now! You won't remember to do it "in a minute".
Keep warm mode does what it says on the tin.
Mess up enough and you can wind up on one of your favorite podcasts!
Let's be (food) safe out there. Thanks, Professor Ben and Dr. Don!
Food Safety Podcasts: