Why Weber?
When we moved into our house, the first thing I wanted was a Weber kettle for my back yard. Why? I'm not sure, exactly, but that was one of the best gut feelings I've ever had.
To paraphrase "High Fidelity" - normally, when I trust my gut, it has rocks for brains. But not this time!
I think I wanted one because it's a classic of American design. It's immediately identifiable. If you have a commercial, and you want people to know it's someone's back yard, you have a red Weber kettle sitting in the background.
Never mind that they haven't made them in red for a while now. Of course, what I really want is the Homer Simpson Limited Edition Charcoal Kettle.

**See the history of weber grills through this link: Weber Timeline. The Wishing Well Weber leaves me giggling...
That grill started me on was the odyssey that led to this blog. My first few grill sessions were hit or miss, so I went on this newfangled internet thing to find out what I was doing wrong. (Oh, and I needed a recipe for ribs.) I found the Virtual Weber Bullet, and it picked up momentum from there.
I also went to the Big Green Egg forum. Who knows what I'd be talking about now if I had the money to buy one back then?
So...why am I so brand loyal when it comes to Weber? They provide the best value in grills. There are some that are cheaper; there are some that are more expensive. Weber, hands down, gives you the best value for your money. Why? Three reasons: design, support, and accessories.
The first is design. There's a reason the Weber kettle is a classic, and it's not just good looks. It's a beautiful, bulletproof design. It's flexible enough to handle grilling and grill roasting, the two-piece body doesn't have any gaps for wind to get in, and it is compact enough that you can fit it in the trunk of a '98 Toyota Corolla if you take the legs off and nest the pieces.
Yes, I do this all the time.
The Genesis gas grill introduced Weber's "Flavorizer Bars. Those V-shaped bars replaced all those awful lava rocks in grills. Lava rocks are gone now; everyone uses some variation on the V shaped bar that Weber pioneered. And they sell really, REALLY heavy grates for their gas grills. While they don't come standard on their inexpensive grills, you can get them as replacement parts for any of their grills. The cast iron or steel rod grates really hold on to heat, which is the key to good searing on a gas grill.
Weber isn't resting on their laurels, either. The "one-touch" ash catching system that they added to the kettle in 2000 is a marvel.
*Also, they're almost indestructible. My Weber Genesis Silver C was on my deck for a week, when a windstorm came up. I was watching out the back window, wondering if I remembered to lock the wheel casters, when I saw the grill vibrate, then slide across the deck. The grill cover was acting like a sail...right over the edge of my deck, a three foot drop. I ran out and righted the grill, fearing the worst. Once the wind died down, I followed instructions, wiped the hoses down with soapy water, and turned it on...not a leak to be found. The grill worked beautifully, even with the crash landing, and is still going strong. I find myself double checking the wheels on the grill every now and then to make sure I have them locked...
Want a second opinion? Alton Brown, in his new book, Good Eats: The Early Years, goes over the grill recommendations that he gave in his Grill Seekers episode. Then he adds this aside:
The grill I used in this episode rotted away from use some time ago, but the red

Weber kettle

I've been using since "Hook, Line and Dinner" is still going strong. That's not a product endorsement, mind you, but it is a testament to solid design.
[Alton Brown:

Good Eats: The Early Years

]
The second reason is support. Weber has a help line staffed 24/7; if you have a question, just call. Or email; they've helped me out a number of times that way. Because grills live outdoors, the non-coated parts will start to rust, eventually. (Make sure you keep your grill covered when not in use!) If you need a part, they've got it. When you rust out a grate, you can get a new one at almost any major hardware store; if they don't have it, just give Weber a call and they'll ship it out to you. Kept your grill long enough that you rusted out the burners? Yes, they have those as well - just follow instructions, and you can slide the new ones right in. These grills are built with the opposite of "planned obsolescence". When I got my new, jumbo, 6 burner Weber Summit
, I gave my trusty Weber Genesis to my sister-in-law. It's still going strong, and it's close to ten years old.


Part of their support is their constant promotion of outdoor cooking; they support it as a hobby (and an obsession). They publish cookbooks
, support good grilling shows, have an online community, they send out free booklets. They even donated the grills that were used in the steak cook-off I won!
*Yes, I know this is self-serving. I view it more as enlightened self interest. They don't just want to sell you a grill, they want you to use it, and be happy with it, so you'll buy another one. Weber has done more to promote grilling in America than...well, almost everyone else combined.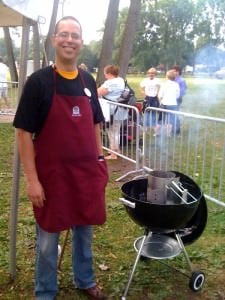 Me and my little buddy.
Finally, the accessories. Beyond just the replacement grates, they have the accessory that I almost love more than the kettle itself, the Weber Kettle Rotisserie
. This makes the grill even more versatile, and I've got a bunch of things you can try with it.* Their charcoal chimney is another case of their great design; it's the perfect size, and the second loop handle helps you put the coals exactly where you want them while you juggle a flaming hot cylinder of charcoal.
Start with the rotisserie chicken. Trust me.
Are Weber grills perfect? No. The gas grills can be a little expensive for the features you get, but I think their bulletproof design, quality build and excellent support make up for the cost difference. I wish they could add a way to raise and lower the charcoal grate in the kettles, but I worry it would mess with the simplicity of their design. I wish the massive Ranch Kettle
was cheaper, but the new (re-released) 26-Inch Kettle
is probably the larger size kettle I need. Now if they would just make a rotisserie attachment for it...
In closing...I love Weber. Sure, there are other great grills out there. But if what you want is not the cheapest, not the fanciest, but the best value, then I think Weber wins hands down.
PS: This is NOT a paid advertisement; I don't receive any sort of support from Weber (beyond what anyone else would get when they call their 1-800 number). I don't receive any financial support or free items from anyone; if I recommend something on this blog, it's because I find it useful.


**However, If Weber offered to sponsor this blog...I'd agree in a heartbeat. But I'd let you know about it as well, in big, bold type.
*Thanks to blog reader (and old freind) Geoff, who asked the question that started this rant...


Questions? Comments? Other ideas? Leave them in the comments section below.