America has a love affair with chicken breasts. I've complained before about how dry chicken breast can get. The flavor is, quite frankly, boring.
*...this is a dangerous time for you, when you will be tempted by the dark side...
The answer is to eat chicken legs. I love dark meat poultry, juicy and full of flavor. Because of America's white meat preference, you can get chicken legs, thighs, and drumsticks for a song at your local megamart.
I'd still buy dark meat, even if it was more expensive. Dark meat has more fat than white meat, giving it two important advantages. First, fat carries a lot of the flavor in meat, so more fat means more flavor. Second, the fat makes it harder to overcook.  A chicken breast cooked above 165*F is dry and tasteless; a chicken leg doesn't start to get good until it hits 170*F, and can go as high as 185*F or 190*F before you're starting to overcook it.
*...that place...is strong with the dark side...a domain of flavor it is.


This recipe is adapted from an article by Mark Bittman.  It was titled, appropriately enough, Crossing over to the Dark Side.  Come, join us on the dark side, we have better chicken!
*...if only you knew the power of the dark side...OK, if you promise to try this recipe, I'll stop with the Star Wars quotes.
Recipe: Baked Chicken Thighs with Mustard and Herbs
Adapted From: Mark Bittman (and Gary Danko): Crossing Over to the Dark Side [nytimes.com]
Prep Time: 10 minutes
Cook Time: 60 minutes
Ingredients
8 chicken thighs (or 4 legs cut into thigh and drumstick portions)
1 teaspoon kosher salt
¼ cup Dijon mustard
1 cup Panko Bread Crumbs (Japanese style bread crumbs)
2 teaspoons fresh thyme leaves
½ teaspoon kosher salt
½ teaspoon fresh ground black pepper
Directions
1. Coat chicken with mustard
Preheat the oven to 400*F. Trim any excess skin or fat from the chicken thighs, and then put them in a large bowl. Sprinkle evenly with the salt, then toss with the mustard until evenly coated.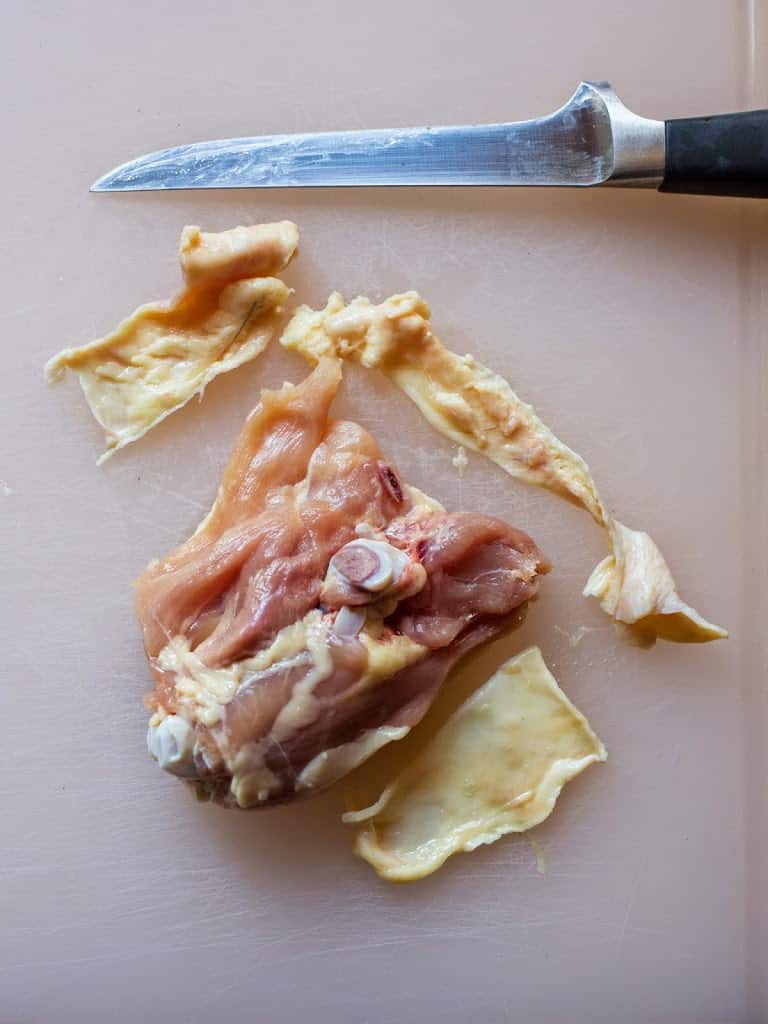 Trimming the excess chicken skin from a chicken thigh
2. Add the bread crumb crust
Put the panko, thyme and salt and pepper in a pie plate, and stir to combine. Press the chicken into the panko mix on both sides, shake off any excess, and transfer to a rack over a rimmed baking sheet.
*Or other roasting pan or baking dish. The chicken crisps up best if it's on a rack to hold it off the pan, but sometimes I just plop it down on the pan if I'm in a hurry and don't want to clean the rack.
3. Cook the chicken
Put the pan of chicken in the oven and cook for until the chicken has an internal temperature of at least 175°F, and the panko crumb crust is golden brown, about 1 hour.
4. Serve
Transfer to a serving platter, cool for 10 minutes, then serve.
Variations
Herbs de provence shortcut: Sprinkle the chicken with 1 teaspoon herbs de provence before you coat it with the mustard, and skip the herbs in the panko.
Different Herbs: Use 2 teaspoon of any minced fresh herb in the panko. In the original recipe, they use minced garlic and tarragon. I always have some fresh thyme lying around, so that's what I use.
Spicy coating: Add ½ teaspoon of chipotle powder or cayenne pepper to the panko if you would like to spice up your chicken.
Homemade bread crumbs: Pulse 3 slices of sandwich bread in a food processor until it's chopped into crumb sizes. Add one tablespoon of olive oil, and pulse to thoroughly combine.
Notes:
Don't use bread crumbs from a can.  Use panko or fresh bread crumbs. Personally, I prefer the crunch you get with the panko.
OK, if you insist, you can use chicken breasts.  Cook them on the bone, skin on, and make sure you get them out of the oven at an internal temperature between 160*F and 165*F, or they'll dry out.
If your thighs are done (over 175°F) but your panko isn't golden brown, turn on your broiler and broil the pan of chicken for a minute or two to crisp up the bread crumbs. But, be careful!  Bread goes from browned to burnt in a flash.  Keep a close eye on the chicken while it's under the broiler.
...You don't know the power of the dark side... oh, right, sorry.  I promised I would stop.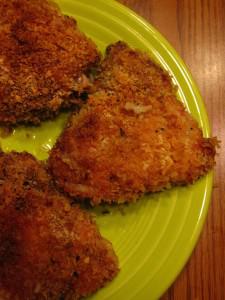 My old picture of the chicken - I left it here for Pinterest posterity,
but...ugh what an awful picture.
Questions? Comments? Other ideas? Leave them in the comments section below.
Related Posts:
Sear-Roasted Chicken Pieces with Quick Lemon Pan Sauce
Leftover chicken?  Use it in White Chicken Chili the Easy Way
*Enjoyed this post?  Want to help out DadCooksDinner?  Subscribe to DadCooksDinner using the RSS or Email options on the right, link to this post from your blog, recommend DadCooksDinner to your friends, or buy something from Amazon.com
through the links on this site.  Thank you!