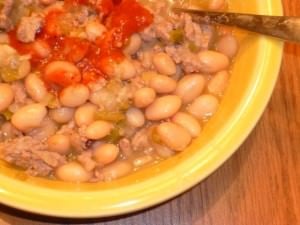 This is my quick, weeknight recipe for white chicken chili.  I make it when we need dinner in a hurry, and/or we've got some leftover chicken that I want to use up.  It's a lot less finicky than the full fledged version, and takes advantage of store bought ingredients like canned beans and canned green chiles.  It's also a lot less spicy, since my kids won't touch anything that might be a little hot.*
*Because of this, I now own a wide
range
of hot
sauces
, so I can bump the heat up at the table.
Recipe: White Chicken Chili the easy way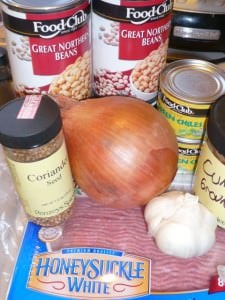 Ingredients:
2 tablespoon vegetable oil
1 large onion, diced
1 lb ground turkey or chicken (or leftover chicken, shredded)
3 cloves garlic, minced
1 tablespoon ground cumin
1 teaspoon ground coriander
1 teaspoon oregano (preferably mexican oregano)
3 - 4oz cans diced green chiles
4 cans great northern beans, drained
1.5 cups homemade chicken stock or water or (ugh) a 15oz can low sodium chicken broth (just don't tell me)
1 tablespoon brown sugar
juice of 1 lime
salt and pepper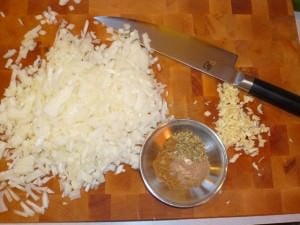 Directions:
1. Saute the aromatics: In a 6 quart or larger dutch oven, heat the oil over medium-high heat until shimmering. Add the diced onions and a pinch of salt, and cook until softened and slightly browned.
2. Cook the meat:
Add the ground turkey and cook, stirring and breaking up the turkey, until it just loses its pink color, another 3-5 minutes. (Just stir in the chicken if it's leftover, pre-cooked chicken).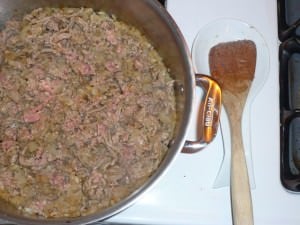 3. Add the spices:
Make a hole in the center of the turkey in the pan, and add the garlic, coriander and cumin. Let sit for about 30 seconds, or until you start to smell the garlic and spices. Stir into the turkey. Add the cans of diced green peppers, and cook until heated through, about 1 more minute.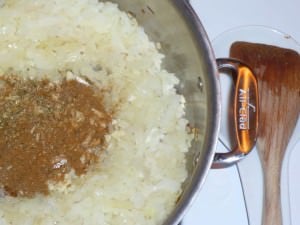 *Whoops - I added the spices before the turkey in this picture
!
4. Cook the chili:
Add the beans and the chicken stock. There should be enough liquid to just come up to the top of the beans; if there isn't, add more chicken stock or water. Bring to a boil over high heat, then reduce heat to a simmer for at least 10 minutes. (30 minutes would be better, to help the flavors combine.)
Variations:
*Cook the chili in a crock pot: Follow the recipe through step 3; for step 4 ("cook the chili"), put everything in a crock pot, and set to low for 3-4 hours.
*I do this once a year for my chili fest at work.  I finish step 1 to step 3 the night before, refrigerate it, then toss everything in the crock pot before I leave for work in the morning.  I plug the crock pot in when I get to work, and by lunchtime it's ready to eat!


*Skip the ground turkey (and the 3-5 minutes of cooking), and substitute leftover cooked chicken, shredded, at the start of step 2. I use this variation often to use up leftovers after I've roasted a couple of chickens.
*Grill about 4 boneless, skinless chicken breasts or thighs, cut them into cubes, and substitute for the ground turkey as above. Before I discovered the joy of homemade beans, this is how I would cook the recipe.
*Substitue lemon juice (½ lemon) or cidervingegar (1 tsp) for the lime juice.  (Which I often do when I don't have a lime on hand.)
Notes:
*You can spice things up by adding a diced fresh Jalapeno, a teaspoon of
chipotle puree
, or some pickledJalapenos to the onions in the saute the aromatics step.*I usually cook this for my kids, though, so I skip the heat in the recipe, and add pickled jalapenos, some
hot sauce
, or some
REALLY hot sauce
at the table.
*Good side dishes for this meal are barbecued frozen corn, corn bread, tortilla chips or Fritos, or oyster crackers. Good condiments are the hot sauces listed above, lime wedges, and sour cream. Oh, and shredded cheese - "mexican blend" is what my kids prefer, but cheddar or pepper jack work just as well.
Related posts:
Inspired by:
White chicken chili recipe from Viking
Really Hot Sauce: El Yucateco Extra Hot Habanero Sauce
*Enjoyed this post?  Want to help out DadCooksDinner?  Subscribe using your RSS reader or by Email, recommend DadCooksDinner to your friends, or buy something from Amazon.com through the links on this site.  Thank you!