Pressure Cooker Chili Mac - chili and elbow pasta, together in a one-pot pressure cooker meal.
Talking to myself about this one-pot meal from the pressure cooker
Q: Chili Mac?
A: Chili Mac.
Q: So…it's chili? And macaroni?
A: Yup
Q: In the pressure cooker?
A: You know me. Of *course* it's in the pressure cooker. It's a one-pot meal in my Instant Pot - what's not to like on a busy weeknight?
Q: That's it? Chili Mac? That's the best you've got?
A: Hey! I have published a lot of chili recipes. (A whole lot.) I love chili!
Q: …
A: OK, you got me. I wanted to post a new chili recipe for Halloween. And I can't believe I've never done Chili Mac. It was time.
Q: I don't get it. Why is Chili Mac a thing?
A: It's like peanut butter and jelly. Chili and macaroni just go together. Didn't your mom make Chili Mac when you were growing up?
Q: Hey, I ask the questions here!
A: Sorry!
Q:…
A: You OK?
Q: Sigh. My mom…my mom didn't make Chili Mac for us growing up. She didn't like beans.
A: That's OK. It'll be OK. Here. Have a bowl.
Q: So. Chili Mac.
A: Yup.
Recipe: Pressure Cooker Chili Mac
Video: Pressure Cooker Chili Mac [YouTube.com]
Print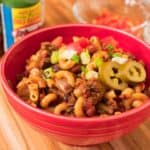 Pressure Cooker Chili Mac
---
Author:

Mike Vrobel

Total Time:

40 minutes

Yield:

4 quarts

of chili mac

1

x
Description
Pressure Cooker Chili Mac - chili and elbow pasta, together in a one-pot pressure cooker meal.
---
1 tablespoon

vegetable oil

1

large onion, diced

1

medium red bell pepper, trimmed and diced

3

cloves garlic, minced

½ teaspoon

fine sea salt

¼ cup

chili powder

2 tablespoons

ground cumin

1 tablespoon

oregano

1

pound ground sirloin (85% lean)

2

(15-ounce) cans red beans, drained and rinsed (or

4 cups

homemade beans)

1

pound dried elbow macaroni pasta

28

-ounce can crushed tomatoes

4 cups

water (or chicken broth)

1 teaspoon

fine sea salt

½ teaspoon

fresh ground black pepper
More salt and pepper to taste (if needed)
Garnish (all optional)
Hot sauce
Diced onions (or green onions)
More diced red peppers
Shredded cheese
Sour cream
Pickled jalapeños
---
Instructions
Sauté the aromatics: Heat 1 tablespoon of vegetable oil in the pressure cooker pot over medium-high heat until shimmering. (In my Instant Pot, sauté mode adjusted to high.) Add the onions, bell pepper, garlic, and ½ teaspoon salt to the pressure cooker. Sauté until the onions soften, about 5 minutes.
Toast the spices and cook the beef: Make a hole in the center of the onion mix and add the chili powder, cumin, and oregano. Let sit for 30 seconds, then stir into the onions. Add the ground beef and stir to coat with the onions and spices, scraping any browned bits from the bottom of the pot. Cook the ground beef, stirring often, until the beef just loses its pink color, about 3 minutes.
Pressure cook for 4 minutes with a quick pressure release: Stir the rinsed and drained beans, elbow macaroni, crushed tomatoes, and water into the pot. Sprinkle in 1 teaspoon of salt. Poke down any pieces of pasta sticking up out of the water - if they're not submerged, they might not cook. Lock the lid on the pressure cooker and cook at high pressure for 4 minutes (both in an electric pressure cooker or stove top pressure cooker) then quick release the pressure in the pot. Remove the lid carefully, opening away from you – even when it's not under pressure, the steam in the cooker is very hot.
Season and serve: Stir in the black pepper, then taste and add more salt and pepper if needed. (Canned beans tend to be salty, so I rarely need to add more salt.) Serve, and enjoy!
Equipment
Notes
"I quick-released the pressure and starchy liquid started spraying out! Help!" Carefully close the pressure release valve (protect your hands, please, that spraying liquid is very hot). Let the cooker cool down for about 5 minutes, then try again. (This sometimes happens in pressure cooking - quick-releasing the pressure causes the chili mac inside the pot to burst into a boil, and the liquid starts boiling out of the valve.)
Overcooked pasta: If you like your pasta al dente, don't pressure cook the pasta. Make the recipe as described, but hold back on the elbow macaroni. Pressure cook everything else, increasing the time at high pressure to 10 minutes. After quick-releasing the pressure, remove the lid, set the pot to Sauté mode, and stir the pasta into the liquid in the pot. Cook the pasta until al dente - check your box of pasta for the timings - and then continue with the season and serve step.
Tools
Prep Time:

10 minutes

Cook Time:

30 minutes

Category:

Weeknight Dinner

Method:

Pressure Cooking

Cuisine:

American
What do you think?
Questions? Other ideas? Leave them in the comments section below.
Related Posts
Pressure Cooker Baked Ziti
Pressure Cooker Quick Chili with Canned Beans
Pressure Cooker 15 Bean Chili
My other Pressure Cooker Recipes
My other Pressure Cooker Time Lapse Videos
Enjoyed this post? Want to help out DadCooksDinner? Subscribe to DadCooksDinner via eMail and share this post with your friends. Want to contribute directly? Donate to my Tip Jar, or buy something from Amazon.com through the links on this site. Thank you.