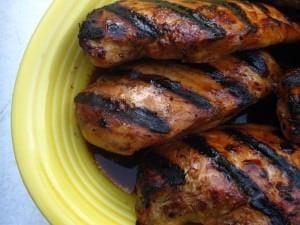 Boneless, skinless chicken breasts with a quick brinerate is my original weeknight grill recipe, and it's still the one I turn to the most. When I need a quick dinner, it's boneless, skinless chicken breasts to the rescue!
There's a problem with this approach. If there's a food as bland as a boneless, skinless chicken breasts, I haven't tasted it. I've complained about pork loin being bland; the reason it's bland is they are trying to turn it into boneless, skinless chicken breasts. So...chicken needs a lot of help if it's going to have good flavor. That's where the brinerade comes in, and why it's the core of my quick weeknight grilling.
The soy/sweet/vinegar combination in the brinerade gives the chicken a big hit of flavor, and helps keep the very lean meat from drying out while cooking. The soy and sugar in the brinerade also helps the surface of the chicken to brown really well, giving it another layer of flavor.  That being said...chicken breasts are still pretty neutral. I try to serve them as a supporting player in a meal with a lot of other, bolder flavors. You can see some examples in the notes at the end of the recipe.
You'll see a lot of similarities to the pork chop recipe earlier in the week, because...well, it's pretty much the same technique. I cook the pork chops for a shorter period of time because they're so much thinner; otherwise, the two are interchangeable.
Recipe: Grilled Boneless Skinless Chicken Breasts, Quick Brinerated

Equipment:
Ingredients:
2 to 3 lbs boneless skinless chicken breasts
Brinerade
¼ cup soy sauce
2 tablespoon lemon juice (juice of ½ lemon, or substitute balsamic vinegar)
2 tablespoon honey
2 tablespoon olive oil
Directions:
1. Brinerate the chicken: Whisk the brinerade ingredients in a small bowl until well combined.
*I use a 2 cup pyrex measuring cup for my bowl, and I whisk with a fork.
Put the chicken breasts in a medium bowl, and pour the brinerade over them, reserving roughly 2 tablespoon of the brinerade for later. Toss the chicken to evenly cover with the marinade, and toss once or twice while the grill preheats.
2. Prepare the grill: Preheat your grill, then set it up for grilling on direct medium heat. For my Weber Summit, this means turning all the burners to high and preheating for 10 minutes, then turning them all down to medium and starting to cook.


3. Cook the chicken: Toss the chicken breasts one more time in the bowl, put them on the grill, and keep the lid closed while cooking. Let them cook for five minutes, until they have good grill marks on them, then flip them, and cook on the other side for another five minutes.
As usual with chicken, you're looking for a temperature of 160F in the thickest part of the meat.  This timing always works for me on my gas grill, but if you have any doubts, get out the thermometer.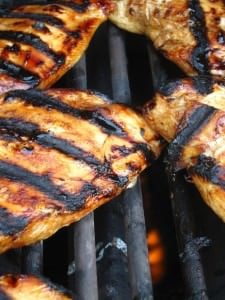 4. Glaze and serve: Remove the chicken to a platter, and pour the reserved brinerade over the breasts, trying to get an even coating on all of them. Let rest for five minutes (if you can), then serve.
Variations:
*Asian style: the soy sauce is already giving them a little bit of an asian flavor; you can play this up by replacing the lemon juice with seasoned asian rice vinegar, and the olive oil with peanut or sesame oil.
*Boneless Skinless Chicken Thighs: I prefer chicken thighs to the breast; they have more flavor. When I can find them at my local grocery store, I cook them exactly the same way listed above. They're a little smaller, but you want to cook them more than the chicken breasts, so it works out in the end.
*Thin cut chicken breasts or chicken tenders: If you're really in a hurry, buy these instead of whole chicken breasts. They cook in roughly half the time; I cook them like I cook thin pork chops - don't turn them, only rotate them to try to get really good browning on one side.
Notes:
*If you can get a jump start on dinner, start the brinerating step up to an hour and a half before it's time to cook. Don't go beyond that, or the lemon juice in the brinerade will start to pickle the chicken.
*For the rest of your meal, serve a caesar salad, and grilled garlic bread that you cooked with the chicken. To get fancy, cut the grilled garlic bread into crouton sized pieces and serve it as part of the salad.
*I also use this recipe for a quick soft taco dinner. Serve with tortillas, quick salsa, pickled chile peppers, and your choice of other toppings.
*And...I use this recipe, or leftovers from it, in my White Chicken Chili. I skip the ground chicken and the browning step, and replace it with cubed pieces of chicken breast.
*Watch out for Individually Quick Frozen (IQF) chicken breasts. They usually come "20% marinated" in a salt water solution - in other words, they're already brined, and you're paying 20% for salt water. This means brinerating is probably going to make them too salty. Also, they tend to be cut in wildly uneven sizes, which makes cooking them evenly a problem.  Get some natural chicken breasts, even if you have to pay more.  They're worth it.
Questions? Comments? Other ideas? Leave them in the comments section below.
Related Posts:
This recipe is part of Quick Grilling Week
If you have the time, I prefer grilled bone-in chicken pieces. Here's my basic technique
Grilled Garlic Bread recipe
Inspired by:
Grilling: Basic Technique section in Weber's Big Book of Grilling
*Enjoyed this post?  Want to help out DadCooksDinner?  Subscribe to DadCooksDinner using the RSS or Email options on the right, link to this post from your blog, recommend DadCooksDinner to your friends, or buy something from Amazon.com
through the links on this site.  Thank you!