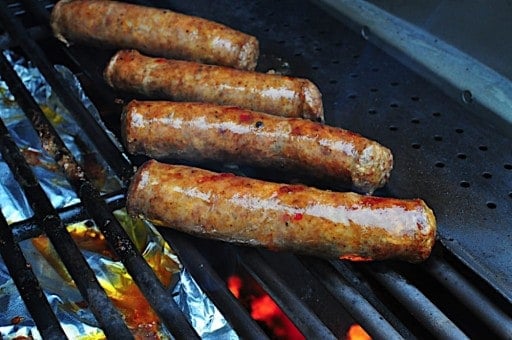 Grilling sausage is an essential skill for every grill master. Especially me. My Dad is from Wisconsin, and I was born there. Knowing how to cook bratwurst is a family requirement.
Grilling sausage is not easy. Cooking a sausage all the way through before it burns on the outside is tricky, and flare ups from dripping fat make it even harder...if you cook them over direct heat. Sausages are a prime candidate for sear-roasting on the grill. Start them over indirect heat, and leave them there until they are cooked through. Then, brown the sausage quickly over direct heat to finish.
If the grill is hot enough, you can skip the browning step - on my charcoal grill, 20 minutes of indirect heat is enough time to brown the sausage AND cook it through.
This is a weeknight grilling recipe, but just barely. It takes 30 to 45 minutes, end to end, counting preheating the grill. Half of that time is hands off - the indirect cooking part - and you can get other parts of your dinner done while the sausages are grilling. Also, because sausage is already stuffed with flavor, there is no other prep work. I take the sausage out of its packaging and put it directly on the grill.
Basic Technique: Grilled Sausages
Adapted From: Stephen Raichlen's BBQ USA
Equipment:
Print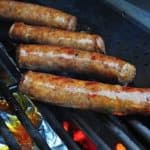 Basic Technique: Grilled Sausages
---
Author:

Mike Vrobel

Total Time:

35 minutes

Yield:

As many sausages as you can fit on the grill
Description
Basic technique: grilling sausages over an indirect fire. Cook the sausages through over the cool zone, then finish over the fire to brown them up.
---
Uncooked sausage (I usually cook 1 to 2 packages, roughly 2 to 3 pounds)
---
Instructions
Prepare the grill (Gas Grill): Set the grill up for cooking with indirect high heat. For my Weber Summit, I preheat the grill with all the burners on for ten to fifteen minutes, then I clean grates with my grill brush. Then I set up for indirect heat by turning off two of the burners, and putting a foil pan under the grill grate, on top of those unlit burners. On my Summit 650, this means burner 1 is on, 2 and 3 are off and 4 to 6 are still on (I use 4-6 as a grilling area for other things...like peppers and onions.)
Prepare the grill (Charcoal Grill):For a charcoal grill, like my my Weber kettle, I light a chimney starter full of charcoal, wait for it to be covered with ash, then pour it in two equal piles on the sides of the charcoal grate, and put the drip pan on the charcoal grate, between the piles.
Cook the sausages: Put the sausages on the grill grate over indirect heat. (That is, over the unlit burners and drip pan). Cook with the lid closed for fifteen minutes. Flip the sausages, and check their temperature. They should be 160F in the middle; if they are not, cook with the lid closed for another five minutes, or until they are 160*F. Now, if the sausages aren't browned enough, move them over the direct heat (one of the lit burners) and grill, watching carefully for flare-ups, for one to three minutes, until well browned. Flip the sausages and brown the other side, another 1-3 minutes.
Notes
Serving suggestions: On a bun with Grilled Peppers and Onions and brown mustard. (Or pickles. Or relish. Or sauerkraut. Or sliced Jalapeños. Or...)
Prep Time:

15 minutes

Cook Time:

20 minutes

Category:

Grilling

Cuisine:

American
| | | |
| --- | --- | --- |
| Indirect - over the drip pan | Cooked through | Over the fire to brown |
Serving suggestions:
*On a bun with peppers and onions and brown mustard (or pickles or relish or sauerkraut or sliced jalapenos or...)
...Oh, wait, you want more?  I so rarely get past that one...
Cut sausages into 2 inch pieces and toss them with pasta (Add some fresh diced tomato, minced garlic, basil leaves and olive oil, and you have a perfect recipe for the height of summer)
Cut the sausages into 1 inch pieces, and serve as an appetizer with pickles and a variety of mustards (Particularly good with the wood smoked variation, below)
Variations:
*The big variation is the choice of sausage. In the last year, I've used it with:
A great addition to this recipe is wood smoke. This works best on a charcoal grill. I soak a fist-sized chunk of hickory (or other smoking wood) in water for an hour. Then I drain it and put it on the lit coals, right before I add the sausage.
Notes:
When serving sausages on buns, I like to open up the buns and toast them on the grill for 30 seconds to 1 minute.  Be careful if you do this, though; bread goes from toasted to burnt in a flash.
*Leftover sausages are great to have in the refrigerator.  Slice them up, then use them in pasta (see the variations), or in a soup, or with beans.
What do you think? Questions? Other ideas? How do you like to serve sausages - any other suggestions? Leave them in the comments section below.
Related Posts:
Click here for my other grilling recipes
Did I mention this goes well with: Grilled Peppers and Onions
*Enjoyed this post?  Want to help out DadCooksDinner?  Subscribe using your RSS reader or by Email, recommend DadCooksDinner to your friends, or buy something from Amazon.com through the links on this site.  Thank you!