I'm a sucker for grilled short ribs. I saw these beauties in the meat case at my local grocery store - flanken cut beef short ribs, lined up in their trays - and I had to buy them. Had to, I tell you!
Flanken style short ribs are the style used in Korean grilled beef short ribs, cut across the bone, about ¼-inch thick. I wasn't in the mood for Korean, though; We had stir fry for dinner last night. I had a taste for something a little more American, so I went with… Smoked Spanish Paprika rub. (Yes, I know, not very American. Oh, well.)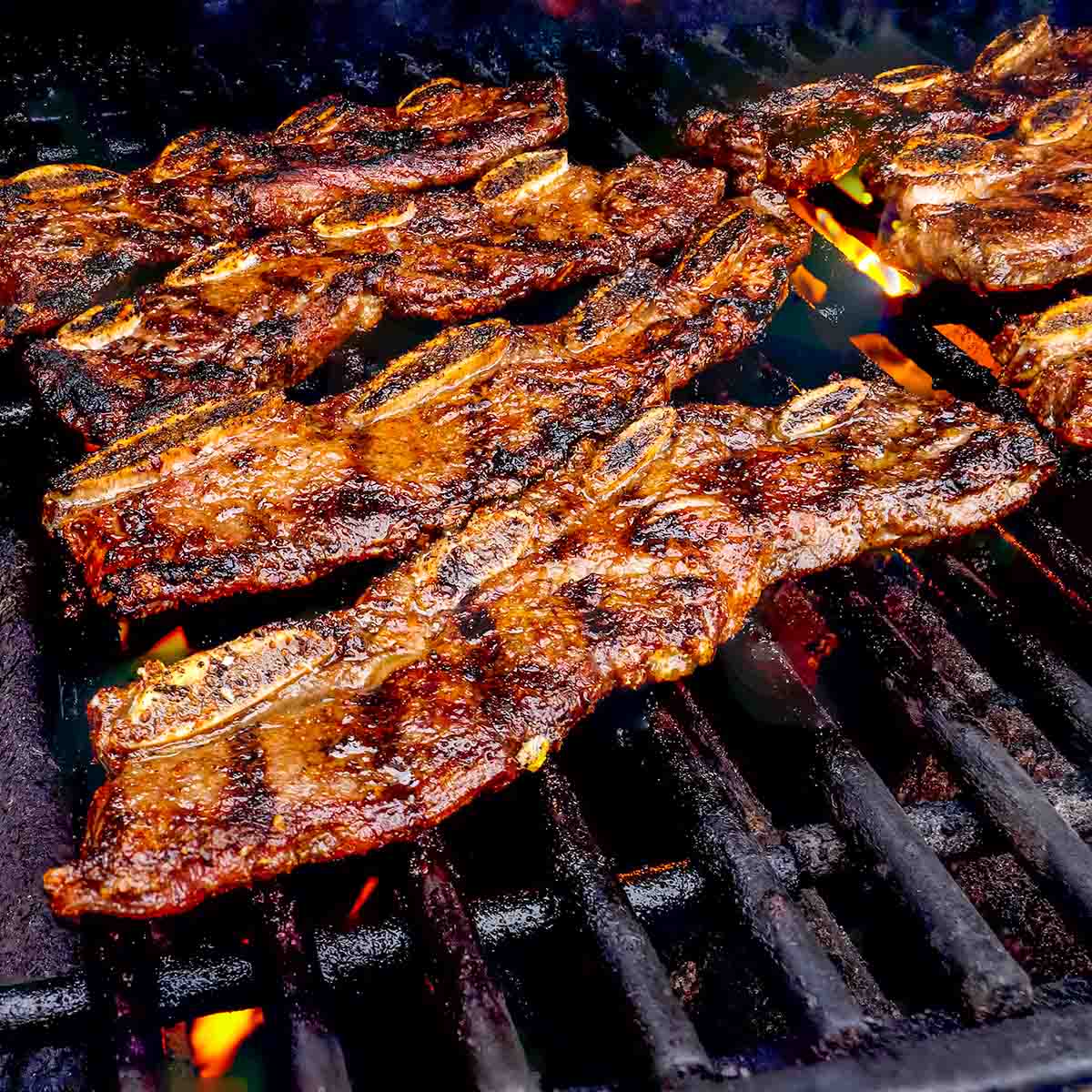 Jump to:
What does Flanken mean, anyhow? It's derived from the Yiddish and German word for "flank", because the ribs are cut from the flank of a side of beef. Flanken was a cheap cut, because short ribs are tough and chewy. Normally it takes long, slow cooking to tenderize it. (Don't use a thick cut for grilled beef short ribs; save them for braises or barbecue.) But, if the short ribs are cut thin enough, against the grain of the meat, they become perfect for grilling, with a big beefy taste.
Ingredients to Make Short Ribs
Beef Short Ribs, ½-inch thick, cross cut through the bones (aka "flanken cut")
What Seasonings to Use
Smoked Spanish paprika
Kosher salt
Garlic powder
Onion powder
Ground coriander
Ground cumin
Fresh Ground Black Pepper
See recipe card for quantities
🥘 Substitutions
Can't find flanken-cut ribs? I find them at my local Whole Foods, or Mexican specialty market, or I go to the meat counter at my local grocery store and ask for them. (Cross cut ½-inch thick).
Don't have smoked Spanish paprika? That's OK, use regular paprika instead.
To simplify the rub, substitute a tablespoon of chili powder for the paprika, garlic powder, onion powder, coriander, cumin, and black pepper. (Chili powder is a blend with a lot of those ingredients.)
Should I Use Bone-in or Boneless Short Ribs?
Use Flanken cut (that is, thin cut, across the bone, ¼-inch thick) bone-in beef short ribs for this short ribs recipe. I've never seen thin-cut boneless short ribs, but they would work in this recipe as written. The other good substitute is thin-cut beef chuck steaks - they also cook the same.
What Temperature Should I Use for this Recipe?
Set your grill up for direct medium heat, 350°F to 400°F, for grilled beef short ribs. On my gas grill, I set the burners to medium; on my charcoal grill, I spread a chimney of coals out in a tight single layer.
How to Grill Short Ribs
Season the ribs with the spice rub.
Set up the grill for direct medium heat. Preheat a gas grill for at least 10 minutes with the burners set to medium, or light a chimney of charcoal and spread it out in a tight, single layer of coals.
Cook the ribs for 8 minutes, or until they are browned and crispy but not burnt. I cook for 8 minutes, flipping every 2 minutes, in a 2-2-2-2 pattern.
Serve and enjoy!
Tips for this Recipe
Short ribs are so thin that "doneness" doesn't really come in to play. That's fine; grilled beef short ribs are all about the crispy, spicy crust, and big beefy taste. Cook them until they're well browned and don't worry about medium-rare.
Side Dishes to Serve With Grilled Short Ribs
I like to grill vegetables as my side dish. I've already heated up the grill, so I want to put that extra heat to use. Grilled asparagus is my favorite, closely followed by grilled peppers and onions, or foil pouch grilled green beans.
Print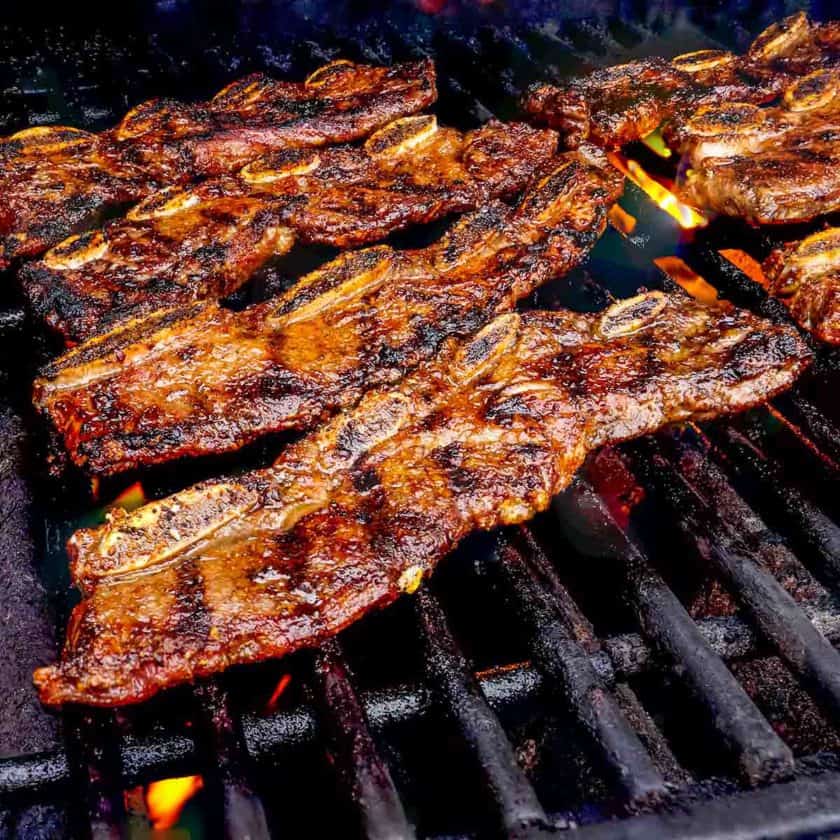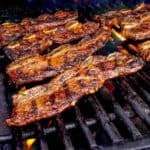 Grilled Short Ribs with Smoked Spanish Paprika Rub
---
Author:

Mike Vrobel

Total Time:

23 minutes

Yield:

3

pounds of ribs

1

x
Description
Grilled Short Ribs with Smoked Spanish Paprika Rub. A short ribs recipe for thin-cut flanken style beef short ribs, grilled with an easy spice rub.
---
3

pounds flanken-style short ribs (short ribs cut about ¼-inch thick across the bones)
Spice Rub
1 tablespoon

smoked Spanish paprika

1 tablespoon

kosher salt

1 teaspoon

garlic powder

1 teaspoon

onion powder

½ teaspoon

ground coriander

½ teaspoon

ground cumin

¼ teaspoon

fresh ground black pepper
---
Instructions
Sprinkle the ribs with the spice rub: Mix the spice rub ingredients until they are completely combined. Sprinkle the ribs with the rub until they are completely coated. (You may have some leftover rub - save it in a jar and use it next time.) Let the short ribs rest at room temperature while the grill preheats.
Preheat the grill for direct medium heat: Set up the grill for direct cooking over medium heat. (about 350°F). On a gas grill: Preheat on high for 10 minutes, clean the grill grates with a grill brush, then turn the heat down to medium. On a charcoal grill: Light the coals and wait for them to be covered with gray ash. Spread in a single layer of coals over the charcoal grate. Put the grill grate on the grill, and clean with a grill brush.
Cook ribs for 4 minutes a side: Set the short ribs on the grill over direct heat, and cook for about 4 minutes a side, until they are well browned. (I flip the short ribs in a 2-2-2-2 pattern. 2 minutes, flip, 2 minutes, flip and rotate 90 degrees to get a crosshatch of grill marks, 2 minutes, flip (still rotated), 2 minutes.) Remove ribs to a plate and let rest for 10 minutes before serving.
Prep Time:

15 minutes

Cook Time:

8 minutes

Category:

Weeknight Dinner

Method:

Grilling

Cuisine:

American
Keywords: Grilled Short Ribs, Grilled Beef Short Ribs
☃️ Storage
You can store the grilled beef short ribs in the refrigerator for a few days, but they are obviously best hot off the grill. If I'm saving them, I cut away the bones, then thin slice the meat and use them in tacos. (Mmmm...tacos.) I don't recommend freezing the short ribs.
What do you think?
Questions? Other ideas? Leave them in the comments section below.
Related Posts
Korean Grilled Short Ribs (Kalbi)
Grilled Mexican Short Rib Tacos
BBQ Beef Short Ribs on a Kettle Grill
Instant Pot Spare Ribs
Grilled Tomahawk Steak - Long Bone Ribeye, Reverse Seared
Grilled Thin Pork Chops
My list of Grilling Recipes
---
Thank you to my friends at Certified Angus Beef® Brand for sponsoring DadCooksDinner. Please check them out at hashtag #BestBeef for more beef recipes, and visit them at the Certified Angus Beef Kitchen Community on Facebook. Thank you!
---
Enjoyed this post? Want to help out DadCooksDinner? Subscribe to DadCooksDinner via eMail and share this post with your friends. Want to contribute directly? Donate to my Tip Jar, or buy something from Amazon.com through the links on this site. Thank you.