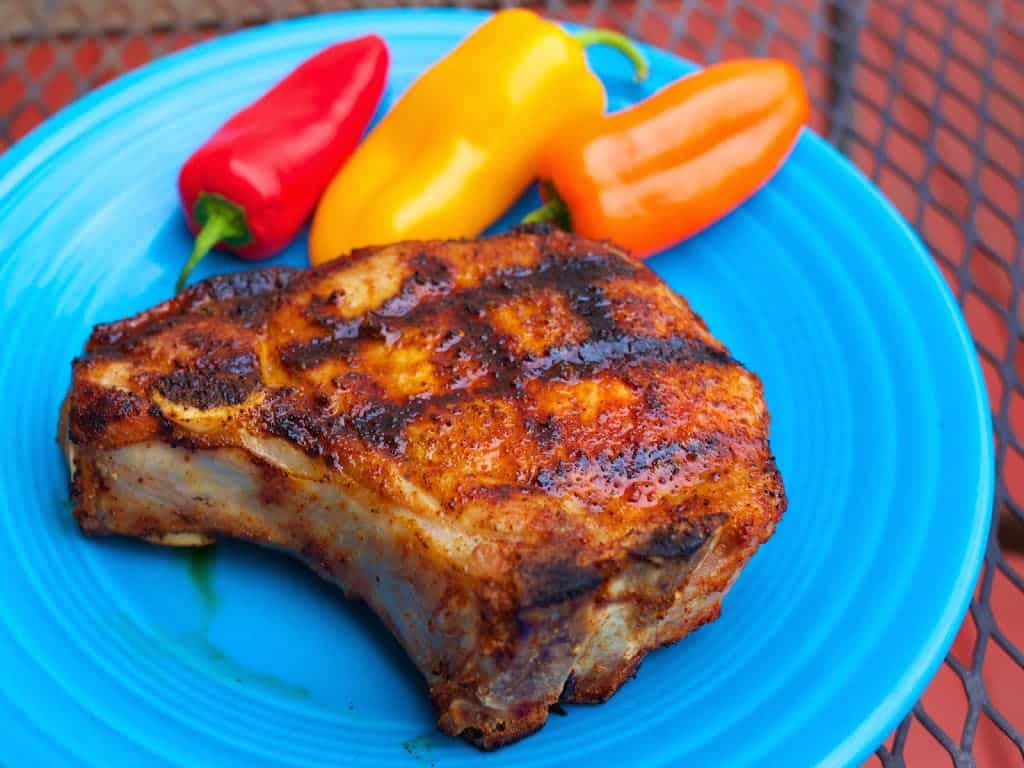 The USDA has finally seen the light! I can cook Grilled Ribeye Pork Chops with Smoked Spanish Paprika Rub to medium, instead of overcooking them to well done.
---
Celebrate grilling season with pork at Kroger!
This post is sponsored by the National Pork Board and Kroger. Backyard barbecues can be simply delicious with tender and juicy pork, the star of grilling season. Celebrate grilling season at Kroger, the ultimate source for barbecue essentials and great pork deals. Visit Kroger.com to view special offers exclusive to your area.
And, don't forget the two grilling with pork contests. First, enter the Top #ChopGriller contest for a chance to win a $15,000 backyard makeover, then leave a comment in my Grilling Essentials Kit Giveaway post for a chance to win a pack of grilling tools.
---
Last year the USDA changed their recommended cooking temperature for pork. They no longer recommend cooking pork loin until it is dry as dust to a well-done 160°F. Now their recommendation is 145°F - medium - with a three minute rest. As the Pork Be Inspired people keep saying, "Cook it like a steak!"
Pork today is very lean and shouldn't be overcooked. To check doneness, use a digital cooking thermometer. The National Pork Board follows the guidance of the U.S. Department of Agriculture, which recommends cooking roasts, tenderloins and chops to an internal temperature of 145°F, followed by a 3 minute rest time, resulting in a flavorful, tender and juicy eating experience.
National Pork Board, PorkBeInspired.com
Along with this change in cooking temperature, the pork board updated the names of different cuts of pork to make them easier to understand. The complete list of new names is here (in pdf), and I was asked to talk about the bone-in ribeye pork chop.
That's an easy one. The ribeye is my favorite pork chop. I get tender, juicy, lean meat and a bone to gnaw on when I'm done. (If you like baby back ribs, you'll love gnawing on the bone - baby backs are cut away from the pork loin.)
I do cook my ribeye chops like a steak - I don't want a pork chop (or a steak) cooked past medium. I grill my ribeye chop for four minutes a side over direct high heat, flipping every two minutes, and rotating 90 degrees halfway through to mark the chops in a crosshatch pattern. Then I check the temperature. If the chops need more time to reach 145°F, like the thick cut chops in the pictures, I slide them over an unlit burner, close the lid, and grill-roast them for a few more minutes until they are done.
Modern pork is lean, and dries out quickly at higher temperatures. Get it off the grill as close to 145°F as possible, or you'll regret it. Let the chops rest for a few minutes as well, so the juices redistribute and don't all rush out of the chop when you cut it.
To help out the juiciness, I go with a quick brine - an hour long soak in water, salt, and a little brown sugar for sweetness. Then I rub the chops with my favorite "secret" ingredient - smoked Spanish paprika - and a few other spices. The result? Even the kids were excited about these chops.
Recipe: Grilled Ribeye Pork Chops with Smoked Spanish Paprika Rub
Print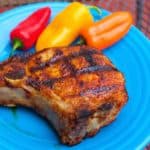 Grilled Ribeye Pork Chops with Smoked Spanish Paprika Rub
---
Author:

Mike Vrobel

Total Time:

1 hour 12 minutes

Yield:

4

chops

1

x
Description
Grilled Ribeye Pork Chops with Smoked Spanish Paprika Rub. A juicy pork chop, brined and sprinkled with my favorite pork rub.
---
4

thick cut (1-inch thick) bone-in ribeye pork chops
Brine
2 quarts

water

¼ cup

table salt or

⅓ cup

fine sea salt

2 tablespoons

brown sugar
Spice Rub
1 tablespoon

smoked Spanish paprika

1 teaspoon

garlic powder

1 teaspoon

onion powder

½ teaspoon

ground coriander

½ teaspoon

ground cumin

½ teaspoon

fresh ground black pepper
---
Instructions
Brine the pork chops: Stir the brine ingredients until the salt and sugar dissolve, then pour over the ribeye pork chops. Refrigerate the chops for one to four hours.
Prepare the grill for two-zone high heat (450°F): Prepare the grill for cooking with two zones - one on high heat, the other with no heat, then clean with a grill brush. For my Weber summit, I preheat the grill with all burners on high for 15 minutes, then turn half the burners off and brush the grill grate clean.
Rub the chops: While the grill is heating, mix the spice rub ingredients in a small bowl. Remove the ribeye pork chops from the brine and pat dry with paper towels, then sprinkle the chops with a heavy coating of spice rub.
Grill the chops (Sear 2-2-2-2, Indirect to 145°F): Put the pork chops on the grill over direct high heat. Cook until the chops are starting to brown on the bottom, about 2 minutes, then flip the chops, and cook until brown on the other side, about 2 more minutes. Flip the chops again and rotate 90 degrees to get a crosshatch of grill marks, another 2 minutes. Flip and get a crosshatch of grill marks on the other side, 2 more minutes. Move the chops to the indirect heat side of the grill with the bones facing the fire, and cook with the lid closed until the chops reach 145°F in their thickest part, about 4 more minutes.
Notes
Why the change in temperature recommendations? The USDA has been allowing restaurants to cook to 145°F for the last ten years, due to advances in food safety (pig feed has essentially eliminated trichinosis), and technology. Digital thermometers are accurate enough to trust that a chop cooked at home is cooked to 145°F, so they're (finally) trusting us home cooks.
The USDA recommends cooking all chops to 145°F, by the way, not just pork. And, remember, ground meat of any kind should be cooked to 160°F to kill any surface salmonella that was ground into the meat.(Ground pork included).
Tools
Prep Time:

60 minutes

Cook Time:

12 minutes

Category:

Weeknight Dinner

Method:

Grilling

Cuisine:

American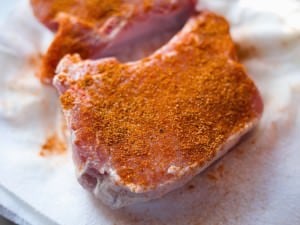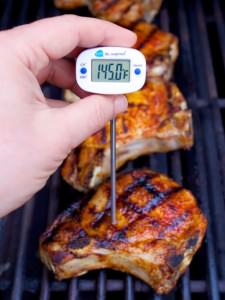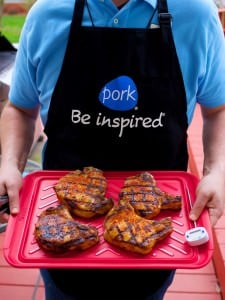 What do you think?
Questions? Other ideas? Leave them in the comments section below.
Related Posts
Grilled Thin Pork Chops, Quick Brinerated
Grilled Pork Chops with Knob Creek Lemon Glaze
Grilled Pork Shoulder Kebabs with Peppers, Onions and Spice Rub
Enjoyed this post? Want to help out DadCooksDinner? Subscribe to DadCooksDinner via eMail or RSS reader, recommend DadCooksDinner to your friends, and buy something from Amazon.com through the links on this site, or donate through my tip jar. Thank you.