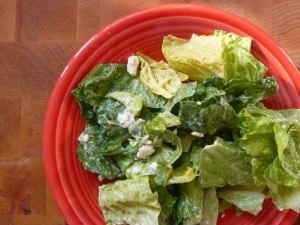 Vinaigrette week* wraps up on DadCooksDinner with another favorite of mine, Blue Cheese Dressing. A salad with blue cheese dressing goes wonderfully with a nice, juicy steak. And, of course, it's the traditional accompaniment with Chicken Wings (recipe Grill Roasted Chicken Wings).
*And yes, I know it's not Vinaigrette week any more. I made the classic Fencepost Error. I was thinking I needed five dressing recipes, one for each day of the week, but I forgot that the basic technique would take up one day. What really bothers me is that I'm a computer programmer, so I really should know better. I mean, I'm the kind of person who knows what you call that kind of mistake - you'd think I could remember not to make it!
Oh, well, you get a bonus dressing out of the deal, so I guess it's not all bad.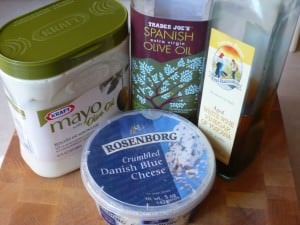 *For a 10 oz bag romaine lettuce (about 3 quarts)
2 tablespoon White Wine Vinegar
pinch of salt
pinch of freshly ground black pepper
2 tablespoon Extra Virgin Olive Oil
¼ cup mayonnaise
½ cup crumbled blue cheese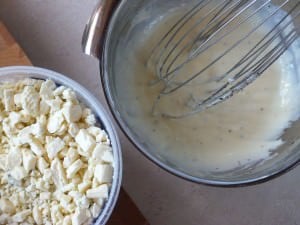 Directions: Easy Way
1. Whisk to blend: Whisk all the ingredients in a small bowl until creamy.
OR:
Directions: With Finesse
1. Dissolve the salt in the vinegar: Whisk the salt, pepper and vinegar in a small bowl until the salt dissolves, usually about 10 seconds.


2. Add the oil: Add the olive oil and whisk until combined.


3. Add the mayonnaise: Add the mayonnaise and whisk until creamy.


4. Add the cheese: Add the crumbled blue cheese, and whisk to combine.


5. Serve: Just before serving, whisk the dressing again to combine. Toss the lettuce with the dressing, and serve.
Variations:
*Less Cheese. This is a very chunky blue cheese dressing, because that's how I prefer it. You could cut back to ¼ cup of crumbled blue cheese and it would still taste great.
Notes:
*Unlike some of the other vinaigrettes, this one is pretty forgiving in its ingredients. As long as you use decent vinegar and oil, and real mayonnaise (again, no miracle whip, please!), you'll be fine.
*For the blue cheese - use Danish Blue
cheese
in the dressing. It's less expensive, and gives you the blue cheese flavor you need. Please don't use the
good
stuff
, or I'll cry. And, you'll spend a lot of
money
.
*While I'm talking about ingredients, my favorite White Wine Vinegar is this one from
Alessi
. It also goes well in the balsamic vinaigrette (
recipe
) from last week, if you want a lighter dressing.
Inspired by:
Too many chicken wings to count. My recipe (Grill Roasted Chicken Wings) was inspired by Steven Raichlen's BBQ USA