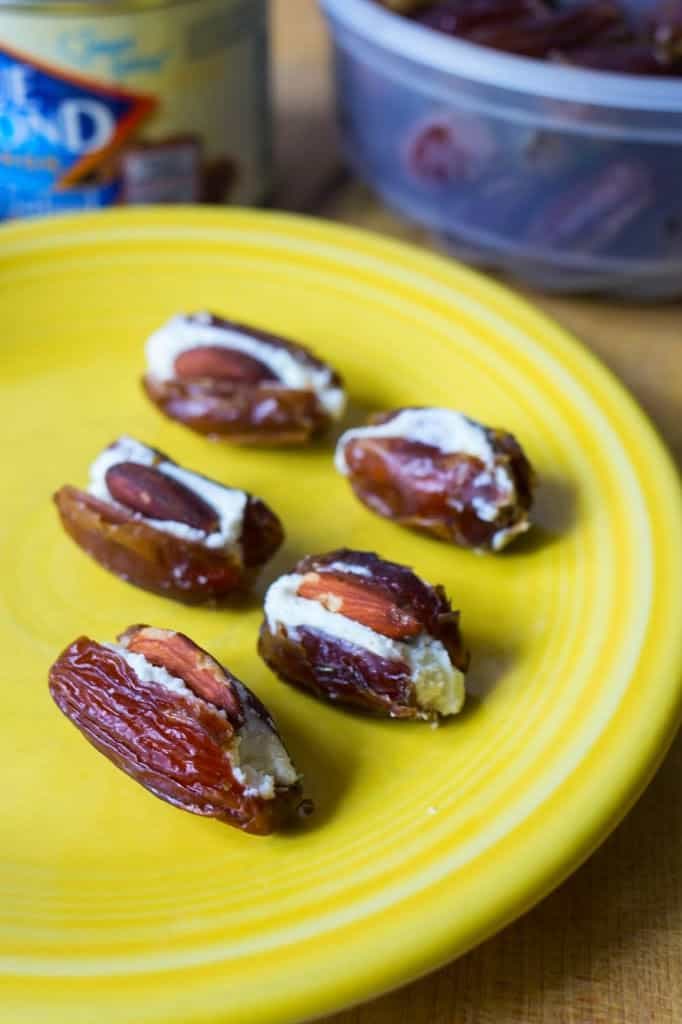 We're hosting a Christmas Eve cocktail party. Now, Dad Cooks Dinner, but Mom is the Mixologist; she's responsible for the drinks, I'm responsible for the nibbles.
Here is one of my favorite appetizers. Sweet and salty, sour and crunchy; the dates, goat cheese, and almonds combine into one tasty bite. Even better, I can make it a day ahead of time - stuff a date with goat cheese, add an almond, repeat - and pull it out of the fridge when it's time to serve.
I made my picky eater try one. He took the tiniest of nibbles, and stuck his tongue out.
"I don't like goat cheese."
"Pop the whole thing in your mouth" I said. "You need to get all of it at once."
He gave me the "jeez, dad" look, hesitated, gently put it in his mouth, and started chewing. He grimaced. Then got a thoughtful look on his face, shrugged, and said "eh."
Well, at least he tried it.
Later, he came over with a sheepish look on his face.
"Are there any more stuffed dates?"
Recipe: Dates Stuffed With Goat Cheese and Almonds

Prep Time: 20 minutes
Cook Time: 0 minutes
Ingredients
24 dates (preferably pitted Medjool dates)
4 ounces soft goat cheese
24 roasted salted almonds
Directions
1. Stuff the dates
Cut one side of a date open with kitchen scissors or a paring knife. Open up the date, and stuff with a half teaspoon of goat cheese. Push an almond into the goat cheese. Repeat until all the dates are stuffed.
Notes
If you can't find pitted dates, that's OK - buy whole dates, cut the date lengthwise until you hit the pit, pop it out, and stuff from there.
This recipe scales as much as you want it to - or until you get sick of stuffing, whichever comes first. 24 dates is roughly 5 ounces of pitted dates. These go quickly, so I triple the recipe - a pound of pitted dates, and 12 ounces of goat cheese. (A 6 ounce can of roasted salted almonds is more than enough - a snack for me when I'm done stuffing). I stuff until I run out of goat cheese, and get about 75 stuffed dates.
The dates can be made up to a day ahead of time, and refrigerated. Take them out of the refrigerator an hour before serving so they can come back to room temperature.
We did a taste test with low-salt roasted almonds, regular roasted salted almonds, and smoked almonds. My favorite was the roasted almonds - they had a bigger almond taste than the low salt almonds - while my wife preferred the smoked almonds.
What do you think?
Questions? Other ideas? Leave them in the comments section below.
Related Posts
Pressure Cooker Hummus
Spicy Jicama Sticks
Smoke Roasted Aioli
Enjoyed this post? Want to help out DadCooksDinner? Subscribe to DadCooksDinner via eMail or RSS reader, recommend DadCooksDinner to your friends, and buy something from Amazon.com through the links on this site. Thank you.