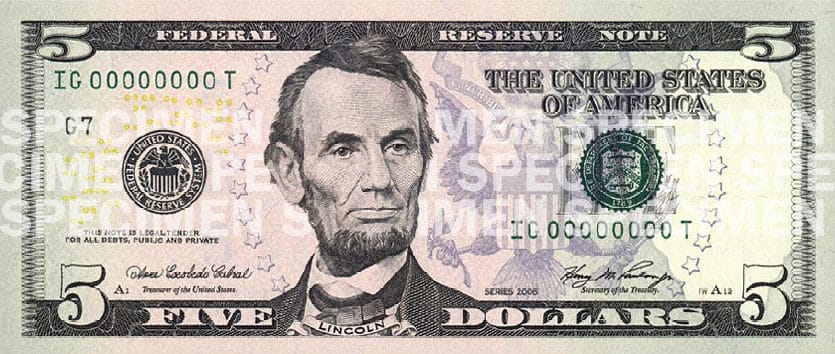 Can I feed my family for one Lincoln a person?
I mean well. I really do.
Every year I pull a a few tags from our church's giving tree. I pick grocery store gift certificates. "Great lesson for the kids" I think to myself. "We eat cheap, and use the savings on someone who needs help."
Every year, when push comes to shove, we don't eat cheaper. I buy the gift certificates, of course; our savings takes the hit.
This year, I read about the Slow Food $5 challenge. The challenge: eat for less than a $5 value meal at a fast food restaurant. Aha! Money for the giving tree! At $5 a person, we'll have plenty to contribute.
I rushed to my organic grocery store, the one with the good bulk foods section. I wanted exact amounts on my receipt:
| | | |
| --- | --- | --- |
| Bacon | 4.99/8 oz | $4.99 |
| Cannellini Beans | 1.08 lb @ 2.69/lb | $2.69 |
| Onion | .76 lb @ 1.69/lb | $1.28 |
| Garlic | .12 lb @ $5.99/lb | $0.72 |
| Chard | $1.99/bunch | $1.99 |
| Sea Salt | .7 lb @ $0.69/lb | $0.48 |
| Rosemary | .25oz/$0.99 | $0.99 |
| Lemon | .24 lb @ 3.69/lb | $0.89 |
| Pasta | $1.09/lb | $1.09 |
| Total | | $16.24 |
*My reuseable bag got me a $0.05 discount, not included in the total.
Forget five dollars a person; I'm closer to three, even with the extra cost of buying organic. I have $8.76 left over from my $25. I'm on the road to savings!
So, how much am I saving?
Not much. Our weekly grocery budget is $200 for five people. If we cut back to five dollars a person, (times five people, times seven days) our budget would be $175. That is not hundreds of dollars to donate to charity.
That didn't seem right. I'm a food blogger. I shop at farmers markets, specialty stores, ethnic markets. I'm a member of a CSA. I eat well - just ask my bathroom scale. I spend a lot on food, don't I? What's going on?
I found answers at the USDA*. Turns out, I am a below average American. I spend less than the "low cost" average per week, and border on the "thrifty" average.
Source: Official USDA Food Plans: Cost of Food at Home at Four Levels, U.S. Average, January 2011. I'm cooking for a family of five; a 19-50 year old couple with a 9-10 year old and two 6-8 year olds. According to the data, for our family, low cost is $220/week; thrifty is $168/week. I would have to spend $330 a week to be on the high end of the scale.
Wait, what? Thrifty? Me? I just spent $4.99 on 8 ounces of organic bacon. How can I possibly be thrifty?
I don't give myself enough credit, apparently. Dried beans, even expensive organic dried beans, are still cheap. I love strange cuts of meat; sure, short ribs are getting expensive at $3.99 a pound, but compared to a $12.99 /lb ribeye? They're downright penny pinching. Yes, I shop at farmers markets and organic grocery stores, but I buy what is in season...which is usually a bargain. My side trips to ethnic markets uncover a lot of great deals.
I think of my splurges; extra virgin olive oil, real parmesan, a bottle of good wine. My kids have a different view. "Why does everything have to be on sale?" whines my ten year old.
After I told him to put down the full price Life cereal and pick up the generic Cheerios.
What does it all mean?
Cooking is a great way to save money. Because I cook with real ingredients, five dollars per person isn't much of a challenge. The global average of $2 a day, however...I have some work to do...
Related posts:
Weekly Dinner Plans
Cooking Authentic or Cooking Everyday?
Why Dad Should Cook
What do you think? Questions? Other ideas? Leave them in the comments section below.
*Enjoyed this post? Want to help out DadCooksDinner? Subscribe using your RSS reader or by Email, recommend DadCooksDinner to your friends, or buy something from Amazon.com through the links on this site. Thank you!