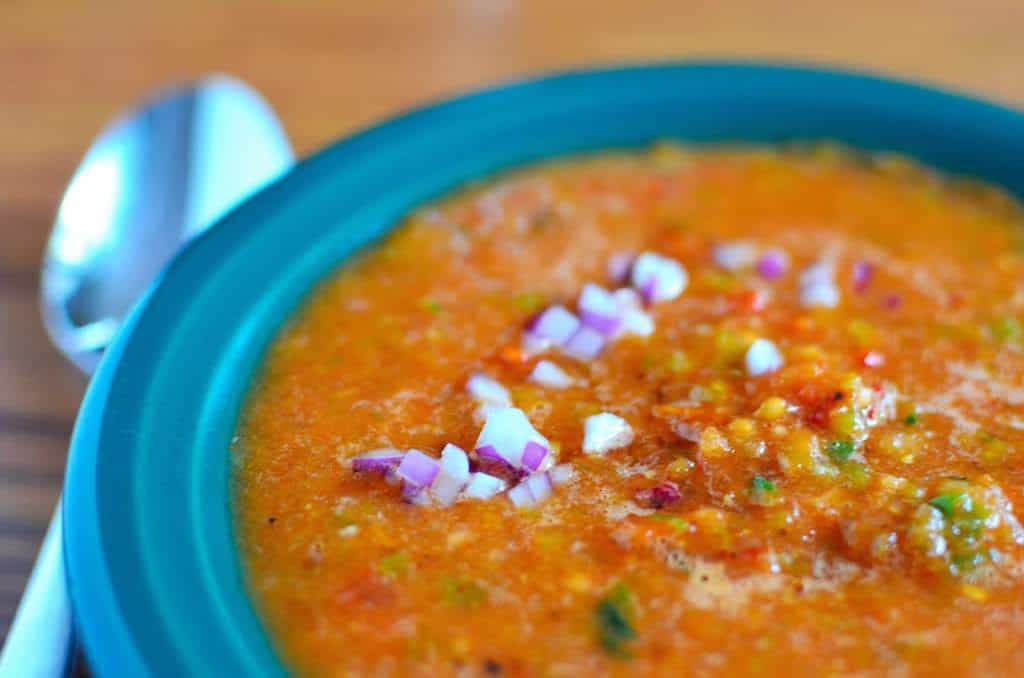 Gazpacho is in season. Everything in gazpacho is ripe right now - garlic, peppers, cucumbers, onions, and especially tomatoes. If I dumped my CSA box in the blender and hit "frappe", the result would have been gazpacho.
Did I mention I'm drowning in tomatoes? I share a CSA box with my friend Pam, and she's out of town this week. That means another 7 ½ pounds of tomatoes for me. So, on top of being a great way to showcase ripe summer tomatoes, this recipe will use up some of summer's bounty. Everybody wins.
Except Pam. She picked the wrong week to go on vacation. Unless she's running out of tomato recipes, and is trying to avoid them.
This is also the first gazpacho from my Vitamix. It did a great job; everything was minced ultra-fine by the time it was done. The resulting soup was much smoother than my usual Food Processor version. Now, depending on your tastes, that could be a bad thing. I know some people like a chunky gazpacho. I prefer the smoother version from the blender; it's less like salsa that way.
Which brings me to the trick of the week, getting kids to eat gazpacho. Don't tell them it's a cold tomato soup. "Cold soup" doesn't sell with kids - at least not with my three. But when I called it a "Spanish salsa", I got them to try it…and one was willing to admit it didn't taste bad.
Now, eating an entire bowl of it? That's still a bridge too far. But we're getting there. I hope.
Recipe: Fresh Tomato Gazpacho (in a Vitamix)
Equipment
Blender with a 48 ounce or larger canister (I love my Vitamix) , or a 11 cup or larger food processor
Ingredients
4 cloves garlic, peeled
2 large bell peppers, cored and seeded
1 small cucumber
½ medium red onion
2 pounds ripe tomatoes, cored
¼ cup sherry vinegar
¼ cup olive oil
1 teaspoon kosher salt
½ teaspoon fresh ground black pepper
1 teaspoon pimenton de la vera (Spanish smoked paprika), or sweet paprika
minced red onion for garnish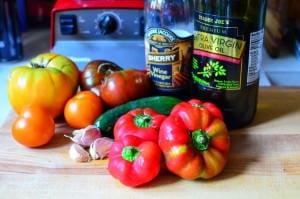 Directions
1. Mince the garlic, prep the vegetables
Put the lid on the blender and remove the center plug from the lid. Turn on the blender, drop in the garlic, and let it run until completely minced. While the garlic is mincing, chop the rest of the vegetables into 2 inch pieces.
2. Blend the soup
Add the rest of the ingredients to the blender. Turn the blender on low, and slowly bring it up to medium speed (Variable 5 on my Vitamix). Blend on medium speed until the ingredients turn into a chunky soup, about 30 seconds. Taste for seasoning, adding more salt, pepper, or sherry vinegar if needed. Pour into bowls, garnish with minced red onion, and serve.
Notes
Making this recipe outside of tomato season? Use canned tomatoes or, if you're desperate, cherry tomatoes. Grocery store tomatoes don't have enough flavor to carry this recipe. (See the Related Posts section for a canned tomato gazpacho.)
If you have time, let the soup rest in the refrigerator for an hour or two before serving. Leftovers will keep for a couple of days in the refrigerator.
What do you think?
Questions? Other ideas? Leave them in the comments section below.
Related Posts:
Quick Gazpacho (with canned tomatoes)
*Enjoyed this post? Want to help out DadCooksDinner? Subscribe to DadCooksDinner using the RSS or Email options on the right, recommend DadCooksDinner to your friends, buy something from Amazon.com
through the links on this site, or donate through my tip jar. Thank you.