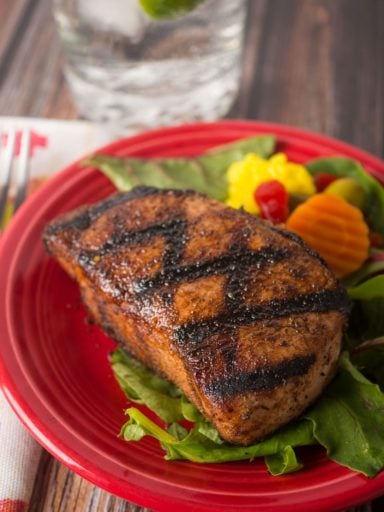 ---

The Grill - Grill For It!
This week, DadCooksDinner is sponsored by Grill For It and the National Pork Board. Follow The Grill at GrillForIt.com, at GrillForIt on Twitter (@GrillForIt), and at GrillForIt on Facebook (Facebook.com/GrillForIt) as he travels from coast to coast to get his grates on the country's best pork recipes.
---
The National Pork Board asked me to create a recipe for their Grill For It program, and I'm dreaming of the West Indies. 3I think it's because of my daughter - she joined her junior high school steel drum band, and I can't help but think of Trinidad and Tobago. A string of islands across the Caribbean, azure shores with white sand beaches that climb into tropical jungles. And pork, grilled roadside on the way to the beach.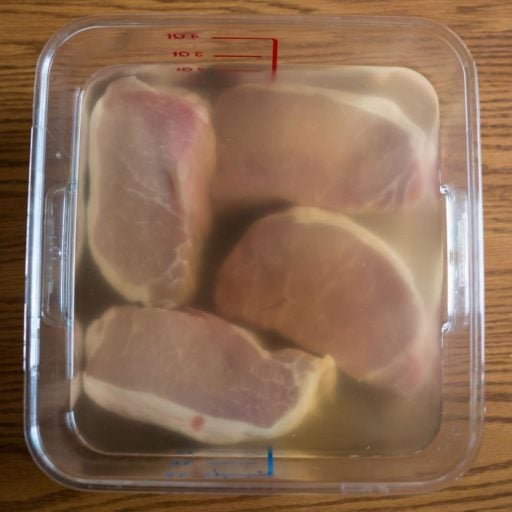 At least, that's how it goes in my head. The one time I tried to visit the Caribbean, hurricane Joyce arrived on St. Lucia the same day my flight was supposed to touch down. 4We went to Arizona instead. Lots of sun, much less chance of a hurricane.
So, all of my West Indies experiences are lived vicariously, through cookouts in my backyard. Here's where I have to do a shout-out to Chris Schlesinger and John Willoughby, authors of The Thrill of the Grill, one of the most influential grilling cookbooks back when I first got a grill. Mr. Schlesinger, a young chef in the '70s, would take jobs in the Caribbean so he could surf during the day and cook at night. The flavors of the West Indies rubbed of on him, and from him to me. This spice rub is my own blend - I can't find my copy of Thrill of the Grill - but I'll bet it is heavily influenced by his recipes.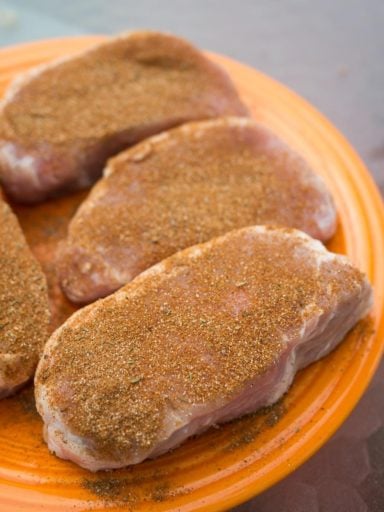 I'm rubbing the spices on brined, thick cut New York pork chops - also known as center cut boneless chops - and grilling them with the sear and move technique. Chops this thick, especially with a spice rub, will burn before they cook through (145°F (medium-rare) to 160°F (medium) internal temp, with a 3 minute rest) if I leave them directly over the fire. So, I get a good browning on the spice crust, then slide them away from the heat and close the lid, so they finish gently over indirect heat.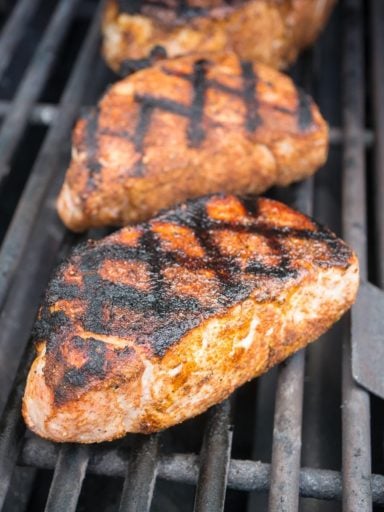 Want a vision of beaches, sea, and sky in your own back yard? Give these chops a try.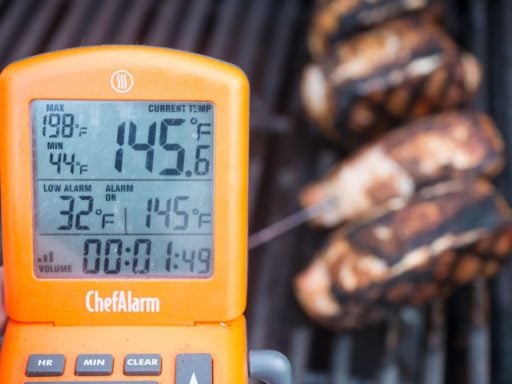 Grilled New York Pork Chops with West Indies Spice Rub
Equipment
Print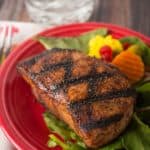 Grilled New York Pork Chops with West Indies Spice Rub
---
Author:

Mike Vrobel

Total Time:

1 hour 12 minutes

Yield:

4

thick chops

1

x
Description
Grilled New York Pork Chops with West Indies Spice Rub recipe. Thick, boneless loin chops with a sweet rub inspired by the tastes of the Caribbean.
---
4

thick cut New York pork chops (aka center cut boneless chops)
Brine
2 quarts

water

¼ cup

table salt (or

½ cup

Diamond Crystal kosher salt)

2 tablespoons

brown sugar
West Indies Spice Rub
1 teaspoon

ground allspice

1 teaspoon

paprika

1 teaspoon

garlic powder

1 teaspoon

fresh ground black pepper

½ teaspoon

ground coriander

½ teaspoon

dried thyme

¼ teaspoon

ground cinnamon

¼ teaspoon

cayenne pepper (optional)
---
Instructions
Brine the pork chops: Lay the pork chops in a glass baking dish. In a bowl, stir the brine ingredients until the salt and sugar dissolve, then pour over the New York pork chops. Refrigerate the chops for one hour to four hours.
Prepare the grill for two-zone high heat: Prepare the grill for cooking with two zones – one on high heat, the other with no heat. For my Weber summit, I preheat the grill with all burners on high for 15 minutes, then turn half the burners off and brush the grill grate clean with my grill brush.
Rub the chops: While the grill is preheating, stir the spice rub ingredients in a small bowl until completely mixed. Remove the New York pork chops from the brine and pat dry with paper towels, then sprinkle the chops with a heavy coating of spice rub on both sides.
Grill the chops: Put the pork chops on the grill over direct high heat and grill until the chops and spices are browned, about 2 minutes. Flip the chops and cook until brown on the other side, about 2 more minutes. Flip the chops again and rotate 90 degrees to get a crosshatch of grill marks, and grill until browned, another 2 minutes. Flip and get a crosshatch of grill marks on the other side, grilling until browned, about 2 more minutes. Move the chops to the indirect heat side of the grill and cook with the lid closed. The chops are done when they reach an internal temperature between 145°F (medium-rare) to 160°F (medium), measured in the deepest part of the chop, about 5 more minutes.
Prep Time:

1 hour

Cook Time:

12 minutes

Category:

Grilling

Cuisine:

Caribbean
Notes
Perfectly cooked chops are easy if you have a probe thermometer with an alarm. Push the probe deep into the chop, set the alarm to 145°F, and wait for it to beep. The only problem with probe thermometers is the wire will burn out if it gets too hot - I've burned a few probes out by letting the wire run over the direct heat part of the grill. Keep the wire away from the fire, and everything will be fine.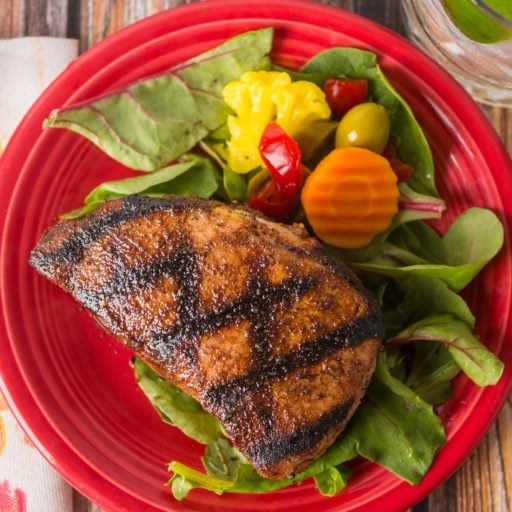 What do you think?
Questions? Other ideas? Leave them in the comments section below.
Related Posts
Grilled Pork Chops with Knob Creek lemon glaze
Grilled Pork Chops with Ancho Chile Spice Rub
Grilled Double Cut Ribeye Pork Chops with Rosemary, Honey, and Lemon Glaze
My Grilling Recipes Index
Enjoyed this post? Want to help out DadCooksDinner? Subscribe to DadCooksDinner via eMail or RSS reader, recommend DadCooksDinner to your friends, and buy something from Amazon.com through the links on this site. Thank you.