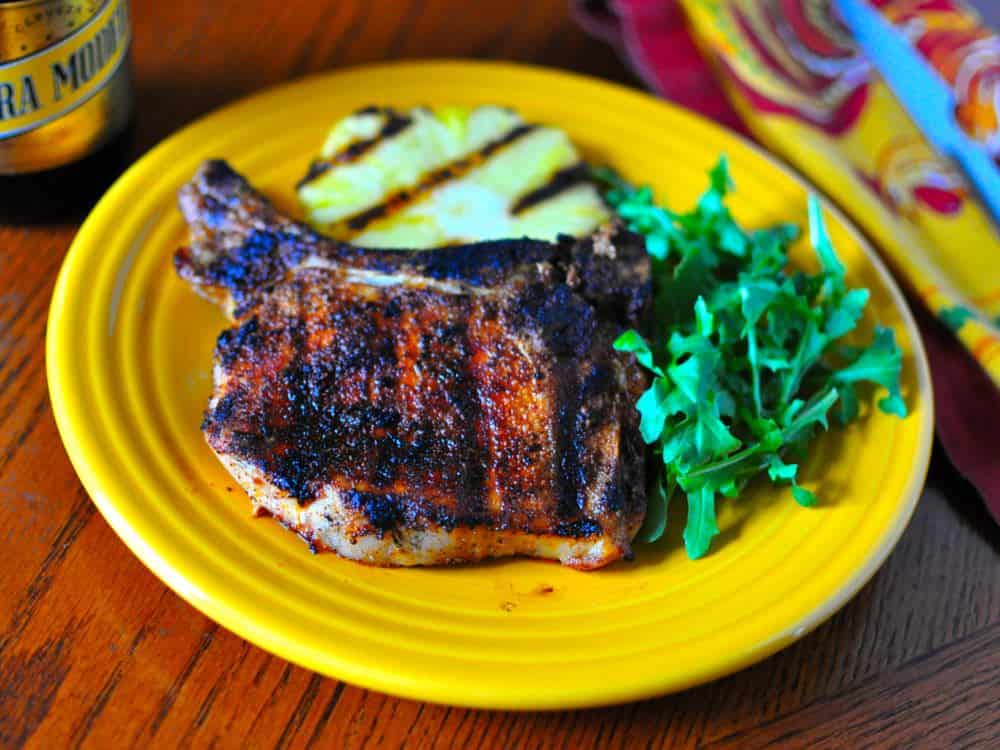 This month's Cooks Illustrated magazine has an interesting tip. They spray a light coating of vegetable oil on a spice rubbed steak before grilling. Why? The thin layer of oil helps bloom the spices, giving them a fuller flavor.
*Why bloom spices in oil? Flavor is in the spice's essential oils, and because of the "oil and water don't mix" thing, essential oils are extracted better by more oil. 
I fry spices in oil when I make a pot of chili, but I never thought to use the technique when I'm grilling. I had to try it out.


Grilled pork chops were already on the menu; they became my test subjects. I pressed a simple spice rub into the chops, then sprayed half of the chops with a light coating of vegetable oil.
Cooks Illustrated is on to something. The chops with the coating of oil tasted richer and sweeter than the "dry" chops. From now on, when I cook with a spice rub, I'm adding a quick spitz of oil.
Recipe: Grilled Pork Chops with Ancho Chile Spice Rub

Adapted From: Andrea Gray, Cooks Illustrated, May/June 2012
Cooking time: 10 minutes
Equipment:
Ingredients:
6 (¾ inch thick) pork chops (about 3 pounds worth)
Spice Rub:
1 tablespoon Ancho chili powder
1 ½ teaspoons Kosher salt
1 teaspoon brown sugar
½ teaspoon ground coriander
½ teaspoon cumin
½ teaspoon garlic powder
½ teaspoon onion powder
⅛ teaspoon ground cloves (a pinch)
Directions:
1. Rub the pork chops:
Stir the spice rub ingredients in a small bowl until completely mixed, breaking up clumps of brown sugar. Sprinkle the pork chops with a heavy coating of spice rub, then press the rub into the chops until it looks wet. Spray the chops with a light coating of vegetable oil.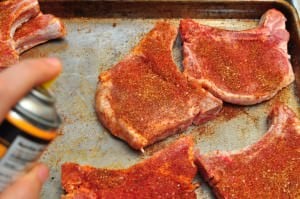 2. Prepare the grill:
Prepare the grill for cooking on medium-high heat, then clean with a grill brush. For my Weber summit, I preheat the grill with all burners on high for 15 minutes, then turn the burners down to medium-high and brush the grate clean.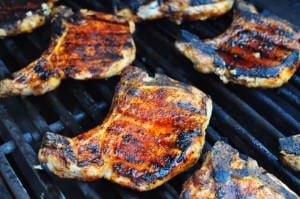 3. Cook the pork chops:
Put the pork chops on the grill over direct medium-high heat. Cook until the chops are starting to brown on the bottom, about 2 minutes, then rotate the chops 90 degrees (don't flip yet), moving them around if some are browning quicker than others due to hot spots on the grill. Cook until well browned on the bottom, about 2 more minutes. Flip the chops and cook on the other side until the chops reach an internal temperature of 135*F for medium rare, about 4 more minutes, rotating the chops 90 degrees after two minutes. Remove the chops to a serving platter, let rest for ten minutes, then serve.
Notes:
Cooks Illustrated went all out in the original recipe. (I know, that's like saying "water is wet". CI goes all out in all their recipes.) The steak was lightly scored, dry brined with salt, garlic powder, onion powder, and tomato paste to add umami. While the steak dry brined, they toasted and ground whole spices for the rub. I didn't have time; it was a Tuesday night, and I had to get dinner on the table. I skipped all those steps and went straight to a pre-ground spice rub and the light spray of oil.
The oil sprayed chops tasted better, but the non-sprayed chops were still good. My daughter grabbed one and ate it down to the bone. The chops are still worth making with the spice rub, even if you don't want to spray them with oil.
I realized, after dinner, that I should have added one more variation into my test. I should have mixed some of the rub with oil and then rubbed the spice paste onto the chops, like my adobo paste chops. That test will have to wait for another day.
What do you think? Questions? Other ideas? Leave them in the comments section below.
Related Posts:
Grilled Thick Pork Chops with Adobo Spice Paste
Grilled Boneless Pork Chops, Brined and Honey Glazed
Grilled Thin Pork Chops, Quick Brinerated
Grilled Pineapple
Click here for my other Grilling Recipes
Adapted from:
Andrea Gray, Cooks Illustrated, May/June 2012

*Enjoyed this post? Want to help out DadCooksDinner? Subscribe using your RSS reader or by Email, recommend DadCooksDinner to your friends, or buy something from Amazon.com through the links on this site. Thank you!