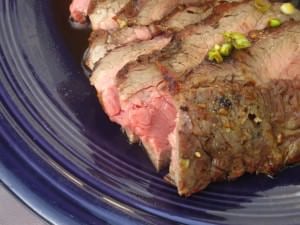 This weeknight grilling recipe is Teriyaki Flank Steak, a variation on my Flank Steak with Chimichurri recipe that I posted a few months ago. While I prefer ribeye steaks, I don't think of ribeyes as a weeknight meal. They're more of a special occasion meal for me, due to the price, and how rich they are.
*I already have to watch my weight; I can't imagine what it would be like if I ate ribeyes all the time.
Flank steak is my weeknight beef of choice. It grills quickly, and it has long fibers of muscle that allow it to absorb a marinade well (or a glaze, like we use here). It's a healthy cut of protien, because it's very lean. And it's cheap!*
*Or, cheaper than ribeye. If you're really tight on grocery money, stick with pork and chicken, which are much cheaper.
Recipe: Grilled Teriyaki Flank Steak

Equipment:
Ingredients:
1.5 lbs flank steak
1.5 teaspoon kosher salt
Teriyaki Sauce
½ cup soy sauce
2 tablespoon Mirin or seasoned rice wine vinegar
2 tablespoon honey
1 clove garlic, minced or pressed (optional)
½" ginger, grated (optional)
1 green onion, trimmed and diced (optional)
Directions:
1. Salt the steak and make the Teriyaki sauce: Sprinkle the kosher salt evenly over the steak, and let rest in the refrigerator while you preheat the grill. Whisk the teriyaki ingredients in a small bowl until well combined.
*I use a 2 cup pyrex measuring cup as my small bowl, and I whisk with a fork.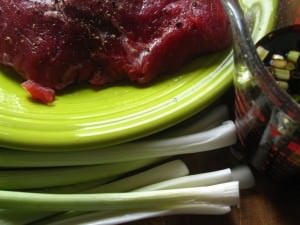 2. Prepare the grill: Preheat your grill, then set it up for grilling on direct medium heat. For my Weber Summit, this means turning all the burners to high and preheating for 10 minutes, then turning them all down to medium and starting to cook.
3. Cook the steak: Put the flank steak on the grill. Let it cook for 5 minutes with the grill cover down, flip the steak, and let it cook for another 5 minutes.
*For a 1.5lb steak, this will give you a medium-rare to medium steak. If you'd like it medium to medium well, go 6 minutes a side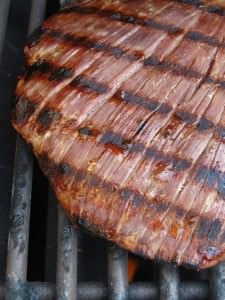 4. Glaze and serve: Remove the steak to a baking dish, pour the teriyaki sauce over it, and turn a couple of times to coat. Let the steak rest in the teriyaki sauce for five to ten minutes. Turn a couple more times in the dish, then remove to a cutting board and slice across the grain into ½" thick slices. Move to a platter, and pour the teriyaki sauce over the top of the sliced steak. Serve!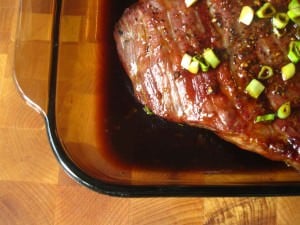 Steak resting in Teriyaki sauce
Variations:
*Chinese style: Instead of the teriyaki sauce, make a sauce of ¼ cup soy sauce and ¼ cup hoisin sauce, mixed together.
Notes:
*If you can get a jump start on dinner, salt the steak 1 to 2 hours ahead, and let rest in the refrigerator. If you don't have that much time, don't salt the steak until you're about to preheat the grill - you don't want the salt to pull the juices out and not have time for them to be reabsorbed. Also, brush the steak with the teriyaki sauce when it's about one minute away from being done, to help it glaze better. (Don't skip the resting in the baking dish, though - you want the steak to soak up the teriyaki sauce while it rests.)
*For the rest of your meal, serve with short grain white rice, and grilled zucchini that you brush with some of the teriyaki sauce while it's cooking. Flank steak doesn't use much space on the grill, so make sure you use that space for your vegetable side(s).
*Also, you'll see some trimmed green onions in the pictures - they make a nice grilled side. Trim the root end and any ragged looking parts from the green end, then cook them for 1-2 minutes a side at the end of your steak's time on the grill.
*Just don't put them on the grill with the steaks at the start, like I did. They were burnt to a crisp five minutes later when I went to turn the steak...
Questions? Comments? Other ideas? Leave them in the comments section below.
Related Posts:
This recipe is part of Quick Grilling Week
Grilled Flank Steak with Chimichurri recipe
Korean Grilled Short Ribs (Kalbi) recipe
Grilled Zucchini recipe
Inspired by:
Cook's Country Best Grilling Recipes
*Enjoyed this post? Want to help out DadCooksDinner? Subscribe to DadCooksDinner using the RSS or Email options on the right, link to this post from your blog, recommend DadCooksDinner to your friends, or buy something from Amazon.com
through the links on this site. Thank you!