I can't wait to visit the hardware store in spring. The new grills are in stock, bags of charcoal are stacked to the ceiling, and the grilling accessories take up an entire aisle. I'm like a kid in a toy store.
The grilling aisle isn't the only place I look. There are grilling accessories hidden in the rest of the hardware store. Here are a few of my favorites.
Note: I have Amazon links to all of these items so you can see what I'm talking about. And, I do get a commission if you buy anything after going through those links. (Thank you!) But, please compare prices: these things tend to be cheaper at the hardware store.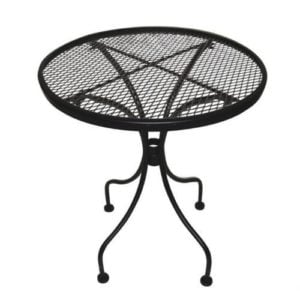 I need extra space around my grill, a staging area where I can put platters, supplies, and a tasty beverage. I lust after the Weber Summit Grill Center with Social Area. But there's nothing wrong with my 7 year old Summit 650 - it keeps chugging along. So I picked up a steel mesh side table. Now, it doesn't have to be steel mesh - I have a cheap folding plastic table next to my charcoal grill - but powder coated steel mesh is heat safe, won't rust, and is cleaned by mother nature every time it rains.

Charcoal grillers need an ash bucket. I keep mine on a paving stone, to shield the grass from the heat; coals can burn for a surprisingly long time.
Note: Charcoal ashes are corrosive. Galvanized steel will hold up for years, but eventually it rusts through. I consider this the price of grilling, and go buy a new bucket.

I've mentioned this before - don't get grilling gloves, get welding gloves. They're cheaper, and usually more heatproof.

This suggestion is going to get me in trouble, I just know it. But… back when dinosaurs roamed the earth, I was just a novice griller. I wanted to make cedar plank salmon, so I went with the only cedar available to me - a 8 foot long 1 by 8 untreated cedar board from the hardware store. I pulled out my circular saw, cut it into 16 inch lengths, and started to grill.
The key to this is UNTREATED wood. Pressure treated wood is poisonous, so please be careful. I don't want to lose any of my readers.
Nowadays, it's easy to find grilling planks, made of all sorts of different wood. (My favorites are oak, alder, and sugar maple, btw.) You don't have to worry about pre-cut grilling planks being stacked in the back underneath the pressure treated pine. But…my goodness, twenty dollars for 4 feet of cedar? I'm torn on this one. It might be time to get out the circular saw.
This one is a tip for year round grillers, and a trick I learned from campers - get a LED headlight, strap it to your forehead, and you have a light that shines wherever you look. Sure, you look like an escapee from the Borg, but I'm used to looking like a dork I'd rather not juggle a flashlight, tongs, and a platter of hot food.
What do you think?
Questions? Other ideas? Dire warnings about the danger of pressure treated wood? Leave them in the comments section.
*Enjoyed this post? Want to help out DadCooksDinner? Subscribe to DadCooksDinner using the RSS or Email options on the right, recommend DadCooksDinner to your friends, buy something from Amazon.com
through the links on this site, or donate through my tip jar. Thank you.