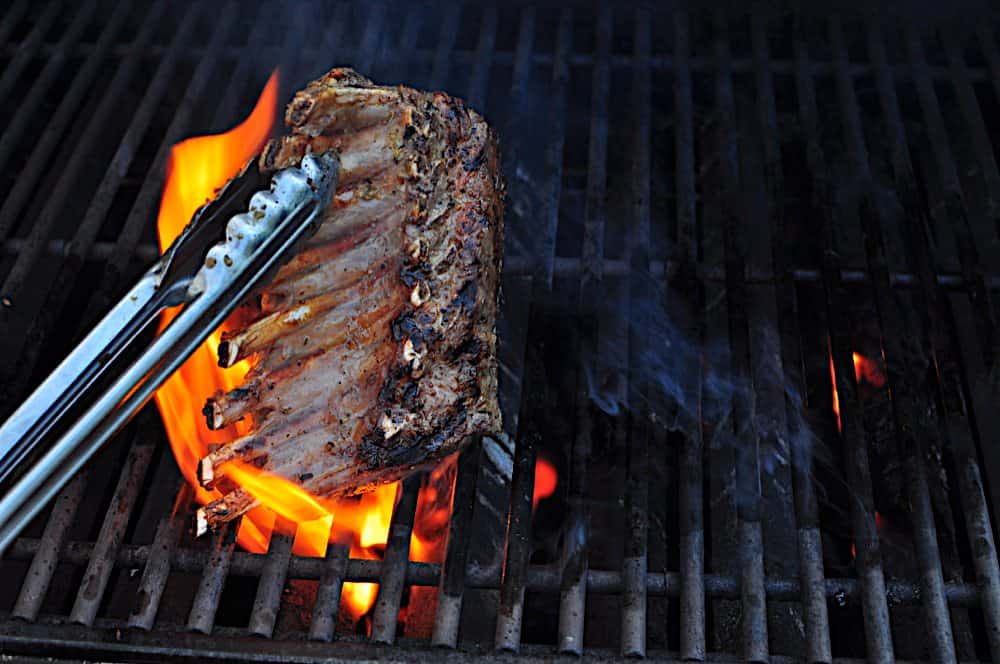 Tongs - my hands on the grill
Memorial Day has passed. Grilling season is now open!
To start you off right, here is my list of essential grilling tools.
*PS: Want a summer of worry-free grilling? Now is the time to clean your grill.

1. Tongs
Tongs are my hands at the grill. 16 inch tongs give me a little extra distance from the fire; 12 inch tongs are better for close-in work with a lot of flipping (like chicken wings).


2. Grill brush
The key to non-stick grilling? A hot, clean grill grate. I preheat my grill grate (five minutes for charcoal, fifteen minutes for gas), then brush it until all the burnt pieces of my last grilling session are gone.

3. 8 inch by 3 inch offset spatula
Tongs are my tool of choice at the grill, but for burgers and flaky fish, I need a spatula. Get a long spatula with a flexible metal head. I've used one with a wooden handle for years, but a inexpensive food service model works just as well and can go in the dishwasher.

4. Thermapen
How do I answer the question "is it done yet?" By using an instant read thermometer. I've sung the praises of the thermapen before - it's expensive, and worth every penny.

5. Silicone basting brushes
I add a lot of sauces and bastes at the end of cooking, and I need a brush to do that. Silicone brushes don't spread sauces as easily as natural bristle brushes - but they come close, and I can toss a silicone brush coated with barbecue sauce in the dishwasher.

6. Skewers
Kebab time! I use three types - short, six inch bamboo skewers for yakitori, 12 inch thin metal skewers for kebabs, and specialty wide skewers for ground meat kebabs.

7. Aluminum foil
Heavy duty aluminum foil is my all-purpose tool on the grill. I foil-wrap vegetable pouches to make a easy side dish, form it into drip pans when I cook fatty meat over indirect heat, and make shields to protect bamboo skewers when I make yakitori. It's a key tool for wood chips - wood chips burn up in an instant if they aren't wrapped in a foil pouch first.

8. Welding gloves
When I need to work with something hot in the grill - preheated grill grates, a chimney starter, a drip pan full of hot fat - I put on a pair of welding gloves.

9. Grill safe griddle or pan
More and more, I use a pan in the grill itself. It protects tender vegetables from the fire, keeps small ingredients from falling through the grates, and keeps bastes warm so I can roll meat in them. Cast iron is the traditional grill pan material - but I have problems with rust. Enameled cast iron takes care of the rusting issue, but is more expensive. Enameled steel is cheap and durable, but thin and prone to hot spots. I use all three; pick whichever one works best for you.

10. Vegetable grate
If you want your vegetables to have a kiss of fire, but worry about them falling through the grill grate, a vegetable grate is your best friend. I loved my cast iron vegetable grate...until it started to rust. This stainless steel model from Weber gets good reviews, and is the next purchase for my grill.
What did I forget?
Anything you use every time you grill? Tell us about it in the comments.
FTC disclosure: All my "Things I Love" posts are about products I use and purchased myself. I did not receive any form of compensation to write this. If you buy something through one of my Amazon links, I get a small commission.
*Enjoyed this post? Want to help out DadCooksDinner? Subscribe to DadCooksDinner using the RSS or Email options on the right, link to this post from your blog, recommend DadCooksDinner to your friends, or buy something from Amazon.com
through the links on this site. Thank you!