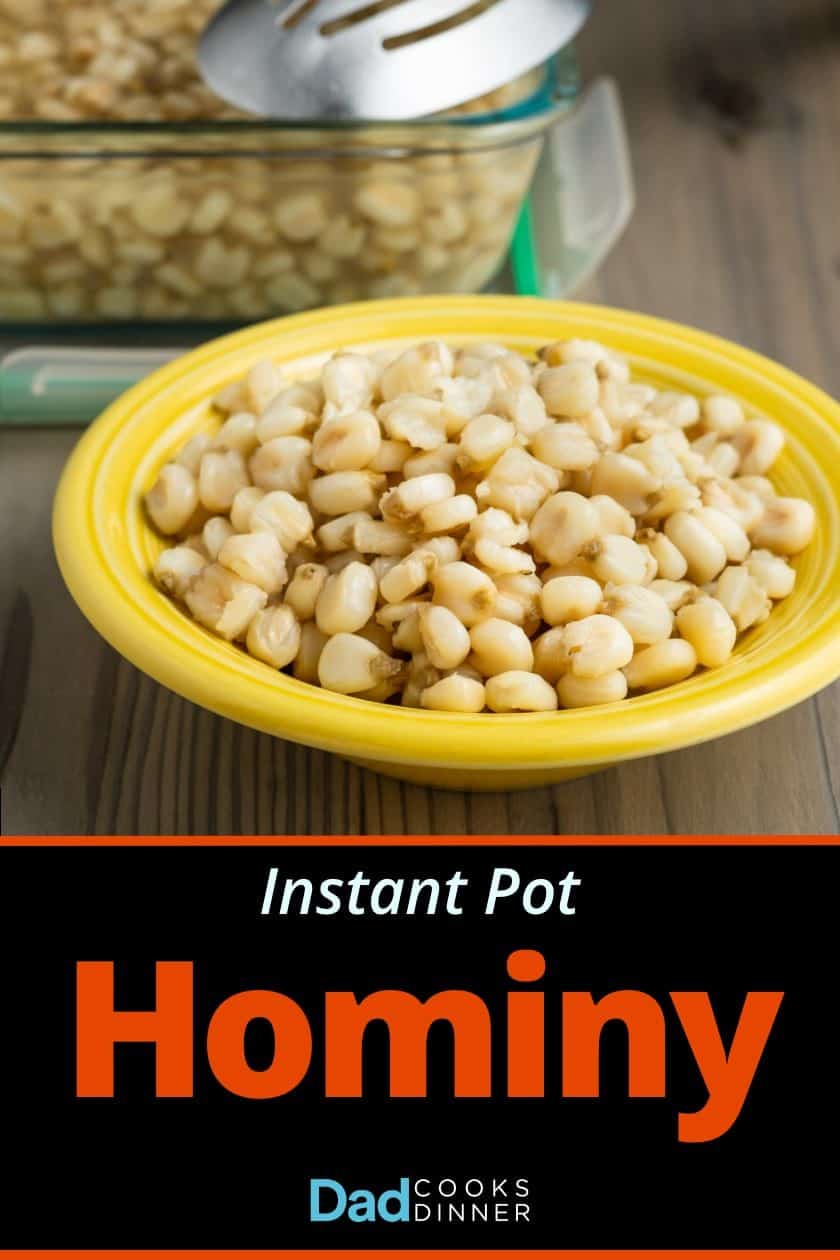 Let's talk Nixtamalization! (Wait, come back, I was just kidding. I've got a lot of hominy facts to share. We'll talk about nixtamalization later.)
Instant Pot Hominy, cooked from dried, is a recipe I've been working on for a while. (If I can call it a recipe - it's more of an ingredient in other recipes.) I love posole, the Mexican soup based on hominy broth. I make Rick Bayless's Pozole with all the trimmings for parties all the time. It seemed like a great recipe to adapt to my pressure cooker. 3 to 5 hours of simmering hominy? I can speed that up, I'm sure.
Except...I couldn't get the hominy tender. 45 minutes? No, not enough. I kept locking the lid, re-pressurizing the pot, and cooking for another 10 minutes…and the hominy finally got there after about 90 minutes of cooking. With time coming up to pressure and cooling off, I might as well have simmered from the start.
The break I needed came with my Rancho Gordo box, which included a package of posole corn…and instructions to soak overnight. Soak the corn, like beans, to tenderize it? Of course! (It turns out my friend Laura over at Hip Pressure Cooking had already figured this out.) After soaking, and some testing, I can now make hominy from dried in about an hour or so - 40 minutes at high pressure with a quick pressure release.
And now, it's time for nixtamalization! For centuries, Mexican and Native American cooks prepared corn by boiling it with slaked lime to soften the skin before drying it. This process frees up the niacin in the corn, making it digestible by humans. When nixtamalized corn is eaten with beans, you get a complete protein; the trinity of corn, beans, and squash were the staple foods of the Mayans, Aztecs, Zapotecs, and the many other and other pre-settlement Mexican cultures.
Unfortunately, when corn was adopted by European settlers, they ignored the nixtamalization process; the result was niacin deficiency and outbreaks of pellagra. (In modern times we get plenty of protein in our diets, so you don't have to worry. If you can find prepared hominy, great; if not, regular dried corn will work.)
Why go through all this? Because, like cooking your own beans, home-cooked hominy just tastes better than canned. What should you use it in? I love hominy in Posole, and it pairs well with other Southwestern soups. I have a new soup coming next week that could use some fresh-made hominy. Sure, you can buy your hominy in a can. But, once you've tried homemade hominy, I'll bet you don't want to go back.
Print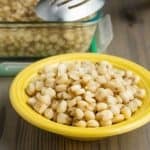 Instant Pot Hominy (From Dried)
---
Author:

Mike Vrobel

Total Time:

9 hours

Yield:

6 cups

cooked hominy

1

x
Description
Instant Pot Hominy. How to pressure cook dried hominy. (Make sure to soak it overnight!)
---
2 cups

dried hominy (about

½

a pound), soaked overnight

4 cups

water

½ teaspoon

fine sea salt

½

an onion
---
Instructions
Soak the hominy overnight: Rinse the dried hominy and put it in a large container. Cover with 8 cups water. Let the hominy soak for at least 8 hours, or overnight.
Pressure cook the hominy for 40 minutes with a quick pressure release: Drain and rinse the hominy, then pour the drained hominy into the pot. Stir in 4 cups of water, sprinkle with ½ teaspoon of fine sea salt, and float the half onion in the water. Lock the lid on the pot, and cook at high pressure for 40 minutes ("manual" or "pressure cook" mode set to high in an Instant Pot), or for 35 minutes in a stovetop PC. Quick release the pressure. (If the pressure release starts foaming and spitting, carefully close the vent and let the pressure come down naturally for 5 minutes before trying the quick release again.)
Use or store for later: Unlock the lid. Discard the onion - it gave its all to the broth. If you're using right away, drain the hominy and add to your recipe. If you're saving it for later, store it in 2-cup containers in the cooking liquid. (2 cups of dried hominy yields about 6 cups of cooked hominy)
Notes
Speed Soak: If you forgot to soak the hominy overnight, you can quick soak it in the Instant Pot. For step 1, put the hominy and 8 cups of water in the Instant Pot, lock the lid, and pressure cook for 1 minute. Let the pot sit for 1 hour after pressure cooking to speed soak. (Don't quick release the pressure, either; let it come down naturally during that hour of soaking.) Unlock the lid, drain the hominy, and continue with step 2. 
Storage: If you're not using it right away, refrigerate the hominy for up to 3 days, or freeze for up to 6 months
Tools
Prep Time:

8 hours

Cook Time:

1 hour

Category:

Side Dish

Method:

Pressure Cooker

Cuisine:

Mexican
What do you think?
Questions? Other ideas? Leave them in the comments section below.
Related Posts
Pressure Cooker Red Posole
Instant Pot Day-After-Thanksgiving Turkey Carcass Southwestern Soup
Pressure Cooker Chili Verde (Green Pork Chili)
My other Instant Pot Pressure Cooker Recipes
Enjoyed this post? Want to help out DadCooksDinner? Subscribe to DadCooksDinner via email and share this post with your friends. Want to contribute directly? Donate to my Tip Jar, or buy something from Amazon.com through the links on this site. Thank you.