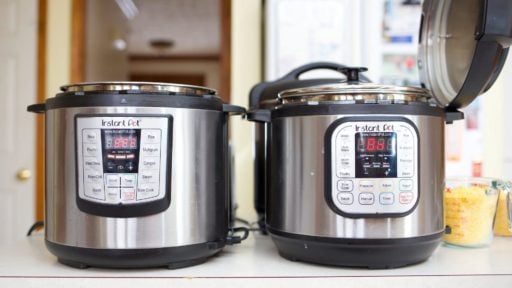 I am having trouble using the Slow Cooker mode on the Instant Pot. I tried a recipe at low, and it was not even remotely cooked...am I doing something wrong?
I've been getting a lot of questions like this recently. And I don't have an answer.
In all my years of using the Instant Pot1According to Amazon order history, I bought my first IP-LUX60 in October 2012, I can count on one hand the times I've used it as a slow cooker. And, well… those times weren't really slow cooking. I was reheating chili I pressure cooked the night before, for my annual chili potluck at work. Low heat is not enough - I need high heat to be ready by lunchtime. I start at "Slow Cook - High" for an hour or two, and then, once everything is bubbling, I turn the cooker down to "keep warm" until it is time to serve.
For all the things my Instant Pot can do - "It's a pressure cooker, slow cooker, yogurt maker, rice cooker…"2It slices! It dices! In Japan, the hand is used as a knife! But can it cut through this tomato? I really only ask it to do two things. First and foremost, it is my pressure cooker. I use the "Manual" (now "Pressure Cook") mode. I also use "Sauté" mode to saute onions and/or brown meat before turning on pressure cook mode. (And, occasionally, to simmer food after it is pressure cooked.) That's it, I'm done. The Instant Pot is my favorite cooking tool because of how well it does those two functions. 9 modes? 11 modes? Doesn't matter to me, all I want are those two.3I have a separate rant about not trusting program modes…what is the difference between "Soup", "Meat/Stew" and "Bean/Chili", anyhow? What is the pot doing? Should I trust it? But, that's a rant for another day. Back to slow cooking.
One of the first comments on my Instant Pot FAQ asked about slow cooking mode. (Like I said, I never use it, so I had to look it up in the manual.) According to the Instant Pot manual, the Slow Cooker settings are:
Normal mode: 90 to 96°C/194 to 205°F.
More mode: 93 to 99°C/199 to 210°F.
Less mode: 88 to 94°C/190 to 201°F.
That looked like like "Low" mode lines up with a Slow Cooker set to low, and "High" mode with a slow cooker set to high. But over the last few months, the volume of Instant Pot as a Slow Cooker questions has jumped. More and more, I'm asked: "I set my Instant Pot to Slow Cook - Low mode, came back ten hours later, and the results were not good. Am I doing something wrong?"
Turns out:
Slow Cook - Normal means "Low" in a traditional slow cooker
Slow Cook - More means "High" in a traditional slow cooker
Slow Cook - Less means "Keep Warm" in a traditional slow cooker
I don't know how to answer, yet. I'm going to test out slow cooker mode on the Instant Pot, and I will follow up on this in the New Year, but testing is going to take a while. (Ten hour slow cooks aren't a quick answer.) But, before I start testing,
Updated: Also, the Instant Pot has some limitations as a slow cooker. For more details, see my Update on Instant Pot as a Slow Cooker post. Or the comments on this post, or the Update post.
I want to throw the question to my readers:
Questions about Instant Pot Slow Cooking:
Are you using the Instant Pot as a slow cooker?
Is it working?
What settings do you use? (I saw a Reddit thread that said "Slow cook - medium on an IP is a slow cooker at low. Slow cook - high on the IP is a slow cooker at high. Slow cook - low is a "keep warm" mode. Does that work for you?)
Please answer in the comments below - what are your experiences? (Or, reply by email, on Twitter, or Facebook, or whatever social media platform you can find me on. Frankly, I'd prefer blog comments - I can barely keep up with Twitter as it is, and I've declared Facebook bankruptcy and only check it once in a blue moon.) Thanks!
Enjoyed this post? Want to help out DadCooksDinner? Subscribe to DadCooksDinner via eMail or RSS reader, recommend DadCooksDinner to your friends, and buy something from Amazon.com through the links on this site. Thank you.