Instant Pot Smashed Chickpea and Scallion Salad. A bean salad with homemade chickpeas, ready in about an hour thanks to pressure cooking.
I love sautéed chickpeas, so when I saw this Smashed Chickpea Salad recipe in Milk Street Magazine, I had to try it.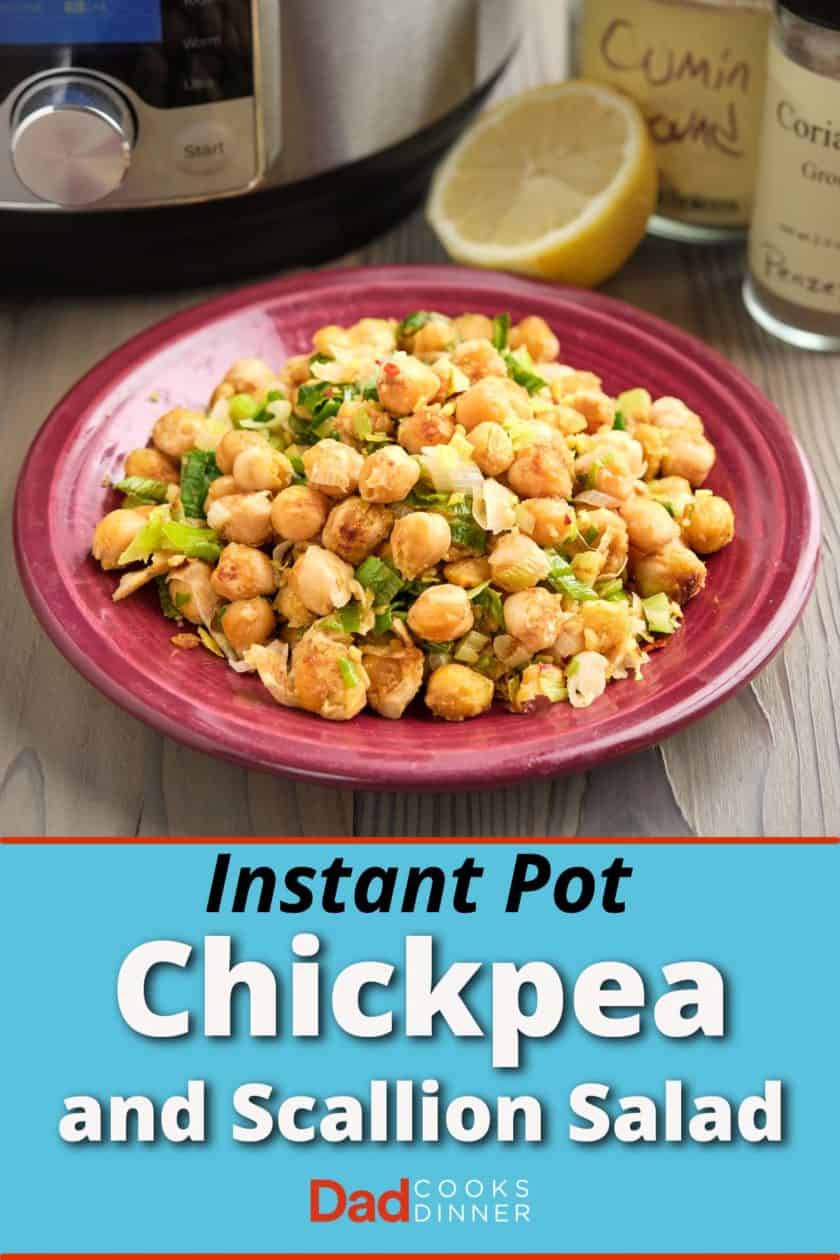 Jump to:
Now, to be clear, this is a "salad" the way potato salad is a "salad". It is a bean salad, not a leafy greens salad with some beans in it. Yes, there are some green onions in there, but don't expect a lot of lettuce. (It reminds me of my favorite radio commercial ever, Mr. Giant Taco Salad Inventor).
The original Milk Street version of this recipe uses fennel and coriander seeds as its spices, but I was out of both. I used a similar spice trio I enjoy - cumin, coriander, and red pepper flakes. They're a great match with chickpeas, and give this bean salad an Eastern Mediterranean flavor profile.
🥫Ingredients
Dried chickpeas (aka garbanzo beans)
Olive oil
Coriander
Cumin
Crushed red pepper
Green onion
Lemon
🥘 Substitutions
Don't have coriander or cumin? If you don't have either, skip them, or substitute paprika for a nice red color.
If you want to cut the heat, remove the red pepper flakes.
Diced red onion can replace the green onion - it's a sharper taste, but still good with this recipe.
And, last but not least - one can of drained chickpeas can substitute for the dried chickpeas. But, if you have a pressure cooker, PLEASE make this recipe with dried beans at least once. I'll bet you won't want to go back to canned beans.
🛠 Equipment
A 6-quart pressure cooker. Pressure cooker dried beans are one of the reasons I became a pressure cooker convert. Try them - you'll never go back to canned beans. (OK, maybe you will, for convenience - but see the Storage section for tips on make ahead freezer beans.)
📏Scaling
This recipe scales up and down easily - cut everything in half if you don't need as many beans, or have a 3-quart pressure cooker. You can double this recipe, but it's too much to fit in a 6-quart pressure cooker.
🤨 Soaking chickpeas?
I get the "to soak, or not to soak?" question all the the time. I don't soak my chickpeas. They cook to tenderness with 45 minutes at high pressure.
That doesn't mean you can't soak the chickpeas. They turn out fine, though the bean broth isn't quite as full bodied. Soaked chickpeas cook much quicker, 20 minutes at high pressure.
💡Tips and Tricks
Salt your bean water! "Salt toughens beans" is a myth. Salting before cooking helps season the beans all the way through as they cook.
If your chickpeas are still tough when the cooking time is over, especially any "floaters" at the top of the pot, give the beans a stir, lock the lid, and pressure cook for another five minutes. Older beans take longer to cook, and if the beans have been sitting in the shelf at your store for a while, they may need extra time.
Simmer to thicken: If you have the time, and want thicker bean liquid, simmer the beans for 20 minutes after pressure cooking. I set my Instant Pot to Sauté mode adjusted to low, set the timer to 20 minutes, and leave the lid off to let the broth evaporate.
I use both an Instant Pot (to pressure cook the chickpeas) and a frypan (to sauté everything), because they're the best tools for each job. You can make this recipe entirely in your Instant Pot by cleaning the pot liner out and switching to sauté mode when it comes to the Sauté step.
Inspired by: Smashed Chickpeas with Scallions, Milk Street Magazine
Print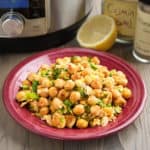 Instant Pot Smashed Chickpea and Scallion Salad
---
Author:

Mike Vrobel

Total Time:

1 hour 10 minutes

Yield:

2 cups

of salad

1

x
Description
Instant Pot Smashed Chickpea and Scallion Salad. A bean salad with homemade chickpeas, ready in about an hour thanks to pressure cooking.
---
Chickpeas
4 ounces

dried chickpeas (about

¾ cup

), sorted and rinsed

2 cups

water

¼ teaspoon

fine sea salt
Salad
1 tablespoon

olive oil

½ teaspoon

ground coriander

½ teaspoon

ground cumin

½ teaspoon

fine sea salt

¼ teaspoon

crushed red pepper

1

bunch green onions (about

4 ounces

), chopped
Zest and juice of ½ a fresh lemon
A little more minced green onion for garnish
---
Instructions
Pressure cook the chickpeas for 45 minutes with a Quick Release: Put the dried chickpeas, 4 cups of water, and ½ teaspoon of salt in an Instant Pot or other pressure cooker. Lock the lid, and cook at high pressure for 45 minutes in an Instant Pot or other electric PC, or for 40 minutes in a stovetop PC. (Use "Manual" or "Pressure Cook" mode in an Instant Pot). Quick release the pressure in the pot and drain the chickpeas.

Sauté the aromatics and the chickpeas: Heat the olive oil in a large frypan over medium-high heat until it starts to shimmer, about 3 minutes. Add the drained chickpeas to the frypan and cook until browned on the bottom, about 3 minutes. Sprinkle the chickpeas with the coriander, cumin, salt, and red pepper, and stir and toss until the spices are evenly distributed through the chickpeas. Add the chopped green onions and cook for 1 minute, stirring often. Remove from the heat and drizzle with the lemon juice and lemon zest. Top with a little more green onions for garnish, serve, and enjoy!
Equipment
Notes
If you make chickpeas ahead, thaw out a 2 cup container and use it in place of the fresh-cooked chickpeas.
If you're desperate, you can use a 15-ounce can of drained chickpeas. Just promise me you will try with homemade chickpeas at some point? You'll be surprised how much better they are.
Prep Time:

10 minutes

Cook Time:

60 minutes

Category:

Side Dish

Method:

Pressure Cooker

Cuisine:

American
Keywords: Instant Pot Smashed Chickpea and Scallion Salad, Pressure Cooker Smashed Chickpea and Scallion Salad
☃️ Storage
This recipe freezes well, in 2-cup containers, for up to 6 months. The bread crumb crust will get soggy, but still taste good.
🤝 Related Posts
Instant Pot Chickpeas and Tomato Lemon Vinaigrette
Instant Pot Garbanzos with Smoked Paprika
Instant Pot Chickpea and Chorizo Tacos
My other Instant Pot and Pressure Cooker Recipes
Enjoyed this post? Want to help out DadCooksDinner? Subscribe to DadCooksDinner via email and share this post with your friends. Want to contribute directly? Donate to my Tip Jar, or buy something from Amazon.com through the links on this site. Thank you.