I saw this recipe for Big Beans and Tomato Vinaigrette in Bon Appetit magazine, said to myself "What a great idea! Let's save that for the peak of tomato season." And…I promptly forgot it. Peak Tomato came and went here in Northeastern Ohio. My wife brought in the last of the cherry tomatoes from her backyard garden, sparking my memory, and a scramble to the farmers market to get more for this recipe. Before I miss tomato season entirely, here is my recipe for Instant Pot Chickpeas and Tomato Lemon Vinaigrette.
The original recipe called for butter beans and a red wine and tomato vinaigrette; I swapped out a few of the ingredients for what I had on hand.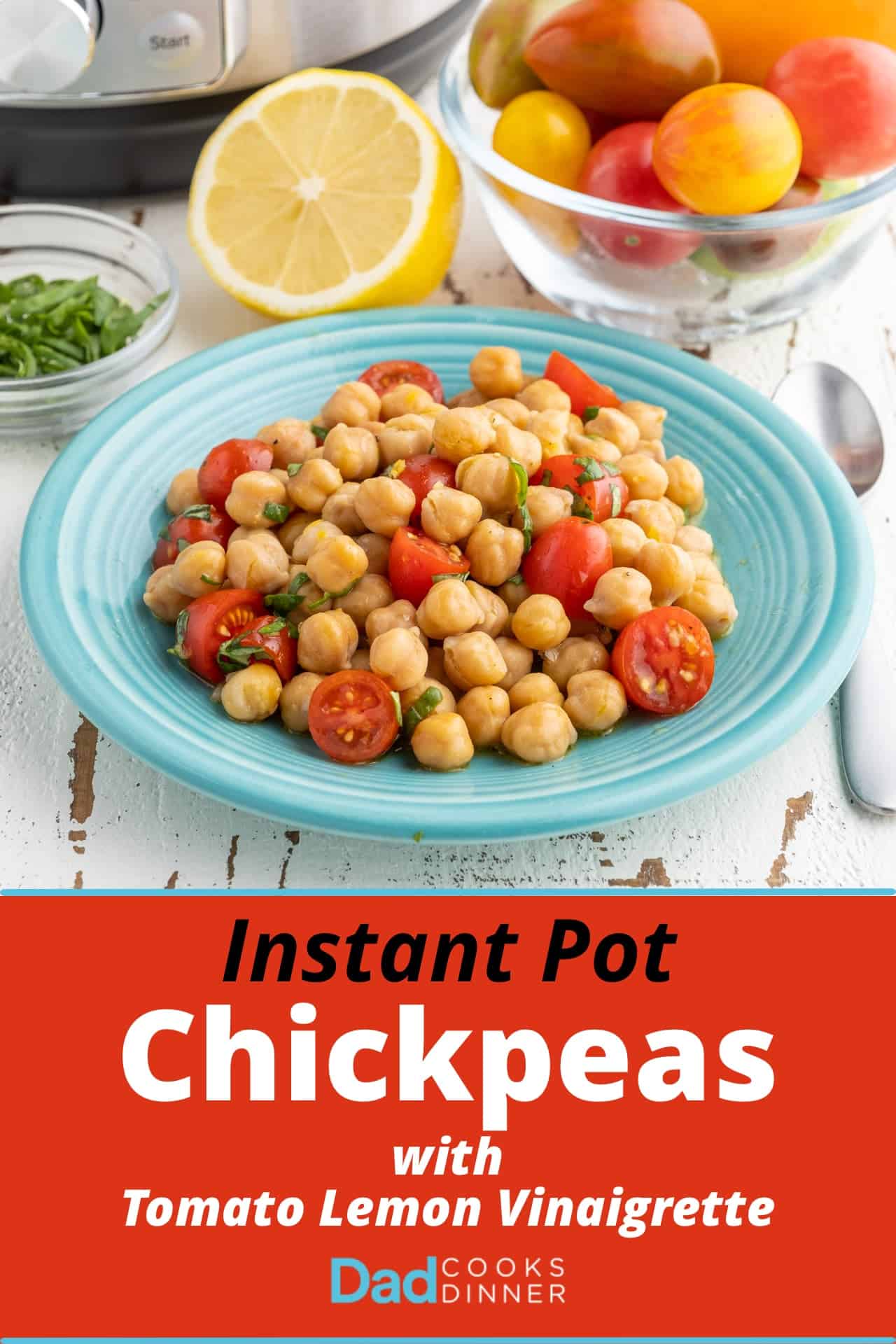 Jump to:
First, I switched the beans to chickpeas; I've been cooking a lot of white beans, and wanted something different. Of course used my Instant Pot Chickpeas recipe to make the chickpeas - I keep calling the Instant Pot my secret weapon for beans, but is it really a secret when I mention it almost every month? (And when I published that original pressure cooker chickpeas recipe back in 2010? Yikes, I've been doing this for a while.) That recipe is summarized in this one, so you don't have to switch back and forth.
The other big switch was lemon instead of vinegar. Originally, I went with balsamic vinegar, because I don't have a good red wine vinegar in my pantry. Balsamic did not go with the chickpeas; the sweet chickpeas and the sweet-sour balsamic were too similar. Lemon is what the chickpeas need - still sour, but with a tart citrus edge to balance out the chickpeas and tomatoes.
How good is this recipe? No one minded the two pounds worth of chickpeas in a weekend of recipe testing. In fact, I was asked when there would be more chickpeas - someone wants them for lunch. I'd say that's a success!
🥫Ingredients
Dried Chickpeas
Baking soda
Fine sea salt
Fresh lemon
Fine sea salt
Fresh ground black pepper
Fresh basil
Garlic
Cherry tomatoes
See recipe card for quantities.
🥘 Substitutions
Chickpeas are also called Garbanzos in Spanish, or Ceci in Italian.
Canned chickpeas: if you must, you must. Rinse and drain 2 (15-ounce) cans of chickpeas, and continue with step 2.
The baking soda helps keep the beans tender in case of hard water. (Hard water is acidic, and baking soda helps counter that.) I add it to all my bean recipes as insurance…when I remember. You can skip it if you want, but if you're having problems with beans not cooking all the way through, give it a try.
If you don't want to use a fresh lemon, substitute a good vinegar for the lemon juice and zest. White wine or champagne vinegar will look better than red wine or balsamic vinegar, but they'll all taste good.
You can skip the garlic or basil if you don't like them.
Cherry or grape tomatoes are good in this recipe. In general, cherry and grape tomatoes have a lot more tomato flavor than other grocery store tomatoes. Especially the new modern breeds - I particularly like the mix of small, multi-colored tomatoes from my local health food market in this recipe.
🛠 Equipment
A 6-quart pressure cooker. (Though it will fit in a 3-quart pressure cooker).
Pressure cooker dried beans are one of the reasons I became a pressure cooker convert. Try them - you'll never go back to canned beans. (OK, maybe you will, for convenience - but see the Storage section for tips on make ahead freezer beans.)
📏Scaling
This recipe scales down easily - cut everything in half if you don't need as many beans, or have a 3-quart pressure cooker. Scaling up runs into space issues for pressure cooking the beans without going over the max fill line in the cooker. If you have an 8-quart pressure cooker, you can double this recipe, but it's too much to fit in a 6-quart pressure cooker.
🤨 Soaking chickpeas?
I get the "to soak, or not to soak?" question all the the time. I don't soak my chickpeas in this basic recipe. They don't need an overnight soak, and cook to tenderness with 45 minutes at high pressure.
That doesn't mean you can't soak the beans. They turn out fine. Soaked beans cook much quicker, 20 minutes at high pressure. I use that when I'm cooking the beans with other ingredients, where the shorter cooking time keeps me from overcooking the whole dish just to get the beans tender. Since the chickpeas cook alone in this recipe, I don't bother with soaking
Sorting Beans
Beans are an agricultural product, and stuff tends to creep in when they are processed. Beans should always be sorted and rinsed before using, to get rid of any twigs, stones, clumps of dirt, or broken beans.
To sort the beans, I pour them out on one side of a rimmed baking sheet (a half-sheet pan), to keep the beans from escaping. Then I slowly run my fingers through the pile of beans, pulling them towards me on the sheet. I watch the beans as they move, looking for anything that doesn't seem right. If I see something, I poke around in the beans until I find what caught my eye, and discard it. I repeat this a couple of times, until I'm satisfied everything is out of the beans.
Then I dump the beans into a fine mesh strainer and rinse them under cold running water, to wash off any dirt or dust still on the beans.
Now the beans are sorted, rinsed, and ready for soaking or cooking.
💡Tips and Tricks
Salt your bean water! "Salt toughens beans" is a myth. Salting before cooking helps season the beans all the way through as they cook.
If your beans are still tough when the cooking time is over, especially any "floaters" at the top of the pot, give the beans a stir, lock the lid, and pressure cook for another five minutes. Older beans take longer to cook, and if the beans have been sitting in the shelf at your store for a while, they may need extra time.
Make ahead beans - I cook chickpeas by the pound, freeze them in 2-cup containers, and then I have homemade chickpeas ready for recipes like this one. I thaw them in the microwave (about 5 minutes), then continue with the drying and roasting steps.
I have two different ways to make the vinaigrette; the quick way and the finesse way. The finesse way, drizzling the oil in while whisking vigorously, will stay emulsified longer. The quick way, dumping everything in a bowl and whisking until it comes together, breaks much more quickly, with the oil and lemon separating. It's that whole "oil and water don't mix" thing in action. That said, I usually use the quick way - I'm not picky about my vinaigrette separating.
Inspired by: Big Beans and Tomato Vinaigrette, from Scribe Winery/Kelly Mariani in Bon Appetit magazine, Aug 2019
Print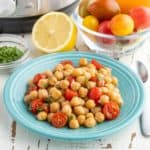 Instant Pot Chickpeas and Tomato Lemon Vinaigrette
---
Author:

Mike Vrobel

Total Time:

1 hour 35 minutes

Yield:

6 cups

1

x
Description
Pressure cooked garbanzo beans tossed with cherry tomatoes and lemon dressing, for a hearty side dish or vegetarian main course
---
8 ounces

dried chickpeas (aka garbanzo beans), sorted and rinsed

4 cups

water

¼ teaspoon

 

baking soda (optional)

½ teaspoon

fine sea salt
Tomato Lemon Vinaigrette
Juice of

½

a lemon 🍋 (

1

to

2

tbsp)
Zest from

½

a lemon
pinch of salt
pinch of freshly ground black pepper

1 tablespoon

minced basil

½

clove if garlic, finely minced (optional)

¼ cup

Extra Virgin Olive Oil

1 pint

(about

10 ounces

) cherry tomatoes, halved
---
Instructions
Pressure cook the chickpeas for 45 minutes with a quick pressure release: Put the dried chickpeas, 4 cups of water, ¼ teaspoon baking soda, and ½ teaspoon of salt in an Instant Pot or other pressure cooker. Lock the lid and cook at high pressure for 45 minutes in an Instant Pot or other electric pressure cooker, or for 36 minutes in a stovetop PC. Quick release the pressure in the pot and drain the chickpeas, then transfer the drained chickpeas to a medium bowl.
Whisk the vinaigrette (the easy way): put the vinaigrette ingredients (except for the tomatoes) in a medium bowl and whisk until the oil is emulsified. Add the halved tomatoes and whisk a few more times to coat with vinaigrette.
OR: Whisk the vinaigrette (the finesse way): Whisk the lemon juice, lemon zest, salt, and pepper in a medium bowl until the salt dissolves. Stir in the minced basil and garlic clove. Slowly drizzle the olive oil into the bowl, whisking constantly to emulsify the oil in the lemon juice. Stir in the tomatoes to coat with vinaigrette.
Toss the chickpeas and vinaigrette: Pour the vinaigrette over the drained chickpeas, and stir and toss gently until the chickpeas are coated and the tomatoes are evenly mixed. Serve, and enjoy!
Equipment
Prep Time:

5 minutes

Cook Time:

1 hour 30 minutes

Category:

Side Dish

Method:

Pressure Cooker

Cuisine:

American
Keywords: Instant Pot Chickpeas and Tomato Lemon Vinaigrette, Pressure Cooker Chickpeas and Tomato Lemon Vinaigrette
☃️ Storage
Make ahead: The chickpeas can be cooked ahead of time, and refrigerated in their cooking liquid for 3 days, or frozen for up to 6 months. Thaw and drain the chickpeas, then toss them with the vinaigrette.
Chickpeas with vinaigrette will last for a couple of days in the refrigerator.
🤝 Related Posts
Pressure Cooker and Oven Roasted Chickpeas
Pressure Cooker Hummus
Instant Pot Pasta con Ceci (Pasta with Chickpeas)
My other Instant Pot Pressure Cooker Recipes
Enjoyed this post? Want to help out DadCooksDinner? Subscribe to DadCooksDinner via email and share this post with your friends. Want to contribute directly? Donate to my Tip Jar, or buy something from Amazon.com through the links on this site. Thank you.