Instant Pot Spanish Farm Beans (Alubia Blanca De La Granja). A pressure cooked pot of pork and beans, Spanish style, with white Alubia Blanca beans, chorizo, and a big hit of Smoked Spanish paprika.
I read it for the pictures.1
Joanie Simon, YouTube food photographer extraordinaire, recommended Art Culinaire Magazine for food photo inspiration. And, boy, is she right - the pictures are art-film worthy, and the professional chef recipes are way beyond what I cook at home.2 But that doesn't mean they can't spark ideas. I noticed Rancho Gordo Alubia Blanca beans mentioned in in a high-end Judiones de la Granja recipe from MiniBar in Washington, DC. This quick mention led me down the path to this recipe - Instant Pot Spanish Farm Beans.
De la granja means "of the farm" - this recipe is the Spanish farmhouse version of pork and beans. The pork is dried Spanish chorizo; the beans are small white beans - try to get Alubia Blanca beans from Rancho Gordo if you can, but Navy beans make a good substitute. Add onions, lots of garlic, and a heaping helping of Pimenton de la Vera, Spanish smoked paprika. (Spanish smoked paprika is one of my favorite spices.)
So, fire up the pressure cooker, sit back, and picture a pot of beans on a farm table in the hills of Galicia.
Jump to:
🥫Ingredients
dried Alubia Blanca beans
olive oil
Spanish chorizo
Onion
Garlic
smoked Spanish paprika
See recipe card for quantities.
🥘 Substitutions
Can't find Alubia Blanca beans? Substitute Navy beans, or another small white bean.
Can't find Spanish dried chorizo? Don't use Mexican chorizo - it is a very different kind of sausage. Substitute a hard, dried sausage like a salami or sopresatta. Or, if you're desperate, a smoked sausage like kielbasa.
To make this a vegetarian recipe, skip the chorizo.
Spanish smoked paprika (or any smoked paprika) adds a wonderful smoky taste to this dish, just like it says in the name. But, if you can't find it, go with regular paprika.
🛠 Equipment
A 6-quart pressure cooker. Pressure cooker dried beans are one of the key reasons I became a pressure cooker convert.
📏Scaling
This recipe scales down easily - cut everything in half if you don't need as many beans, or have a 3-quart pressure cooker. Scaling up runs into space issues; if you have an 8-quart pressure cooker, you can double this recipe, but it's too much to fit in a 6-quart pressure cooker.
🤨 Soaking alubia blanca beans?
I get the "to soak, or not to soak?" question all the the time. I started testing the recipe soaking the beans, but the Alubia Blanca beans are so small, and pressure cook so quickly, that I abandoned soaking and just cook them directly from dried.
That doesn't mean you can't soak the beans. They turn out fine, though the bean broth isn't quite as full bodied. Soaked beans cook much quicker, 8 minutes at high pressure.
💡Tips and Tricks
Salt your bean water! "Salt toughens beans" is a myth. Salting before cooking helps season the beans all the way through as they cook.
Try to buy beans from a store with lots of bean turnover. Beans dry out as they age, which makes them a little tougher to cook. This is one of the reasons I pay extra for Rancho Gordo Beans - they are always fresh. (Can I call dried beans fresh? Yes, yes I can.)
If your beans are still tough when the cooking time is over, especially any "floaters" at the top of the pot, you probably got some old beans. Give the pot a stir, lock the lid, and pressure cook the beans for another five minutes.
Simmer to thicken: If you have the time, and want thicker bean liquid, simmer the beans for 20 minutes after pressure cooking. I set my Instant Pot to Sauté mode adjusted to low, set the timer to 20 minutes, and leave the lid off to let the broth evaporate.
Print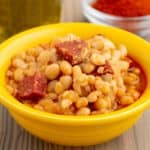 Instant Pot Spanish Farm Beans (Alubia Blanca De La Granja)
---
Author:

Mike Vrobel

Total Time:

50 minutes

Yield:

6 cups

of beans

1

x
Description
Instant Pot Spanish Farm Beans (Alubia Blanca De La Granja). A pressure cooked pot of pork and beans, Spanish style, with white Alubia Blanca beans, chorizo, and a big hit of Smoked Spanish paprika.
---
1 tablespoon

olive oil

6

- to 8-ounces Spanish dried chorizo, cut into

¼

-inch thick rounds

1

large onion, diced

4

cloves garlic, minced

2 tablespoons

Spanish smoked paprika (Pimenton de la Vera)

½ teaspoon

fine sea salt

1

pound dried Alubia Blanca beans, sorted and rinsed

5 cups

water

1 teaspoon

fine sea salt
---
Instructions
Brown the chorizo: Heat the oil in the pot over Sauté mode (medium heat in a stovetop pressure cooker) until the oil starts shimmering. Add the chorizo and cook, stirring occasionally, until browned and crispy one one side, about 5 minutes. Move the chorizo to a bowl with a slotted spoon, leaving as much oil and fat behind as possible.
Sauté the aromatics: Add the onion and garlic to the pot, and sprinkle with the smoked Spanish paprika and ½ teaspoon salt. Sauté until the onions soften, about 5 minutes, stirring and scraping the bottom of the pot with a flat edged wooden spoon to loosen any stuck bits of chorizo or onion. Add the chorizo and any juices in the bowl into the pot. Add the beans, pour in the water, and stir in the teaspoon of salt.
Pressure cook for 25 minutes with a Quick Pressure Release: Pressure cook at high pressure for 25 minutes in both electric or stovetop pressure cookers ("manual" or "pressure cook" mode in an Instant Pot). Quick release any remaining pressure. (We're quick releasing to rough up the beans and release some extra starch to thicken the cooking liquid.) Remove the lid carefully, opening away from you – even when it's not under pressure, the steam in the cooker is very hot.
Serve: Ladle into bowls, serve, and enjoy!
Notes
Want to soak your beans? Soak them overnight, then pressure cook for 8 minutes with a quick pressure release.
Prep Time:

10 minutes

Cook Time:

40 minutes

Category:

Weeknight Dinner

Method:

Pressure Cooker

Cuisine:

Spanish
Keywords: Instant Pot Spanish Farm Beans, Pressure Cooker Spanish Farm Beans
☃️ Storage
This recipe freezes well, in 2-cup containers, for up to 6 months. The bread crumb crust will get soggy, but still taste good.
🤝 Related Posts
Instant Pot Easy Braised Oxtail
Instant Pot Pasta con Ceci (Pasta with Chickpeas)
Pressure Cooker Lentil and Sausage Soup
Instant Pot Snowcap Beans
My other Instant Pot Pressure Cooker Recipes
Enjoyed this post? Want to help out DadCooksDinner? Subscribe to DadCooksDinner via email and share this post with your friends. Want to contribute directly? Donate to my Tip Jar, or buy something from Amazon.com through the links on this site. Thank you.
No, really. ↩
So. Much. Foam. ↩