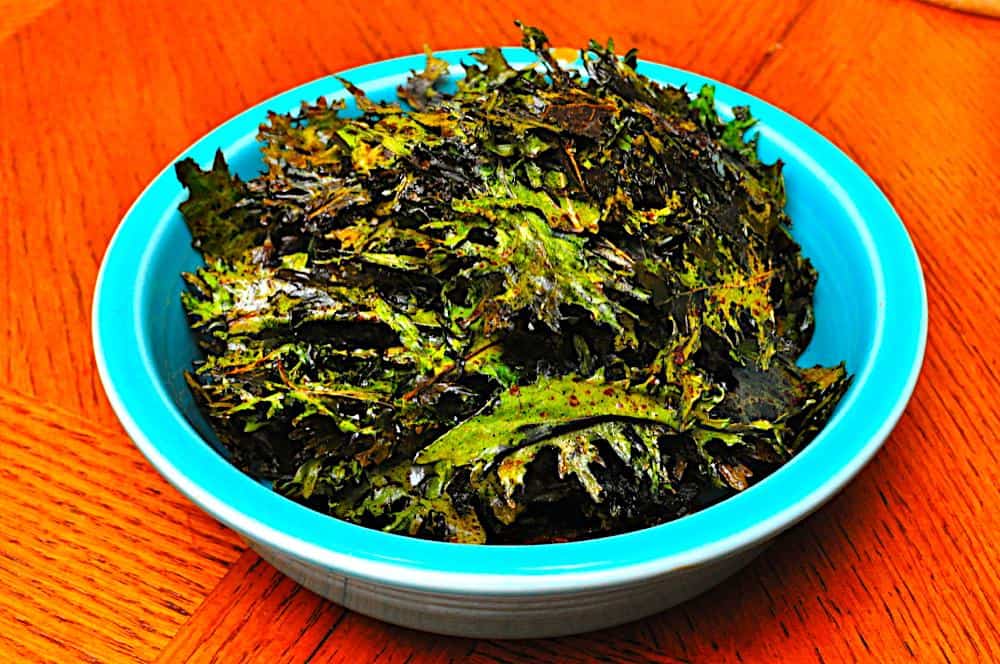 Spring has been a wet blanket. Every day has been gray and raining.
*Every day? I may be exaggerating. But I keep having this urge to build an Ark, and fill it with breeding pairs of animals.
I am starting to worry for Tim, my CSA farmer. Every week, he sends our spring CSA update. Every week, he tries not to complain about the lack of sunshine. Now, he's used to the interesting weather we get in Ohio. But he needs sunshine, at least occasionally.
*It's that whole photosynthesis thing we learned about in grade school. No sun, no plants.
Tim managed to scrape together enough vegetables for our first Spring CSA share. One of the offerings was a bag of baby kale. I'm used to large leaves of kale; these were tiny, with two to three inch leaves. I forgot all about the miserable spring weather - it is Kale chip time!
Following a suggestion from reader terrin, I made these kale chips with a Chinese flavor profile. I can see why she was raving about them. The soy and sesame oil were great paired with the crispy kale. Even the kids were chowing down; the entire batch disappeared during dinner.
*Well, OK, only one of the kids was chowing down. But we had to take the bowl of kale chips away from him, so Diane and I could have a few. But - kale? Had to take it away from him? There's a sentence I never thought I would write.
Recipe: Kale Chips with Chinese Flavors

Cook time: 15 minutes
Ingredients:
8oz kale, tough stem trimmed out and cut into 2 to 3 inch pieces (or baby kale with the stems pinched off)
1 tablespoon vegetable oil
1 teaspoon sesame oil
1 teaspoon soy sauce
½ teaspoon Kosher salt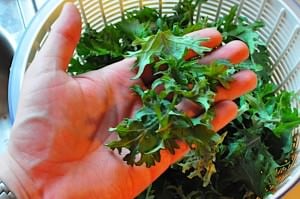 Baby Kale
Directions:
*See my Kale Chips post for an overview of the technique, and pictures of how to trim large leaves of kale.
1. Prepare the kale: Preheat the oven to 350*F. Rinse and dry the kale in a salad spinner, then toss with the vegetable oil, sesame oil and soy sauce until evenly coated. Spread the kale out in a single layer on two baking sheets, then sprinkle evenly with the kosher salt.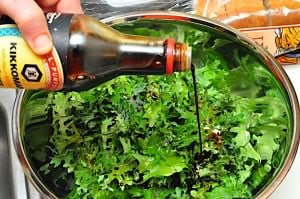 2. Cook the kale: Cook the kale in the oven for 15 minutes, rotating and swapping the pans after 10 minutes. When the kale is done, it should be just getting crisp and some of the pieces will be turning an dark olive green to black color. Remove from the oven and let cool for five minutes. Gently loosen the kale from the baking sheet, transfer to a bowl, and serve.
Variations:
*See my original recipe for Italian style kale chips.
Notes:
*After fifteen minutes, the chips were just barely crisp - I stopped at that point, not wanting them to get too bitter. Some of the chips seemed a touch soft coming out of the pan, but once they cooled down they were perfect, crispy and delicious.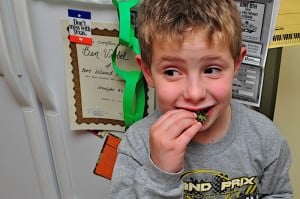 Kale taste test
What do you think? Questions? Other ideas? Leave them in the comments section below.
Related Posts:
My original Kale Chips recipe
Inspired by:
Tim Knorr and the baby kale from the Crown Point CSA
*Enjoyed this post? Want to help out DadCooksDinner? Subscribe using your RSS reader or by Email, recommend DadCooksDinner to your friends, or buy something from Amazon.com through the links on this site. Thank you!