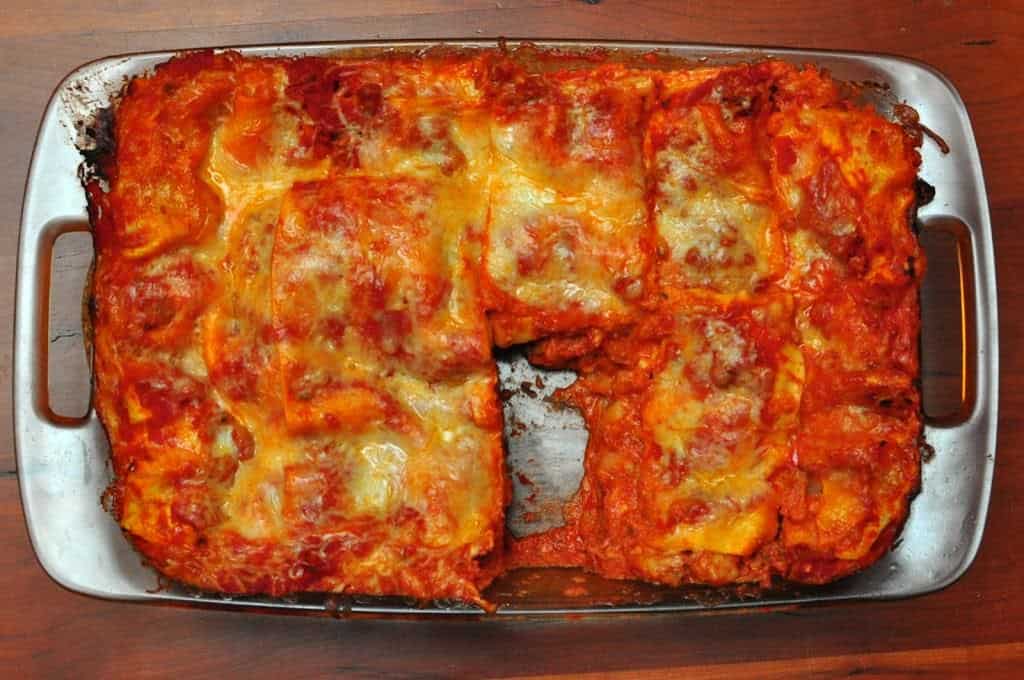 Lasagna is my emergency backup plan.
When I make lasagna, I always double the recipe, make two pans, and freeze the second one. Need a Sunday dinner for a crowd? Lasagna. Housewarming gift? Lasagna. New baby in the family? Lasagna, plus a loaf of garlic bread and a bag of salad. I've given an entire meal to the new parents.
I cook these lasagnas in my old standby: three quart Pyrex baking dishes.
*Lasagnae? Lasagnaes? My high school Latin is rusty. What's the vocative plural of lasagna?
Pyrex. I know, I'm a risk taker. Exploding Pyrex videos are impressive, but I've used it for too long to worry about it. The key to Pyrex is avoiding sudden temperature changes. Thermal shock is what cracks Pyrex.
What causes a sudden temperature change? Usually, water. When a heated Pyrex dish is set down on a small puddle of water, the area of the dish touching the water cools quickly, and the difference in heat between the cool and hot sections shatters the glass. Never put a heated Pyrex pan on a wet counter, or a wet towel.
*Other suggestions from Pyrex: Don't use Pyrex over open flame, or for broiling. Don't use a Pyrex pan with dry ingredients that don't fill the pan; uneven heating can cause problems. Also, Pyrex can go from the freezer to the oven, but only if the oven is pre-heated. Some ovens use their broilers when pre-heating, which exposes the Pyrex to direct flame. Flame = bad for Pyrex.
**And no, this post wasn't sponsored by Pyrex. I started reading about thermal shock and got on a roll.
After all these warnings, why Pyrex? It's always worked for me. It's safe to pull straight from the freezer and put in the oven. And…well…I'm cheap. If I'm going to give away a lasagna, I want it to be in a $10 Pyrex, not a $50 ceramic baking dish. That way, I don't have to worry about getting the pan back. New parents already have enough to worry about.
*If you want a safer, but more expensive pan, look at Le Creuset's bakeware. I have a few pieces, and I really like them.
Recipe: Lasagna with Sausage Sauce

Adapted From: Pam Anderson CookSmart
Cooking time: 60 minutes
Equipment:
9"x13" baking dish (I use this one - I like the handles.)
Ingredients:
1 tablespoon olive oil
1 large onion, minced
4 cloves garlic, minced
½ teaspoon red pepper flakes
½ teaspoon kosher salt
1 teaspoon Italian seasoning (or ¼ cup minced fresh basil)
1 pound sweet Italian sausage
2 (28 ounce) cans crushed tomatoes
15 ounces Ricotta
4 ounces Parmesan, grated (about 1 cup)
16 ounces Mozzarella, shredded (about 4 cups)
16 no-boil lasagna noodles
Directions:
1. Make the sauce: Heat the olive oil in a large pot over medium-high heat until the oil is shimmering. Add the onion, garlic, red pepper flakes, kosher salt, and Italian seasoning. Saute until the onion softens, about 5 minutes. Add the sausage and cook for five minutes, stirring and breaking up the sausage until it loses its pink color, about 5 minutes. Add the crushed tomatoes and bring to a simmer. Remove from the heat and let cool for 10 minutes. Set aside 1 ½ cups of sauce (the "plain sauce"). Stir the ricotta into the remaining sauce (the "ricotta sauce").
| | |
| --- | --- |
| Simmering the sauce | Reserved 1 ½ cups, added the ricotta |
2. Build the lasagna: Turn oven to 400°F. Coat a 13x9 inch baking dish with nonstick spray. Spread ½ cup of the plain sauce on the bottom of the dish. Cover with four of the noodles, slightly overlapping if necessary. Spread 2 cups of the ricotta sauce on top of the noodles, then sprinkle with 1 cup of the mozzarella and ¼ cup of parmesan. Repeat with another layer of noodles, 2 cups of ricotta sauce, 1 cup of mozarella, and ¼ cup parmesan. Repeat for a third time: another layer of noodles, the remaining ricotta sauce, 1 cup of mozarella, and ¼ cup parmesan. Add one last layer of four noodles, spread the remaining cup of plain sauce on top, and sprinkle with the remaining mozarella and parmesan. Tear a sheet of heavy duty aluminum foil to fit the top of the baking dish, and spray the underside with nonstick spray. Wrap the foil tightly over the top of the baking dish.
| | |
| --- | --- |
| A base of plain sauce | First: a layer of noodles |
| Second: a layer of sauce | Third: a layer of cheese |
...repeat for three more layers, then add the final layer...
| | |
| --- | --- |
| Last layer of noodles | Top with remaining plain sauce, and remaining cheese |
3. Cook the lasagna: Bake for 30 minutes, then remove the foil and bake for another 15-20 minutes, until the edges are bubbling and the cheese is lighty browned. Let cool for at least 15 minutes before serving.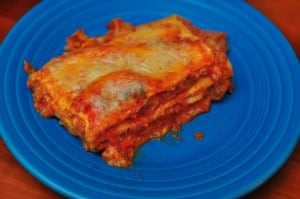 Variations:
Freezer lasagna: Follow the recipe through step 2. After the lasagna is built and covered with the nonstick sprayed foil, wrap tightly with plastic wrap, then again with another layer of aluminum foil. To cook the lasagna, remove the outer aluminum foil layer and the plastic wrap, leaving lasagna covered with the foil sprayed with nonstick spray. Put the frozen lasagna directly into an oven preheated to 350°F, and cook for 1 hour and 30 minutes. Remove the foil and cook for another 15-20 minutes, until the edges are bubbling and the cheese is lightly browned. Let cool for 15 minutes before serving.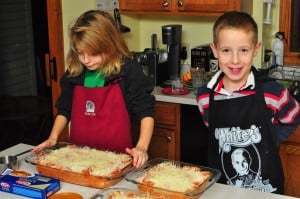 My work crew
Notes:
As I said in the opening, I always double this recipe when I'm making it, and freeze the second lasagna. The work is in assembling. Why not make a second lasagna for later?
This recipe serves my family of five with enough leftovers for a second meal for most of us, or lunches for most of the week. So, if you're cooking for less people, cut the recipe in half, and use an 8x8 pan. Or, even better, use the full recipe, make two 8x8 pans, and freeze one of them for later.
If you freeze the lasagna, make sure to remove the plastic wrap layer before cooking! This is a mistake that I won't make agai…um, I mean a mistake that I've heard that freinds make...
Also, when I know I'm going to give a frozen lasgana away, I write the cooking instructions on the outer foil wrapper with a permanent marker.
What do you think? Questions? Other ideas? Leave them in the comments section below.
Related Posts:
Weeknight Tomato Sauce
Walnut Vinaigrette (for a salad)
*Enjoyed this post? Want to help out DadCooksDinner? Subscribe to DadCooksDinner using the RSS or Email options on the right, link to this post from your blog, recommend DadCooksDinner to your friends, or buy something from Amazon.com
through the links on this site. Thank you.