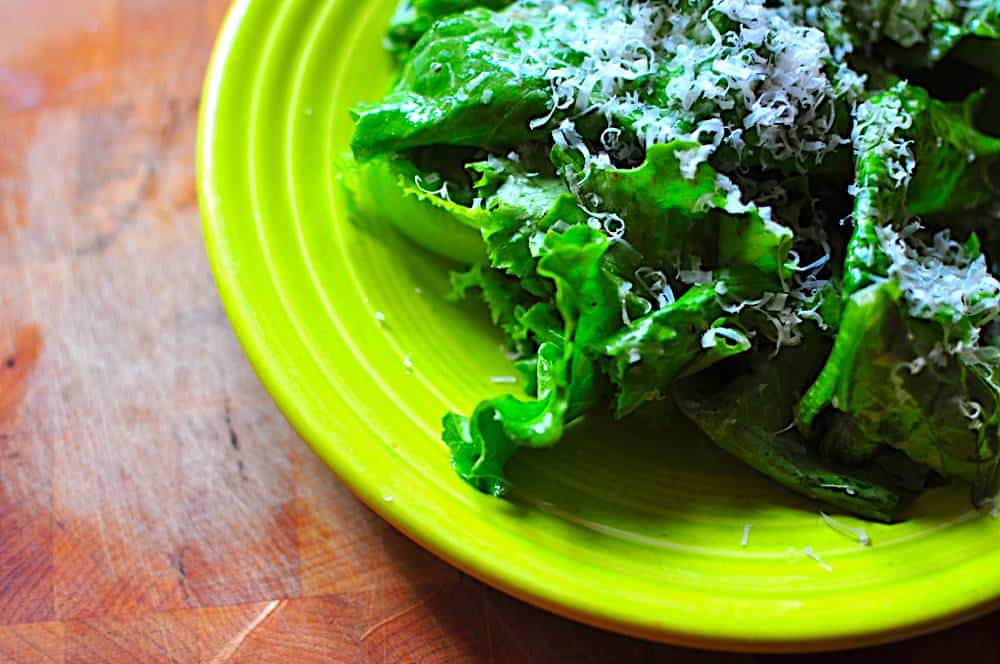 I'm on a Walnut Vinaigrette binge, inspired by my brother-in-law, Travis. He left a bottle of walnut oil behind at our summer cottage. When I saw the bottle, I knew what I had to make. Now I'm hooked - it has replaced balsamic vinaigrette as my go-to salad dressing.
I think of this as a "French" vinaigrette. It's a variation on a dressing Susan Hermann Loomis taught me in her cooking class in Paris*. I didn't realize quite how much of a variation until I went back to her original recipe. The original wasn't a walnut dressing…it was a hazelnut dressing. And it used red wine vinegar and thinly sliced shallots, not sherry vinegar and Dijon mustard. Oops. Sorry, Susan. Oh, well, my walnut version is quite good anyhow…
*Did I mention that I took cooking classes in France? No? I'm going to go back there someday…
Recipe: Walnut Vinaigrette

Inspired by: Susan Herrmann Loomis Cooking at Home on Rue Tatin
Cook time: 5 minutes
Ingredients:
1 tablespoons sherry vinegar
½ teaspoon dijon mustard
pinch salt
½ teaspoon fresh ground black pepper
3-4 tablespoons (scant ¼ cup) walnut oil
*For an overview of making vinaigrettes, see Vinaigrette Basic Technique
Directions: Easy Way
1. Whisk to blend: Whisk all the ingredients in a small bowl until creamy.
OR:
Directions: With Finesse
1. Dissolve the salt: Whisk the vinegar, mustard, salt and pepper in a small bowl until the salt dissolves, about 30 seconds.
2. Add the oil slowly: Add the oil in a slow stream, whisking until creamy and emulsified.
Notes:
*This is enough dressing for two heads of green leaf lettuce, a 6 ounce bag of bag salad, or about 6 cups of mesclun mix.
*It also makes a great topping for cooked vegetables; asparagus and green beans in particular.
What do you think? Questions? Other ideas? Leave them in the comments section below.
Related Posts:
Vinaigrette Basic Technique
Balsamic Vinaigrette
Red Wine Vinaigrette
Inspired by:
Susan Herrmann Loomis Cooking at Home on Rue Tatin


*Enjoyed this post? Want to help out DadCooksDinner? Subscribe using your RSS reader or by Email, recommend DadCooksDinner to your friends, or buy something from Amazon.com through the links on this site. Thank you!