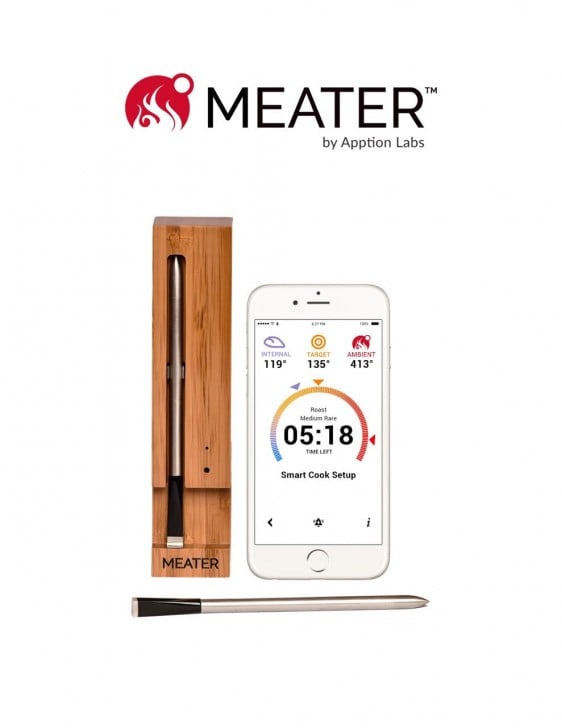 [Update 2017-04-25: I've given up. Two years later, and I'm still waiting. If they make it someday, great, but I'm not holding my breath. I apologize to anyone who backed this on my recommendation. I've learned my lesson, and will not recommend Kickstarter projects in the future.]
I know I've done a lot of "Hey, look at this cool thing on Kickstarter!" posts recently, but I have one more cool thing that I have to talk about.
FCC Disclaimer: I have received nothing for this post, I'm doing it as a public service announcement. And, by "public service", I mean "I want one."
Loyal reader Cary1Cary. Thank you! I owe you one. saw my mention of the Misen chef's knife Kickstarter, and emailed me to say "have you checked out the MEATER?"
Oh, my. This is the thermometer I've been waiting for. A remote probe thermometer without wires.
I wrote a couple of books about Rotisserie Grilling, and both have sections where I beg people to use internal temperature to determine doneness.2Cooking time is fickle, depending on all sorts of variables - the outside temperature, type of grill, heat in the grill, heat of the food when it went on the grill. Internal temperature tells you when the food is done cooking. The obvious follow up question, and one I get asked about once a month: OK, mister "It's Done At 160°F", is there a probe thermometer that works with the rotisserie, so I know when it's done cooking?
My answer was "sadly, no". I've seen probe thermometers that try to run a wire out along the rotisserie spit itself, but my rotisserie brackets are too narrow - they wouldn't work with my grill. I've lived with the "peek and check" method, starting about 15 minutes before I think the food should be done, and using my hand-held instant read thermometer. The result is checking the grill every five to ten minutes, always worried that I waited too long and cooked my prime rib to medium-well instead of medium-rare.3Aiming for 125°F, it goes like this: 100°F. (wait) 103°F. (wait) 108°F. (wait) 112°F (wait, drink a glass of wine, get distracted…) 138°F. 138? Nooooo!
What I need is a grill-safe probe with wireless communication back to the base unit. The guys at Apption Labs were reading my mind. I took one look at their Kickstarter and couldn't get my credit card out of my wallet fast enough.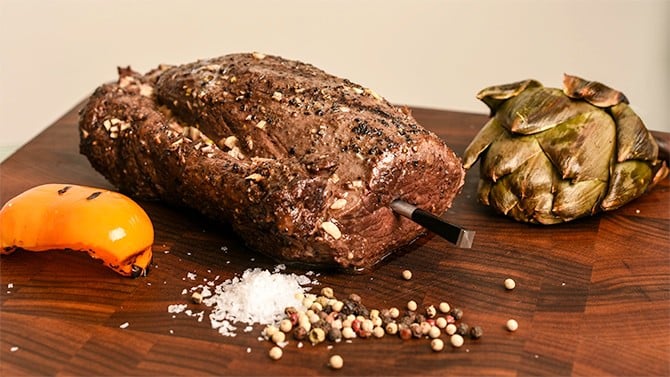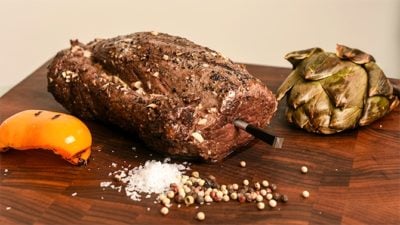 The Meater
Why am I so excited? Because the Meater is a wireless probe thermometer. The Meater probe contains the thermometer and a Bluetooth transmitter - the probe looks like a long nail. Pair the Meater with your phone, push it into the meat, and it's ready to go. No wires to get in the way, or get burnt out by the grill, or trip over in the kitchen.4Not that I've ever snagged the wire leading to my Thanksgiving turkey and slingshot my Polder across the kitchen, oh no, not me.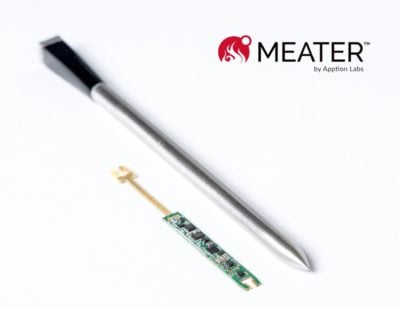 Other advantages
Are you a low and slow barbecue cooker? Want to keep the smoker at a specific temperature for hours and hours? The Meater is perfect for you. It has a second ambient temperature sensor on the base end - the part that's sticking out of the meat - so each Meater probe gives you the temperature in the food and the temperature in the grill at the same time.
They also use the ambient temperature sensor to give you an ETA on cooking time. The app does the math: the chicken is 75°F, the ambient temperature in the oven 350°F, and the target temperature is 165°F - the chicken should be done in 30 minutes.
Are you cooking over higher heat grilling temperatures? I've burnt out a lot of wired probes when the wire got too close to the fire in my grill. The Meater is rated to 527°F…with a significant safety range, so it won't burn out in the heat of the grill.5Joseph at Apption labs told me this is why they decided to make the Meater. They were tired of burning out probe wires.
Also, I can't wait to try the Meater out in my sous vide. This is going to really help with my "how long is the minimum sous vide timing?" question when I do sous vide posts. I can seal the probe in the vacuum bag with the meat, and know exactly when it reached finished temperature.6I can't wait to try this with sous vide straight from the freezer. I always worry I'm not cooking it long enough.
Finally, if you spring for one of the more expensive models that includes "The Meater Block", it will connect the Meater probes into your house's WiFi. No more "am I too far away" worries; once it is on WiFi, it can talk to your phone no matter where it goes, as long as it has an internet connection. (If you don't get the Meater Block, that's OK, it will alert you on your phone when you go out of Bluetooth range.)
Kickstarter
Now, the usual Kickstarter disclaimers apply here. We are helping to create something new, not ordering something that already exists. There are working prototypes of the Meater; the Kickstarter is to fund the actual production of the thermometers. They are scheduled to ship in January 2016. But…I take Kickstarter shipping dates with a grain of salt. I'm not saying they're wrong, but schedules slip. Also, there is a chance the Kickstarter will fail entirely - it's rare, but it does happen.7Another risk is not reaching their Kickstarter funding amount - but they're already funded. That said, they are a small startup, so they can always use more funding.
Is the Meater perfect? No. The probe is 6mm thick, about the size of an old school meat thermometer. That's a lot thicker than the needle-width probes I'm used to. The max temperature for the internal reading is 212°F - plenty for cooking meat, but too low for use as a general kitchen thermometer8I use my probe thermometer to check things like oil frying temperatures, which go up to 350°F. But for what it is? A wireless, grill safe meat thermometer? It is more than good enough.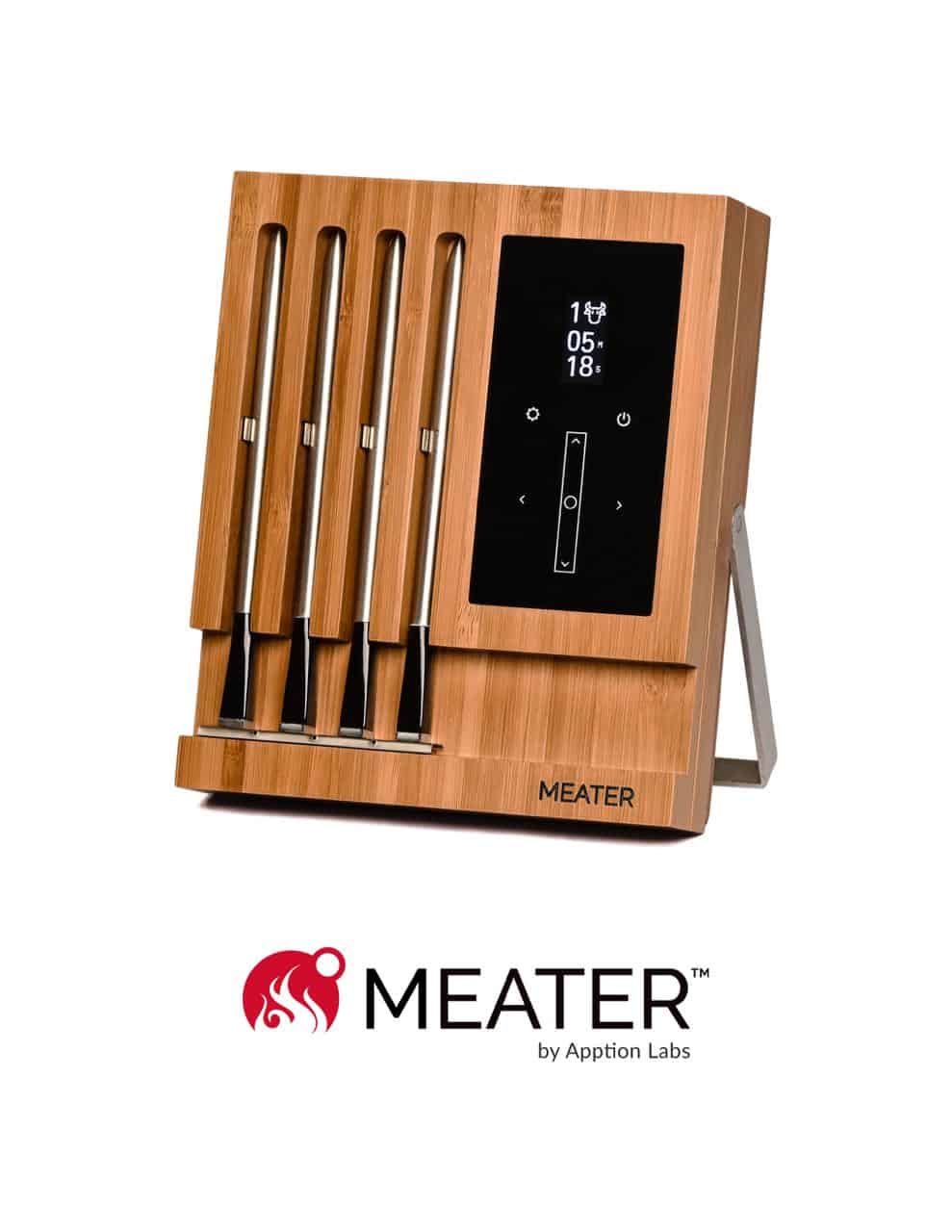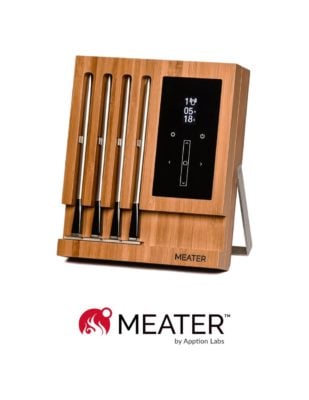 Please back the Meater
I'm done with disclaimers. In the end, I don't care about the risks. I've been waiting for a wireless probe thermometer for years, and jumped at the chance to back this Kickstarter. It's exactly what I need, and I feel like I'm contributing to important home kitchen technology.
Now it's your turn. I'm [strike]begging[/strike] asking you. Please support this Kickstarter. I need one of these thermometers. NEED ONE. Thank you.
For more information, and to back their Kickstarter, go to: Meater: The first truly wireless smart meat thermometer [Kickstarter.com]