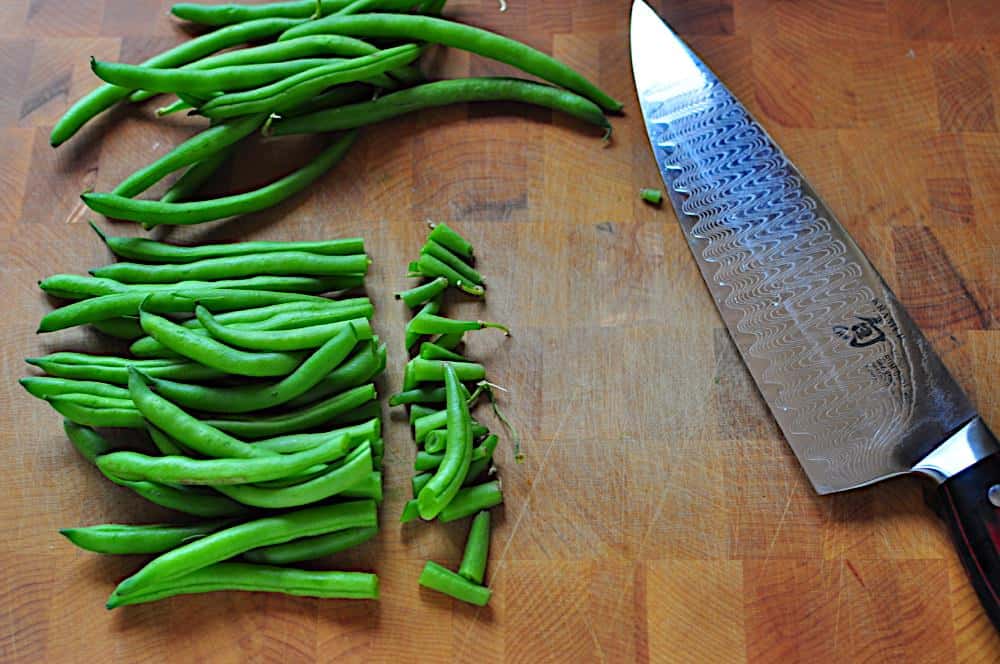 I think I'm making a side dish.
The kids think I'm trying to trick them into eating something gross.
When I write a story that mentions my kids are picky eaters (or, StarchAndCheeseitarians, as I call them), I get at least one comment that starts "I'm sorry, but", then continues something like this…
"Why do you let children dictate family meals? Don't give the kids any options. Eventually, they'll get hungry enough to eat what you serve them. That's what my mom did for me/that's what I do for my kids. Now our little angels eat everything we put in front of them, and love it!"
When I read these comments, here's what I get from them:
"You, sir, are a complete failure as a parent. You're letting the inmates run the asylum. So, let me tell you how to raise your kids. Show a little backbone, put those rug rats in their place, and they'll fall into line. They'll all be eating brown rice and braised kale in no time."
I always delete my first response, then my second. By the third try, I've calmed down enough to leave a neutral response, something like "I'm glad that works for you. It doesn't work for my kids."
One commenter actually got right to the point. "I'm not trying to be mean…but this is exactly what's wrong with America…" I deleted that comment without bothering to respond.
I got yet another comment like this after my New York Times interview. I wrote this post so I can email a link to it every time I get one of these "helpful" suggestions.
I'm jealous when I read these comments. These people don't have kids who are picky eaters. I do. My kids are very particular about what they put in their mouths. And it hurts me. I love food, all kinds of food, and I love cooking. I cook a wide range of foods for the kids. And, some of the time, my kids absolutely refuse to eat what I cooked.
I've already tried everything the commenters suggest. Cook and serve unprocessed foods? That's what this blog is about. Expose them to fruits and vegetables? My kids grew up going to the farmers market and the CSA with me every weekend. Don't give them any other options, and wait for them to get hungry? Tried that. My kids dig in their heels, and one is willing to skip entire meals if they don't like what's served. I've tried a "one bite rule", to get them to taste things over and over, and get used to the taste. This resulted in gagging more often than not.
To try to save my sanity, and come up with strategies to get my kids to eat healthier, I read up about picky eating. Here's what I learned.
All kids are predisposed to like fatty and sweet. Kids get a strong aversion to bitter tastes starting at about eighteen months. In nature, bitter usually associates with poison, so this was a good evolutionary strategy - right around the time kids learned to walk, they started to dislike bitter.
This is why chicken fingers with french fries and barbecue sauce is on every kids menu in the country. Kids want the fat, sweet, carbs, and bland.
After that, the science of kids taste gets muddled. There are a lot of things tied in with our sense of taste, and different people can have wildly different taste experiences. A lot of tasting is biology - tastes are hard wired into us. As an example, some people are born with a set of genes that makes them sensitive to bitter tastes in green vegetables. (See the NOVA link on picky eaters, below).
Kids aren't all the same; they have a range of taste sensitivity. Some are "live to eat" kids, who will eat anything. Most are in the middle, where they prefer fatty and sweet foods, but can eat vegetables grudgingly. Then you get to the picky eaters, who for one reason or another, view wide swaths foods as "gross". Their tastes, like their personality, are a part of them. Parents can help expand those tastes, but we can only help so much - to a large part, the kids are who they are.
*I have a range, even in my own kids. One is a middle of the road eater, one leans strongly towards the picky side, and one is deep in the picky camp, with a very defined list of what is acceptable to eat. As in, no fruit or vegetables. Yes, this terrifies me.
The good news is, as kids get older, their tastes change. The range of food they'll eat expands dramatically, usually in their teen years. In other words, most picky eaters grow out of it. I can see hints of this in my kids; the variety of foods they will eat keeps expanding. I keep exposing them to things, and hoping for a big breakthrough…but we're not there yet, and I constantly worry that we will never get there.
Judgmental parents are confusing their good fortune with good parenting. They got kids somewhere between "live to eat" and "middle of the road". I got one in the "no way, no how" camp. But these parents believe all kids are exactly like theirs, in the middle of the road, and just need a little push. And they can't wait to tell me the error of my ways. If I would just use a little tough love, everything would sort itself out, and my picky eater would suddenly become an omnivore.
Believe me, I tried. Eventually, I got tired of dinnertimes full of anger, hurt, yelling, tears, threats, and tiny nibbles of food followed by gagging. I want dinner to bring us together as a family, not push us apart. What works for us is serving a bunch of different foods, keeping it as healthy as we can, and serving something the kids will eat at every meal. (Which is usually a carb, like bread, tortillas, or rice.) Then, we let them eat what they want, and I try not to get pushy or obsess about it. Some days are successes, some are failures, but we seem to be headed in the right direction.
If this is such a painful topic, why do I write about it in my blog? Why not just ignore it, so I don't have to deal with all the back seat parenting? Because I'm not alone. There are other parents out there, struggling with what their children will (and won't) eat. Some of them have kids that are just as picky as mine. I hope sharing my experience helps them out. Also, writing it out helps me work through my own issues. It took years to figure out how to eat with my kids, and it is still difficult. But I believe in the value of family meals and home cooking, in eating healthy and eating a variety of fresh food. So I push on. I hope I'm showing others a way forward too.
So, to everyone who wants to tell me how to feed my kids:
The way I feed my family offends you. You assume what works for you will work for everyone. I wish it worked for us, but it doesn't. I'm glad it works for you, really, and I hope it continues. Your kids will be better off for it. But can you do me a favor? Can you assume I'm not a bad parent, and I'm doing the best I can for me and my family? Thanks.
---
What do you think? Questions? Other ideas? (He asks, hiding behind his desk chair...) Leave them in the comments section below.
Resources:
A quick summary of the science of picky eating, from NOVA scienceNow. [PBS.org]
The Science of Picky Eaters
Picky Eaters: Expert Q&A
Stephanie V. W. Lucianovic is a picky eater turned foodie, and wrote a book about it:
Parents of Picky Eaters, It's Not Your Fault [nytimes.com]
Suffering Succotash: A Picky Eater's Quest to Understand Why We Hate the Foods We Hate
Ellyn Satter wrote the book(s) on picky eating, and how to deal with it without losing your mind:
Child of Mine: Feeding with Love and Good Sense

Secrets of Feeding a Healthy Family: How to Eat, How to Raise Good Eaters, How to Cook
Related Posts:
DadCooksDinner Loses Weight...Then Gains Some Back
Family Dinners and Small Kids
Family Dinners and Busy Kids
*Enjoyed this post? Want to help out DadCooksDinner? Subscribe to DadCooksDinner using the RSS or Email options on the right, link to this post from your blog, recommend DadCooksDinner to your friends, or buy something from Amazon.com
through the links on this site. Thank you.