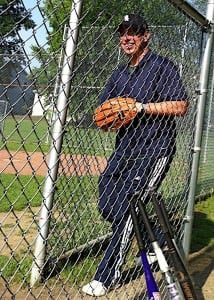 Dad is ready to pitch to the kids
We have always made family dinner a priority. This has been tested more in the last couple of months than at any time in the decade I've been cooking. Our kids are getting busy, and it feels like it's just getting started.
In the past, we've had dinner conflicts one night a week, sometimes two. The kids would have religion classes, Ben would have one weeknight sports game (soccer or baseball). I would have to hurry a meal onto the table one or two nights a week. This was workable. This spring, both Ben and Natalie were in sports. This was resulting in three nights a week, maybe four, of trying to get a meal cooked, eaten, and cleaned up in the hour between work and game time.
Now, in spite of what you see on this blog, I don't make elaborate meals on weeknights. I cook for 30 to 45 minutes, and sometimes an hour when it's a really hands-off dish. I have dinner on the table by 6:30PM. If I go past that, Diane gets a little peckish. With our game schedules, we have to be out the door by 5:30. That doesn't leave me much time.
Now, don't get me wrong; I want our kids playing sports. Ben loves it. Being part of the team, running around outside, playing games...he just lives for it. I enjoy it too; I have been helping out with coaching for a few years now, and it is a lot of fun to work with the kids.
This is in spite of my complete lack of coaching knowledge. I'm a sports fan, but everything I know about coaching is what I've picked up from the kids and other coaches. For example...I've been coaching soccer for the last two years, in spite of never watching a game until Ben started playing. Luckily, at this age, coaching is more about pointing them towards the right goal, yelling "spread out, everyone!" a lot, telling them they did a great job, and making sure there are snacks after the game.
But...I feel like I'm robbing Peter to pay Paul. And I think it's only going to get worse. Tim's already kicking a soccer ball around on the sidelines while watching his big brother play, and he will be old enough to start in the Fall. Natalie is doing well with her violin lessons. When all three are going in different directions...well, I get nervous just thinking about it.
*I can't imagine what it would be like if Ben was on a travelling team. Those schedules sound like a real grind.
**It doesn't help that, on top of all this, Diane is taking evening classes, and I'm trying to find the time to blog about home cooking...
Here are Dad Cooks Dinner strategies for busy weeknights:
1. Have a collection of ultra-quick meals. One hour before game time is not when I want to be fussing with dinner. This is when the basic techniques I've learned really come into play. Forget thirty minute meals - if it takes more than twenty minutes for everything, it is taking too long. I slap together a quick grilled or sauteed protein, a steam-sauteed vegetable, a salad with a basic vinaigrette, and a quick starch. If it's going to take any real time or attention, it's going to have to cook another night.
2. Cook with leftovers in mind. When I have time earlier in the week, chilis, soups, and stews give me leftovers that I like to eat - they taste better after a rest in the refrigerator. Reheat, whip up a salad, serve with some bread, and dinner is ready. Also, side dishes are good to have as leftovers. Make a double batch of vegetables or starch, store in microwave-safe two quart containers, and you can just nuke and eat.
3. Cheat shamelessly. Hey, kids! How about Peanut Butter and Jelly sandwiches for dinner? Hot dogs and baked beans? I know...let's have breakfast for dinner - who wants eggs? Or, my personal favorite, Dad's Super Sub Sandwich - slice a loaf of french bread in half, and pile things on. Add lunch meat, pickled peppers, bag salad, mustard, oil and vinegar...whatever you want.
In other words - I'll do whatever it takes. Family dinner is that important to me. Of course, I'm not perfect; every now and again we'd wind up at our local Thai restaurant. But that only happened a couple of times over the spring and summer, so I think I did a pretty good job of taking care of my family's competing needs.
What are your experiences? How do you balance family dinner and kids activities? Any go-to techniques or recipes to share? Leave them in the comments, below.
Related Posts:
Weekly Dinner Plans
Basic Technique: Saute with Pan Sauce
Much Depends on Dinner: Michael Ruhlman at TEDxCLE
Suggested Reading:
Pam Anderson How to Cook Without a Book
*Enjoyed this post? Want to help out DadCooksDinner? Subscribe using your RSS reader or by Email, recommend DadCooksDinner to your friends, or buy something from Amazon.com through the links on this site. Thank you!