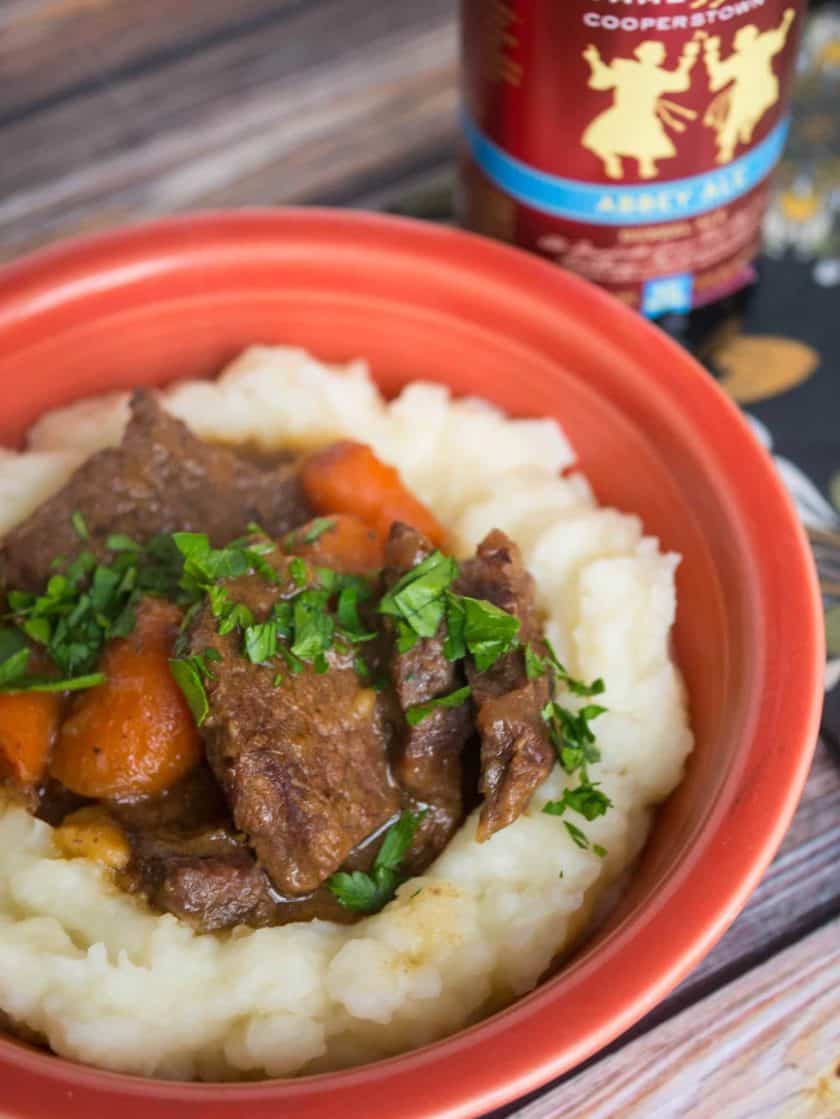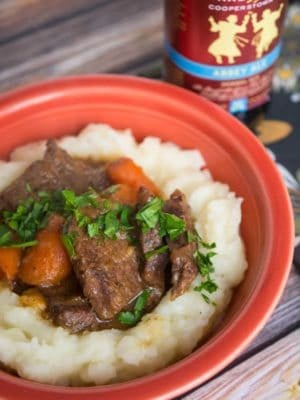 Kenji Alt's Pressure Cooker Caramelized Onions is a brilliant idea. He uses the sealed environment and high heat of a pressure cooker to caramelize onions without the risk of burning. Normally, caramelized onions are finicky - you have to stir constantly for 20 to 30 minutes. In the pressure cooker, it takes the same amount of time, but it's hands-off; no stirring, just show up when the onions are done. 3How does it work? A little baking soda and the high heat of the pressure cooker result in browning. Go read Kenji's excellent post on SeriousEats.com for the details.
The moment I saw these onions, I thought about beef carbonnade - Belgian beef, beer, and caramelized onion stew. It was perfect - a first stage under pressure to caramelize the onions, then a second stage under pressure to cook the stew. Easy, right?
Um…the fates laughed at me when I said that.4And laughed, and laughed. Then they reached for the "Smite" key. This recipe took a bunch of tries for me to get right. Now, all were pretty good - I had a lot of leftover beef stew for lunch, and enjoyed it - but I did learn a few things along the way:
2 pounds of onions needs a little extra water in my pressure cooker to build pressure before it overheats and the onions start to burn…but 3 pounds of onions release so much liquid that they don't brown properly, and need an extra 20 minutes of simmering. In an Instant Pot, stick close to 2 pounds of onions, and add ¼ cup of water to help get things started
Stirring flour into the stew is great for thickening, and traditional for the recipe - but can also overheat the cooker if it thickens the liquid up too quickly. (Like, if you try to add it to the pressure caramelizing onions.) I add a bottle of beer and a cup of chicken stock to the pot for the stew stage, to keep everything loose enough to come up to pressure.
This recipe traditionally has thin strips of beef; flat iron steak is the perfect cut for this. (To save money, substitute chuck roast - but it will require more knife work to get it into the required shape.)
Browning the beef. I tried this recipe without browning, with browning the whole flat iron steak and then slicing, and slicing first then browning the slices. They were all good, but the more browning, the better the flavor. I know browning batches of beef is annoying, and takes time, but it is worth it to build the flavor.
If you're looking for a " dump everything in the pot and pressure cook" weeknight meal, this is not the recipe for you. But, if you want to show off, this is a fantastic beef stew, made quicker and easier by the pressure cooker.
Recipe: Pressure Cooker Beef Carbonnade (Belgian Beef Stew)
Inspired By:
Jacques Pepin Carbonnade a la Flamade - Flemish beef stew at [FoodAndWine.com]
Kenji Alt The Food Lab: Use the Pressure Cooker for Quick Caramelized Onions and French Onion Soup at [SeriousEats.com]
Equipment
Print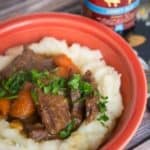 Pressure Cooker Beef Carbonnade
---
Author:

Mike Vrobel

Total Time:

1 hour 30 minutes

Yield:

6

-8

1

x
Description
Pressure Cooker Beef Carbonnade recipe - use the pressure cooker to caramelize the onions, and take most of the work out of this classic recipe.
---
Browning the beef
1 tablespoon

butter

2

pounds Flat Iron steak (or chuck blade steak, or chuck roast), cut into 3 inch long by ½ inch thick strips

2 teaspoons

Diamond Crystal kosher salt or

1 ½ teaspoons

fine sea salt
Caramelized Onions
2 tablespoons

butter (for the onions)

2

pounds of onions, peeled and sliced thin

½ teaspoon

baking soda

1 teaspoon

Diamond Crystal kosher salt or

⅔ teaspoon

fine sea salt

¼ cup

water
Stew Ingredients
¼ cup

flour

12 ounces

Belgian dark brown ale (like Ommegang Abbey Ale or Chimay)

1 cup

chicken stock or water

½

pound of carrots, peeled and cut into

3

inch lengths

2

sprigs fresh thyme (or

1 teaspoon

dried thyme)
Minced parsley for garnish
---
Instructions
Brown the beef: Melt a tablespoon of butter in the pressure cooker pot over medium heat (sauté mode in an electric PC). Sprinkle the beef with 2 teaspoons of salt, and then brown in 2 to 3 batches, about 6 minutes per batch, flipping halfway. Move the beef to a bowl after it is browned.
Pressure cook the onions: Melt 2 tablespoons of butter in the pot. Stir in the onions, baking soda, and salt. Stir for a minute or two, scraping the bottom of the pot with a wooden spoon until all the browned bits of beef are loose and the onions are coated with salt and baking soda. Add the water, lock the lid and pressure cook on high pressure for 20 minutes in an electric PC, or 16 minutes in a stovetop PC. Quick release the pressure and remove the lid (carefully - the steam is hot). Set the heat to medium (or an electric PC to sauté mode), and cook, stirring often, until the liquid reduces and the onions are dark brown and caramelized, about 5 minutes.
Pressure Cook the stew: Stir the flour into the onions and cook for 1 minute, stirring often. Stir in the beer and bring to a simmer, scraping the bottom of the pot to loosen any browned bits of onion or flour. Simmer the beer for 2 minutes to cook off some of the alcohol. Stir in the chicken stock, browned beef (plus any juices in the bowl), carrots, and fresh thyme sprigs. Lock the lid and pressure cook on high for 12 minutes in an electric PC, or 10 minutes in a stovetop PC. Quick release the pressure and remove the lid (again, be careful - the steam is hot).
Season and serve: Discard the thyme sprigs, and then taste the stew. It will probably need a little salt (especially if you used homemade chicken stock) and a lot of pepper. Serve, sprinkling with minced parsley as a garnish.
Prep Time:

15 minutes

Cook Time:

1 hour 15 minutes

Category:

Pressure Cooker

Cuisine:

French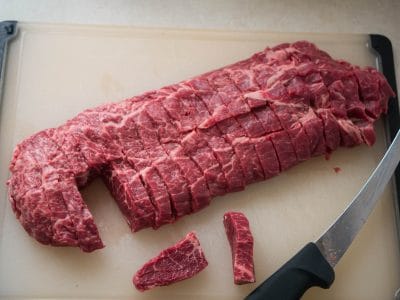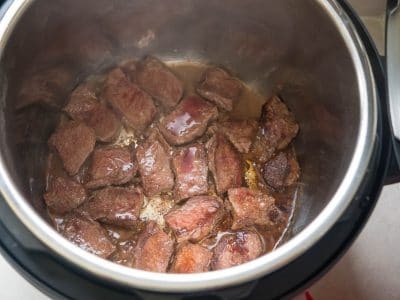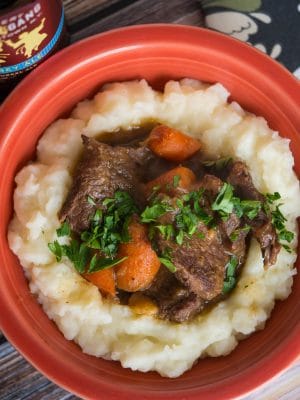 Notes
Pressure cooker plus frypan for browning: speeds up the browning, make sure to use
It's traditional to serve this stew with buttered noodles, but I love the caramelized onion sauce with mashed potatoes.
What do you think?
Questions? Other ideas? Leave them in the comments section below.
Related Posts
Pressure Cooker Beef Stew with Mushrooms
Pressure Cooker Basic Beef Stew
Pressure Cooker Irish Lamb Stew
Enjoyed this post? Want to help out DadCooksDinner? Subscribe to DadCooksDinner via eMail or RSS reader, recommend DadCooksDinner to your friends, and buy something from Amazon.com through the links on this site. Thank you.