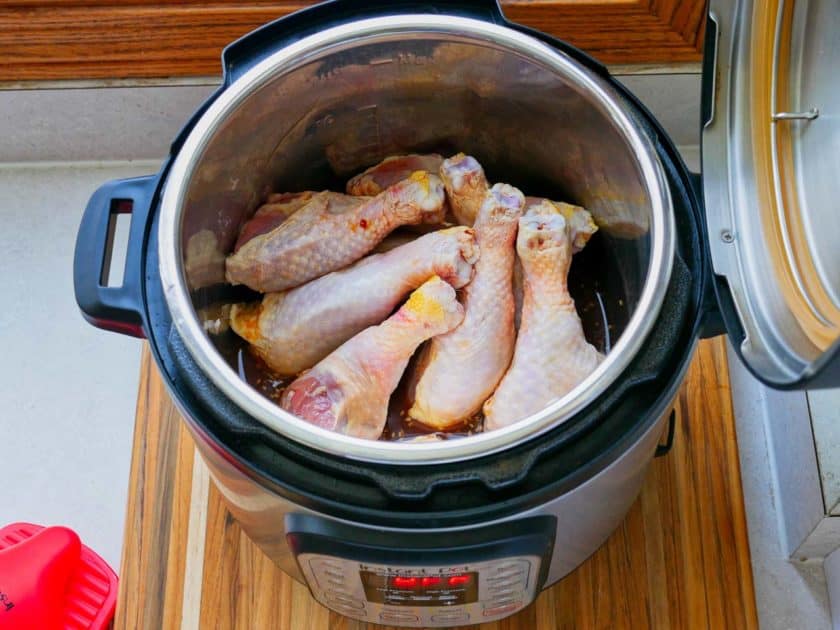 The most common question on my pressure cooker chicken legs and chicken drumsticks recipes:
"My drumsticks are frozen. How much time should I add?"
My answer is: I don't know? Five extra minutes, maybe?
That answer feels right, but I want to check it. I never cook my drumsticks from frozen. I'm cooking them either fresh or thawed. (I buy family packs of drumsticks. Straight out of the freezer I have a slab of chicken that won't fit in the cooker. I have to thaw them enough to break them apart…and by that point I might as well leave them in the refrigerator overnight to thaw completely.)
I go to the store to stock up on frozen drumsticks for testing. And…neither of my local grocery stores carries them. (They have individually frozen wings, and boneless skinless breasts, but no drumsticks and no legs.)
I'm standing in the meat department, staring blankly at bags of frozen chicken wings. "What if I freeze them myself? No - no one would freeze individual drumsticks. They're not asking about an ice block of frozen chicken pieces. Do they have a supply of frozen chicken parts I don't? Am I frozen chicken deprived?"
Then the light bulb went on. "Why am I trying to guess what my readers are thinking when I can just ask them?."
So, it is Survey time for my loyal readers!1
Frozen Drumstick Survey
Are individually frozen drumsticks (or legs) available in your area? If so, what grocery store, big box retailer, or warehouse club near you sells them?
Do you buy them, and do you try to cook them from frozen?
Have you cooked them from frozen in your pressure cooker? Did you add extra time to make them work?
Leave an answer in the comments section on my blog. Thank you!
Drumroll please! Get it? Drumstickroll? Chicken drumsticks...it sounded funnier in my head. ↩