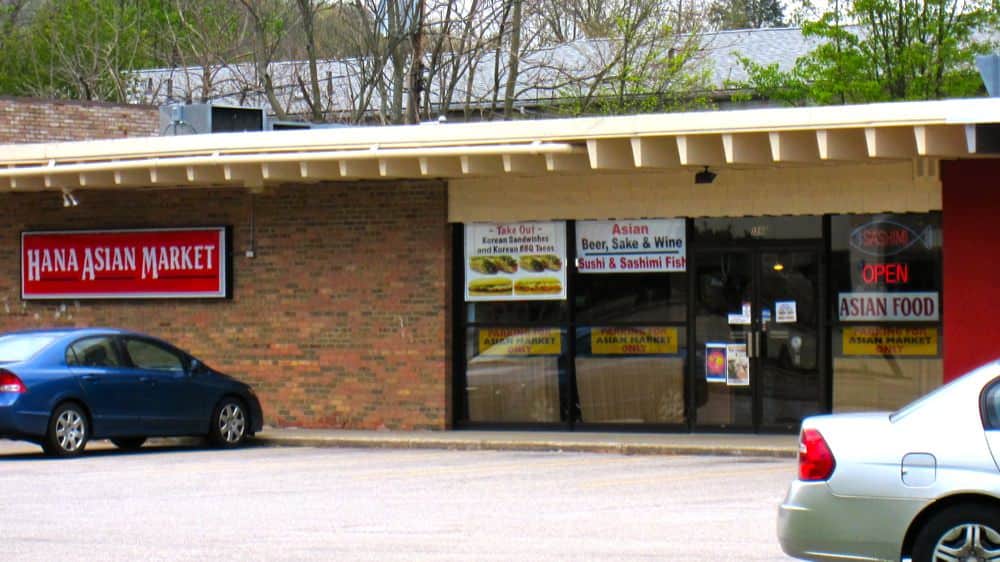 [Update 2018-01-01:] Hana Asain Market is closed
*My Road Trip posts look at stores for home cooks in the Akron area, my home town. If you don't live in Northeast Ohio, seek out your local ethnic and gourmet markets. You can travel around the world without leaving your city!
Hana Asian Market, in the Merriman Valley area of Akron, has a great selection of Asian groceries. They specialize in Japanese and Korean food, but they have a good selection of Chinese, Thai, and Indian ingredients as well.
I've been stopping in this store a lot as I work on various Korean and Japanese recipes - they have everything I need, and they are happy to help when I can't find what I'm looking for. (Which is often - part of the fun of cooking from another culture is trying to figure out what, for example, shichimi togarashi might look like.)
Hana Asian Market also has a good selection of homemade Japanese and Korean food. There is always homemade kimchi in the refrigerator case; on Tuesday and Wednesday there are freshly made dishes to go.
Hana Asian Market
1390 N. Portage Path
Akron, OH 44313
(330) 836-2700
HanaAsianMarket.com
My top five favorite items they sell, in no particular order:

1. Thin sliced meat for Korean style grilling: Look in the freezer for thin sliced beef short ribs for Kalbi,  boneless beef for Bulgogi, and thin sliced pork (belly and shoulder) for Samgyeopsal (recipe coming soon).
2. Specialty Japanese ingredients: Shichimi togarashi (Japanese hot pepper spice blend), Sansho pepper, Ponzu sauce, miso paste, mirin, sake - they have a wide variety of specialty Japanese ingredients. And, speaking of sake...
3. Asian spirits: They have a small but varied selection of Asian beer, wine, and sake.
4. Asian noodles: Ramen, somen, soba; lo mein, bean thread, wide rice pho; dried, refrigerated or frozen. If you're looking for an Asian noodle, they have it.
5. Thai curry pastes: Want to make your favorite Thai curry? Take a shortcut, and use a jar of curry paste.
...And so much more. Jugs of soy sauce, big bags of rice, fermented beans, oyster sauce...if you're in Akron, and looking for an Asian ingredient, check out Hana Asian Market.
Here's the map:
View Larger Map
What do you think? Questions? Other ideas? Know of any ethnic markets in the Akron area that I need to check out? Leave them in the comments section below.
Related Posts:
Click here for my Ethnic and Gourmet Markets in Akron
*Enjoyed this post?  Want to help out DadCooksDinner?  Subscribe using your RSS reader or by Email, recommend DadCooksDinner to your friends, or buy something from Amazon.com through the links on this site.  Thank you!