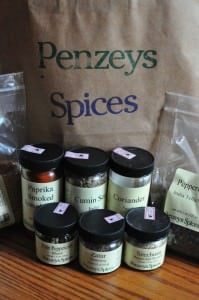 Looking for great spices in Northeastern Ohio? Make a trip to Penzeys Spices in Woodmere. I've bought mail order spices from Penzeys for years, and they finally opened a store close enough to drive to.
Penzeys is a national chain - there may be one located near you. If not, check out Penzeys.com, or get on the catalog mailing list.
Penzeys carries every herb and spice I've ever looked for, and they are always fresh, due to the store's high turnover. I've complained about expensive spices before; jars of spices at Penzeys are about the same price as jars in the supermarket. But Penzeys also sells their spices in bags, by weight, which brings the prices down dramatically. I buy a jar of spices the first time, then just buy bags to refill the jar when I need it.
Penzeys Spices
28859 Chagrin Boulevard
Woodmere, OH 216.839.0777
Penzeys.com
Woodmere is southeast of Cleveland, and just east of Beachwood. It's about a 30 minute drive North of Akron. Penzeys is in the same shopping plaza as Sur La Table and Trader Joe's, so it is always worth the trip for a cooking fanatic like me.
My Top 5 list:

1. Chili Powder: I use a lot of chili powder, so I buy it from Penzeys in one pound bags. I like their basic, medium-hot chili powder blend; they have heat levels from mild (chili con carne blend) to hot. If you want to get fancy, try their Chili 3000 and Chili 9000 blends, with extra spices mixed in to boost the flavor.
2. Peppercorns: Pepper is another spice I use constantly, so I buy big bags of Tellicherry peppercorns.
3. Italian Herb Mix: I don't like store bought spice blends; they're always full of salt. Why pay salt prices for spices? Penzeys is the exception. Most of their spice blends are salt free.
4. Ingredients for my homemade rubs: If you check out my barbecue rub or cajun rub, you'll see the ingredients scale up to different bag or jar sizes from Penzeys. It's easy to make a big batch of spice rub when the spices are pre-measured in 1 pound, 8 ounce, or 2 ounce bags.
5. Coriander seed, smoked spanish paprika, sweet curry powder: I always pick up a fresh jar of these spices when I visit. And chipotle powder, herbes de provence, ground cumin, french thyme, fennel seed...
Related posts:
*Enjoyed this post? Want to help out DadCooksDinner? Subscribe using your RSS reader or by Email, recommend DadCooksDinner to your friends, or buy something from Amazon.com through the links on this site. Thank you!